Break through with wireless scalability.
ULX-D
®
Digital Wireless Systems
Large conference and convention installations come with unique wireless challenges. A campus-wide solution, ULX-D® Digital Wireless is secure, scalable, and durable. From managing diverse sound sources to protecting RF from smartphones and other stray signals, the intelligent system solves wireless problems of all sizes.
Now Available - ULXD-GV with Enhanced Encryption
ULX-D pushes wireless audio further. More streamlined. Higher density. Up to 47 systems running simultaneously within 6 MHz. That's one reason it's become the standard bearer for installed digital wireless. And you can hear it in crystal clear performances around the world.
True to the source
The 24-bit digital audio and the wide frequency response capture the sound as clearly and accurately as it was produced.
Scalable control
The network is always yours to command with proven Shure tools like Wireless Workbench®, SystemOn, Axient Spectrum Manager, as well as AMX & Crestron integration and Dante audio.
Secure sound
Confidentiality is ensured via AES-256 encryption that generates a randomized key for each use.
Networked, intelligent charging
ULX-D transmitters use either AA batteries or our intelligent rechargeable solutions for up to 9 hours of use. Battery life and charge status can be monitored remotely from Shure software. So power is always on your side.
Multiple spectrum options, including VHF, UHF, 900 ISM, 1.2 GHz (Japan only), and 1.5 GHz and 1.8 GHz (Europe only)
Multiple transmitter types including handheld, bodypack, boundary, and gooseneck options
Choice of receiver type (single, dual, or quad)
Monitoring and control functionality from Wireless Workbench® 6, SystemOn, and ShurePlus™ Channels apps.
Dual and quad receivers include DANTE™ digital audio networking
Dante Domain Manager (DDM) compatible for managing enterprise-wide Dante audio network deployments
Reviews
Support
Customer Support
Service & Repair
Detailed policy information regarding customer service numbers, service modifications, and replacement parts.
Service & Repair
Contact Us
Submit a ticket directly to Shure Customer Service staff, or reach out via phone or email.
Contact Us
Resources
Shure Tech Portal
Complete product documentation, technical support materials, software and firmware, and other tools and resources for all Shure products, in one place.
Sign In
Tools
This tool provides recommended frequencies for Shure Wireless System use in the United States.
With a few simple inputs, this selection wizard provides recommended items for your wireless microphone setup, and/or a diagram on how the antennas and antenna distribution are connected.
Enter distance between antenna and receiver to get setup recommendations for the receiver.
Comparable Products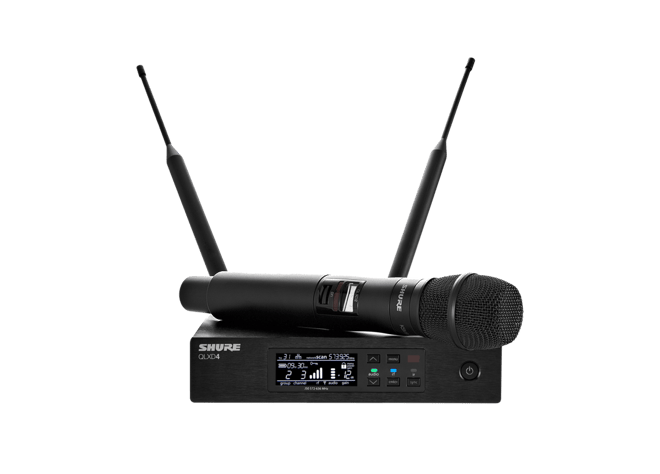 More complex venues demand greater capability and flexibility. QLX-D® Digital Wireless Systems are more than ready for the challenge.
From lecture halls to houses of worship to performance venues, SLX-D delivers transparent, 24-bit digital audio and rock solid RF performance with easy setup and rechargeability options in a suite of versatile wireless system configurations.
The most critical broadcasts and live events in the world rely on Axient Digital Wireless to provide maximum stability, control, and audio quality.
Case Studies
The Philipp University in Marburg, Germany was founded in 1527 by Landgrave Philipp I of Hesse, known to history as Philip The Noble or Philip The Magnanimous.
Straubing-Bogen District Council (known in German as the Landratsamt) needed a new conferencing system for its main debating chamber, one that matched the latest technical requirements and standards.
SHONAN FUJISAWA CAMPUS (SFC) ADOPTS THE MXA910 CEILING ARRAY MICROPHONE IN SMART INTERACTIVE CLASSROOM