A Creation for Creators. Just add phone
MV88+ Video Kit
Stereo Condenser Microphone
Original price:
Current price:
The birth of a new portable audio & video recording kit is here, giving you all the tools you need, right out of the box. The kit includes a Manfrotto® PIXI tripod, phone clamp, and mount, as well as iOS and USB-C cables for next-level compatibility and connectivity. Just add your phone and you'll be capturing professional quality content wherever you are. *Packaging may vary.
The MV88+ offers you a whole host of creative set-up options to cover your every requirement.
So, whether you want to record a vlog, capture some sounds on your safari trip, interview another creator, or even connect the MV88+ rig to your own tripod, we've got you covered.
FREE Apps to create, record, edit and share in seconds
The Shure MOTIV Audio and Video Apps couldn't be easier to use. Select how you want the mic to behave, set your gain levels…and press record.
The audio you've wanted.
When it matters most to you, rely on Shure and the MV88+ to deliver amazing sound performance, whatever your stage or setting. If audio has continued to be your bug bear, let's end it here…
Your everything mic.
The MV88+ accentuates the power of flexibility, enabling you to transform your smartphone device into a professional-level mobile audio and video rig.
Monitoring made easy.
To ensure real-time audio assessment, a headphone jack on the MV88+ lets you record with confidence.
Reviews
Support
Customer Support
Service & Repair
Detailed policy information regarding customer service numbers, service modifications, and replacement parts.
Service & Repair
Contact Us
Submit a ticket directly to Shure Customer Service staff, or reach out via phone or email.
Contact Us
Resources
Shure Tech Portal
Complete product documentation, technical support materials, software and firmware, and other tools and resources for all Shure products, in one place.
Sign In
Documentation
User Guide & Specs
insert_drive_file

insert_drive_file
Software & Firmware
ShurePlus MOTIV mobile recording app offers recording, monitoring, and control with all Shure MOTIV Digital Microphones and recording solutions. Include metering, equalization, and compression, wind noise reduction, improved UI, and a new editor.
ShurePlus™ MOTIV Video is a free iOS application enabling users to record with uncompressed audio for video. When used in conjunction with MOTIV™ hardware, includes all functionality of MOTIV audio app including gain control, EQ and compression.
Access additional features and controls on your MV7 or MV88+ with the free ShurePlus MOTIV™ App for desktop. Adjust mic gain, monitor mix, EQ, limiter, compressor and more. MV7 users have the additional option of enabling Auto Level Mode; a 'set it and forget it' application for consistent recordings every time. MV88+ users can adjust their pick-up pattern to suit their recording application.
Comparable Products
Discontinued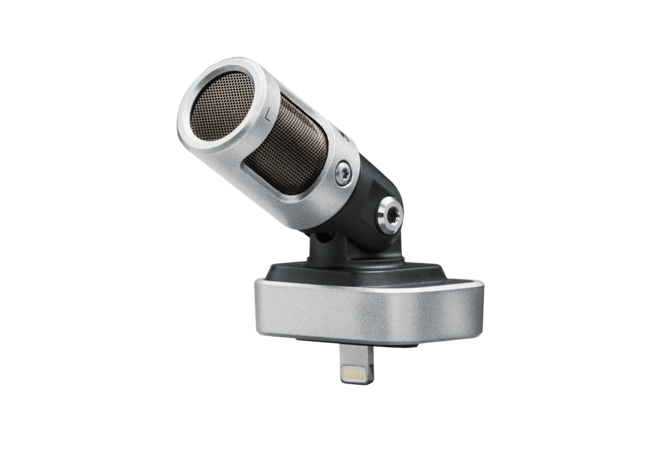 Digital Stereo Condenser Microphone
Record crystal-clear audio with your iPhone & iPad via the MV88. Brilliantly capture it all – from the loudest performances to the details of voice.