ULXD4Q
Quad-Channel Digital Wireless Receiver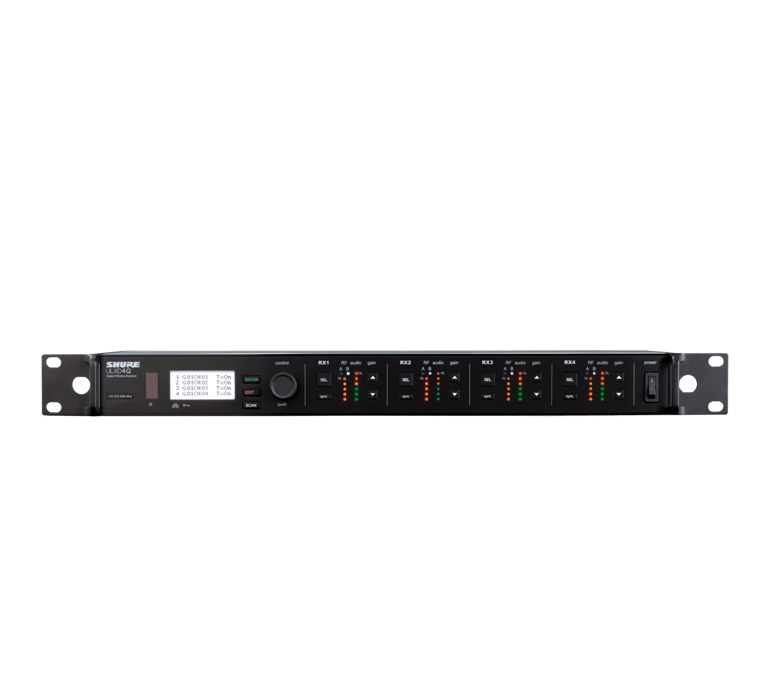 Digital quad wireless receiver offers an intelligent four-channel option for use in any professional sound reinforcement application. Features include Digital Predictive Switching Diversity, 64 MHz tuning range, and AES 256 encryption for security.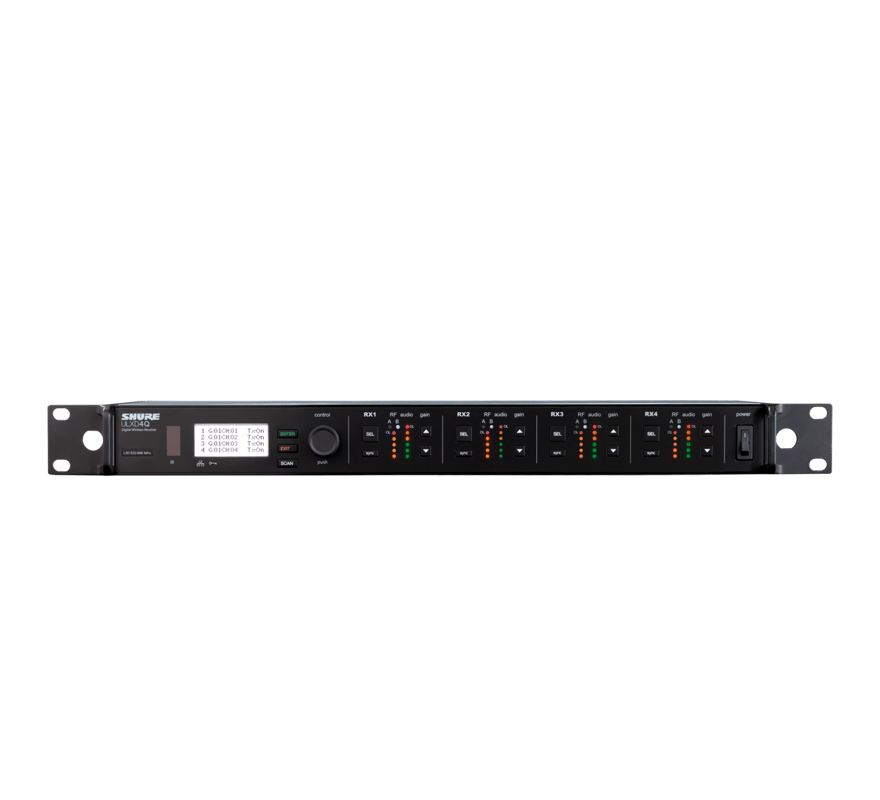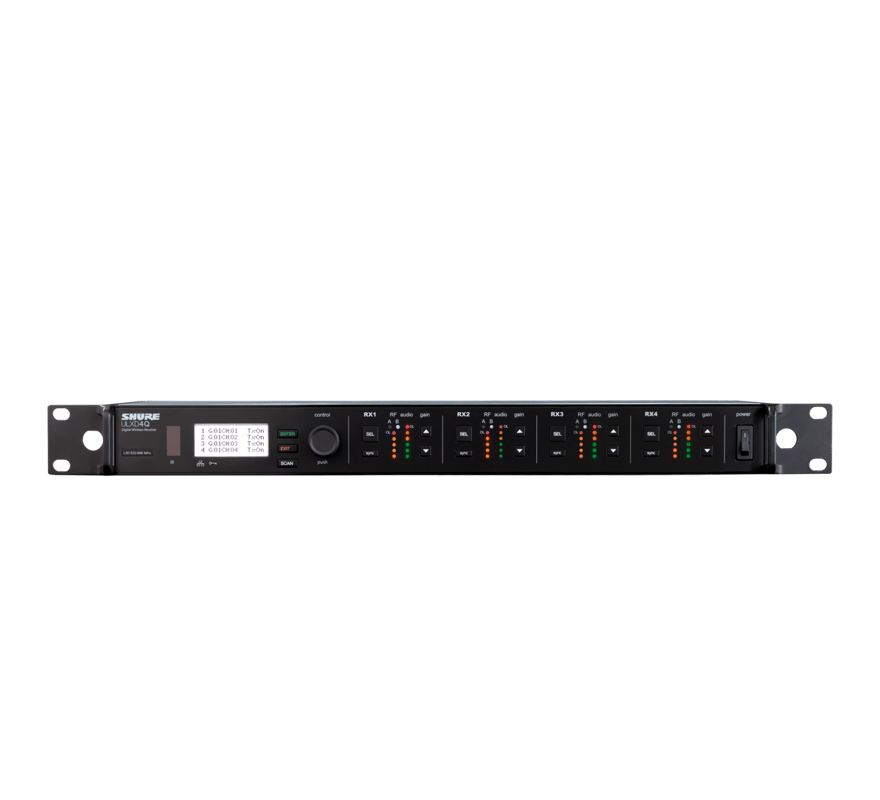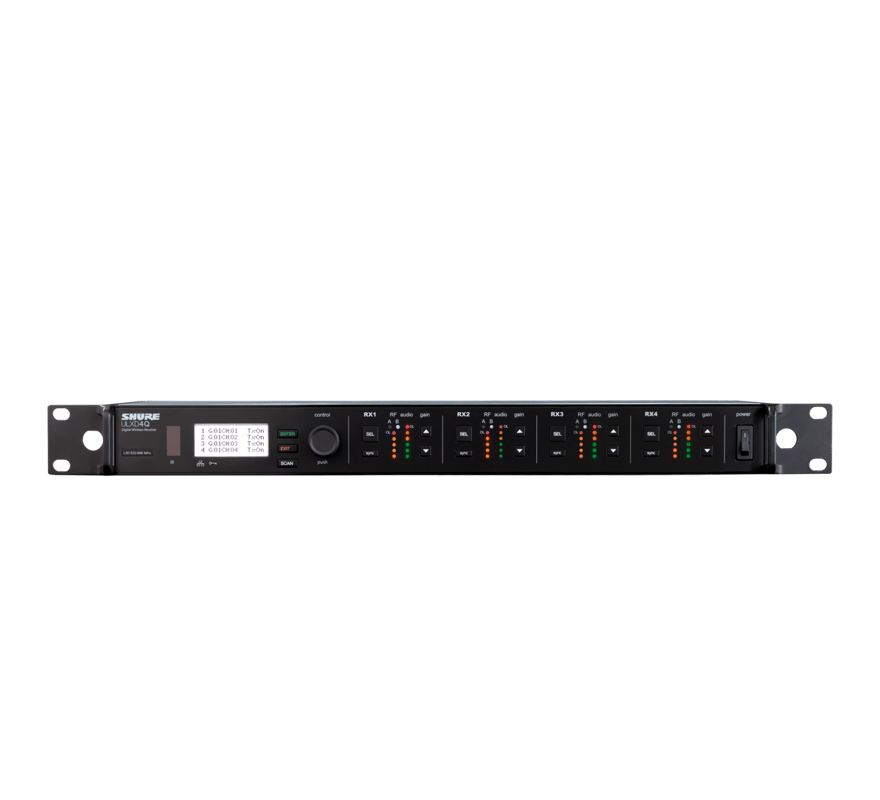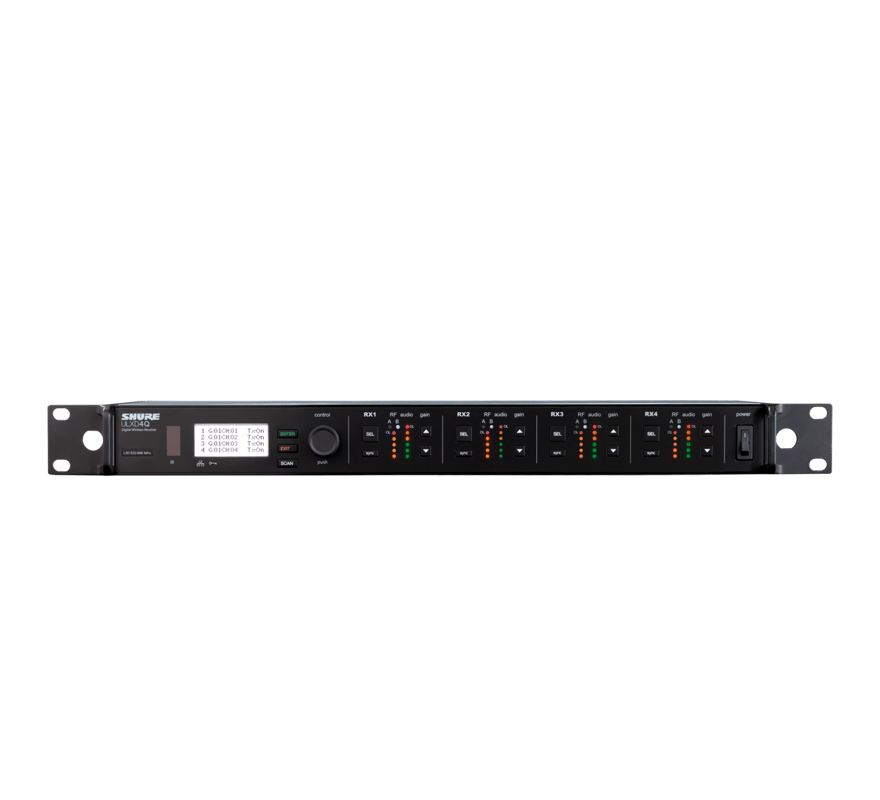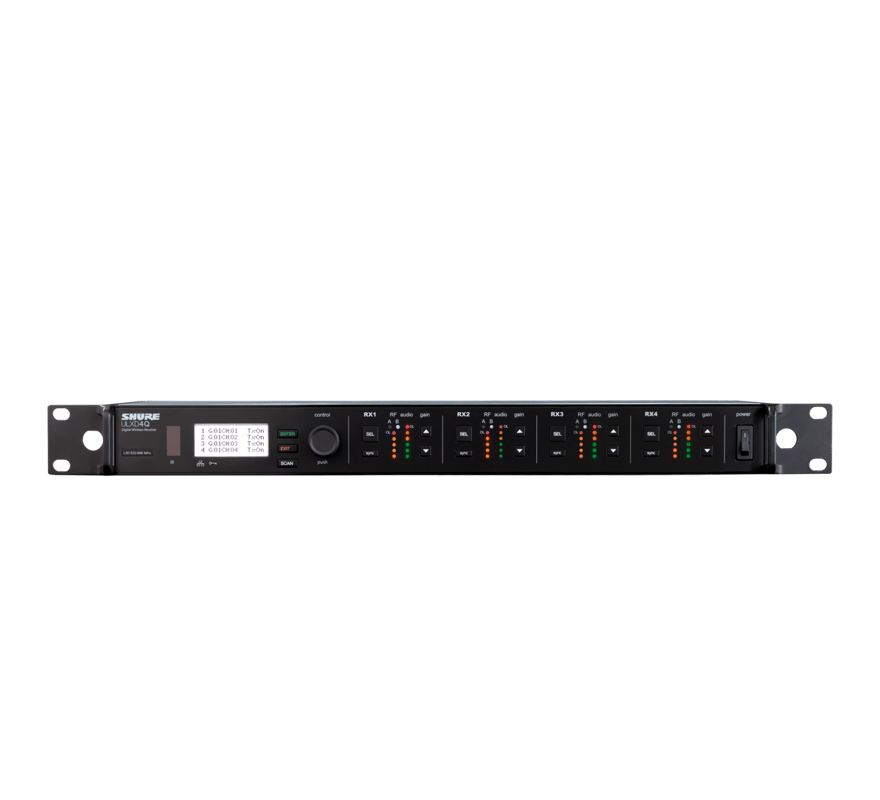 Product Details
The Shure ULXD4Q Quad Channel Digital Wireless Receiver offers four channels of uncompromising audio quality, RF signal stability, and advanced setup features in a space-efficient single rack unit. Rugged yet lightweight and compact, the 1RU all-metal chassis houses four independent receivers, each with its own audio and RF meters, gain control, and XLR outputs that can be either direct or summed for flexible signal routing.
At only 7.6 pounds, the ULXD4Q offers space savings in the rack and cost savings when shipping. With RF cascade and two Ethernet ports, units can easily share RF signal and be networked together for simplified frequency coordination and deployment. For networked audio applications, Dante™ digital networking allows multiple channels of audio over a single Ethernet cable.
With the suite of features and benefits ULX-D® Digital Wireless Systems offer, the ULXD4Q is truly generations ahead of any other available receiver in its class, and brings a new level of performance and scale to professional sound reinforcement.
Note: When purchasing separate wireless components, please match their frequency bands to ensure proper system operation.
Four receivers in a rugged 1RU metal chassis with internal power supply
Individual gain controls, LED meters, and XLR outputs for each channel
Up to 64 MHz tuning range (region dependent)
Digital predictive switching diversity
High Density mode optimizes ULX-D systems to simultaneously operate significantly more channels in applications up to 30 meters
RF cascade ports allow distribution of RF signal to another unit
Optimized scanning automatically finds, prioritizes, and deploys the cleanest frequencies to transmitters over IR sync
Bodypack frequency diversity ensures uninterrupted audio for mission-critical applications
AES 256-bit encryption-enabled for secure transmission
Audio summing routes two or more audio channels to combinations of receiver outputs. Use each channel's gain adjustment to reach the desired mix.
Dante™ digital networked audio over Ethernet
Ethernet networking for streamlined frequency coordination and deployment across multiple receivers
Interference detection and alerts provided on both the receiver and WWB6
Up to 60 dB independently adjustable gain for each channel
Wireless Workbench® 6 (WWB6) software integration for advanced coordination, monitoring, and control
AMX/Crestron® control
Compatible with the AXT600 Axient® Spectrum Manager
Yamaha® device ID allows simplified channel patching on CL consoles
Intuitive front panel LCD menu and controls with lockout feature
Upgraded LCD with adjustable contrast and brightness
Audio and RF LED meters with peak indicator
Switchable mic/line output level
Remoteable ½ wave antennas
"YAMAHA" is a registered trademark of Yamaha Corporation.
Reviews
Support
Customer Support
Service & Repair
Detailed policy information regarding customer service numbers, service modifications, and replacement parts.
Service & Repair
Contact Us
Submit a ticket directly to Shure Customer Service staff, or reach out via phone or email.
Contact Us
Resources
Shure Tech Portal
Complete product documentation, technical support materials, software and firmware, and other tools and resources for all Shure products, in one place.
Sign In
Tools
This tool provides recommended frequencies for Shure Wireless System use in the United States.
With a few simple inputs, this selection wizard provides recommended items for your wireless microphone setup, and/or a diagram on how the antennas and antenna distribution are connected.
Enter distance between antenna and receiver to get setup recommendations for the receiver.
Case Studies
The third season of the Russian version of popular vocal TV-contest "All together now" started in the spring 2021 on one of main federal TV-channels in Russia. It was a challenge for the team of sound engineers and RF-specialists to provide stable sound in extremely difficult RF-environment.
Microflex Advance Ceiling Array Microphones Bring Pristine Speech Intelligibility to Lucas Hall Classrooms for Enhanced Teaching and Learning Capabilities
Indiana Wesleyan is the largest private college in Indiana, based on enrollment, and is one of the largest employers in Grant County. Recently, the performance center was in need of an audio overhaul to replace old and outdated microphones and sound equipment.