ULXD1
Digital Bodypack Transmitter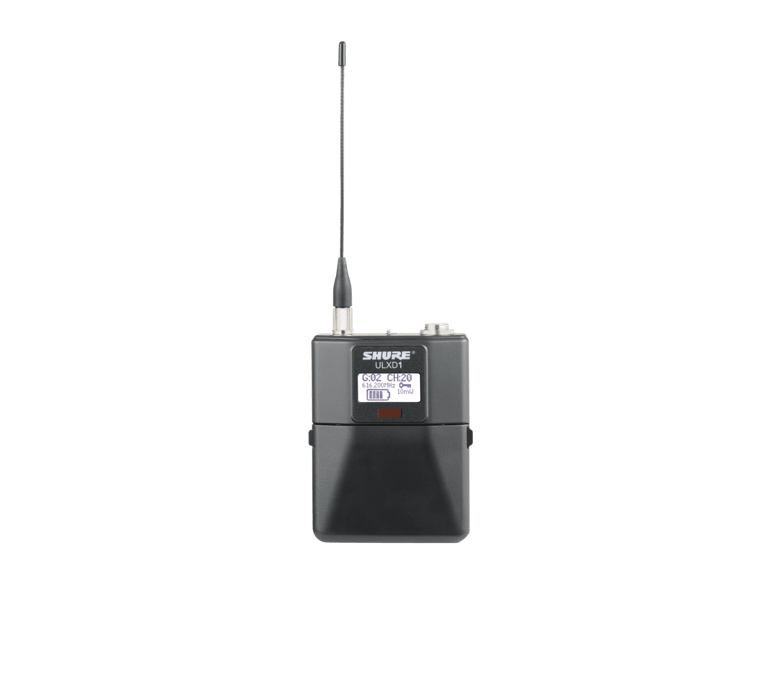 The ULXD1 is a wireless bodypack transmitter compatible with ULX-D Digital Wireless Systems.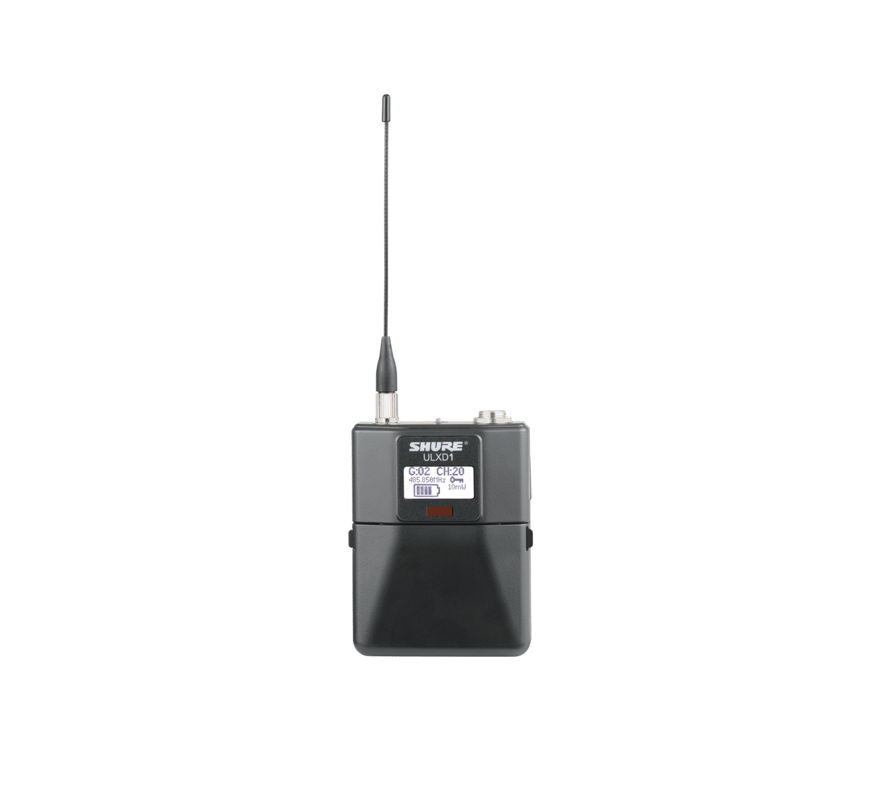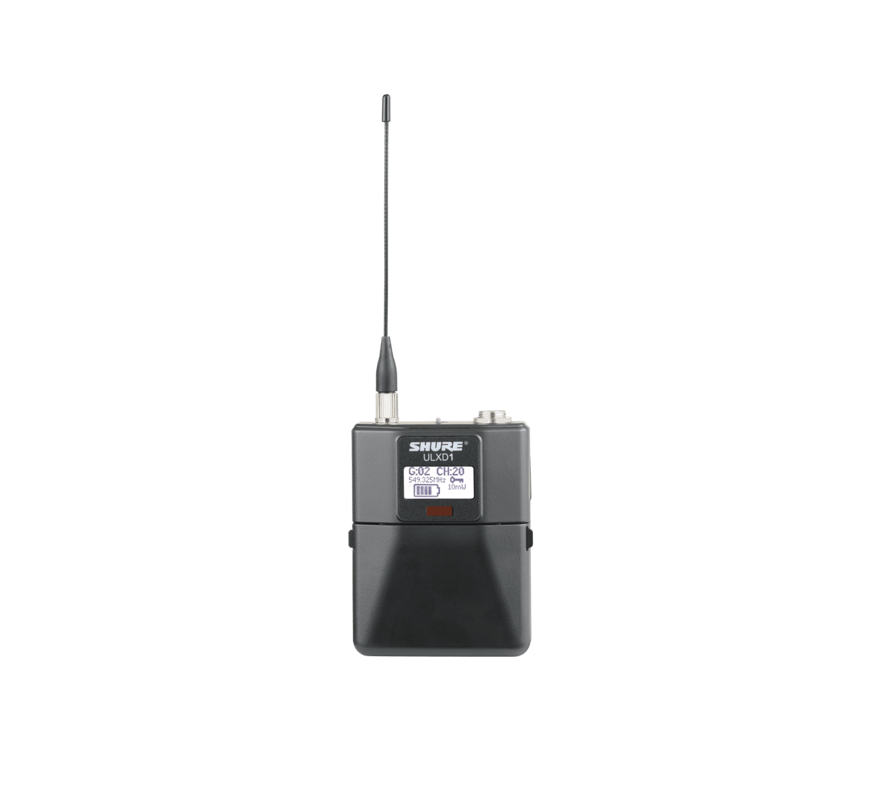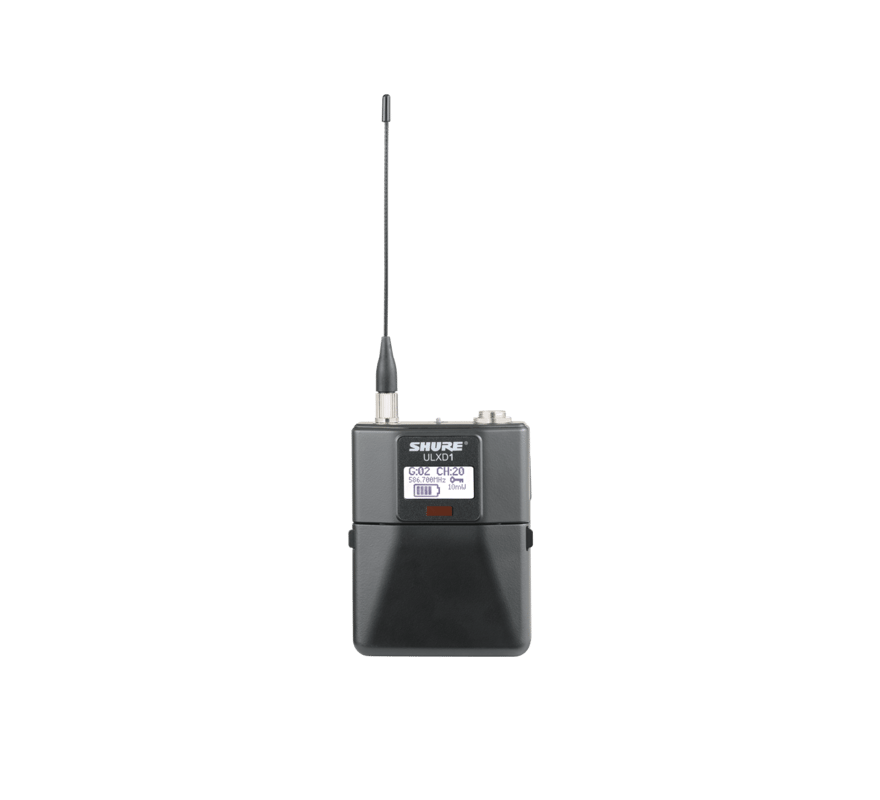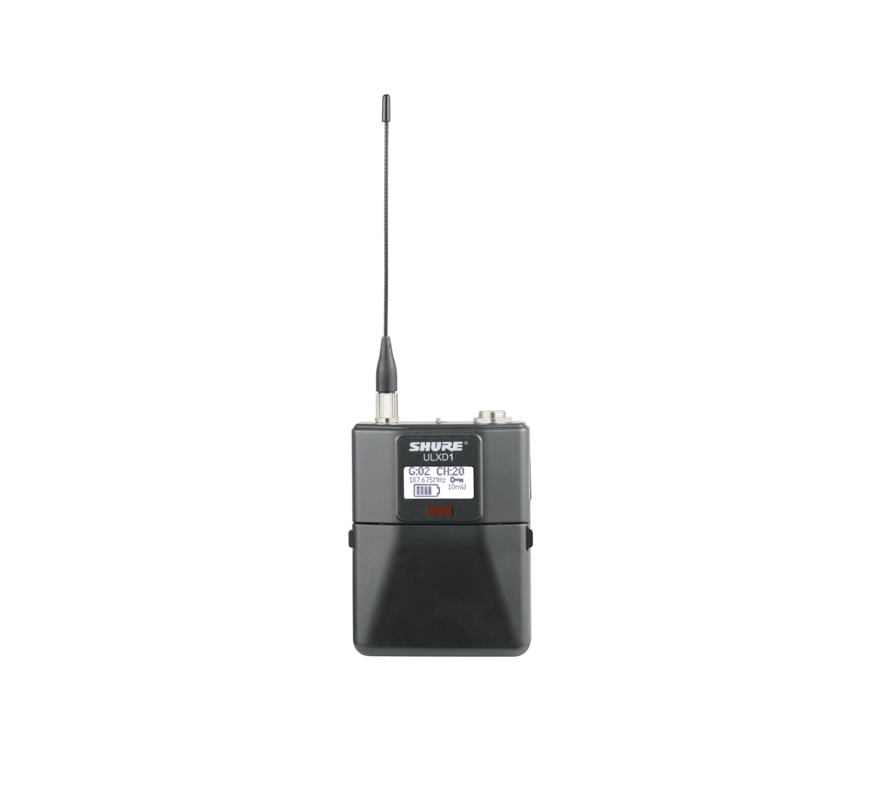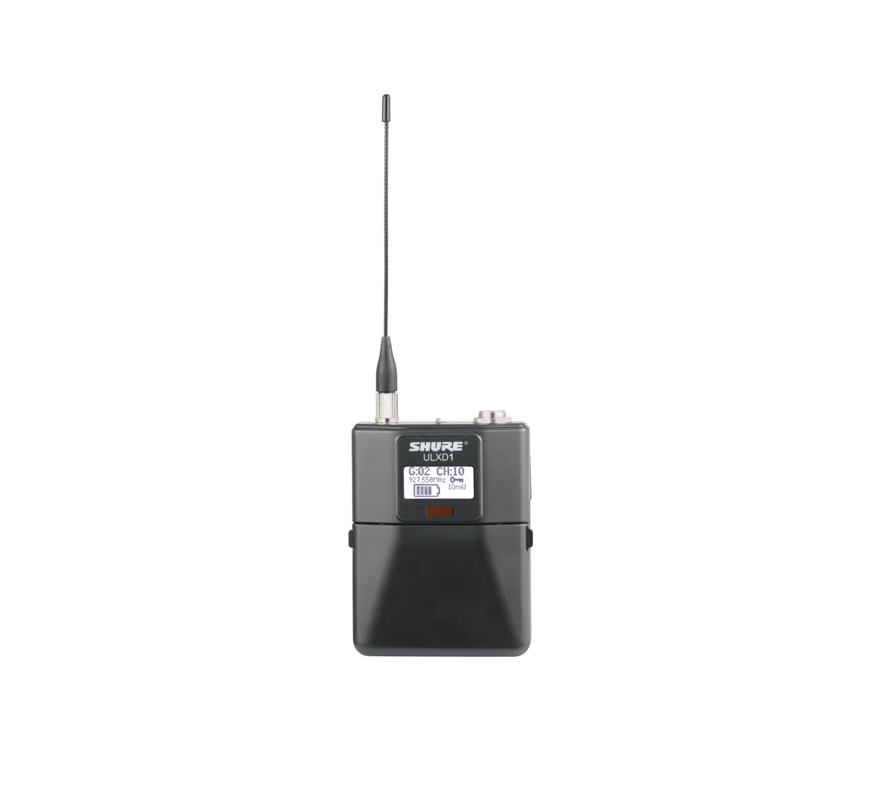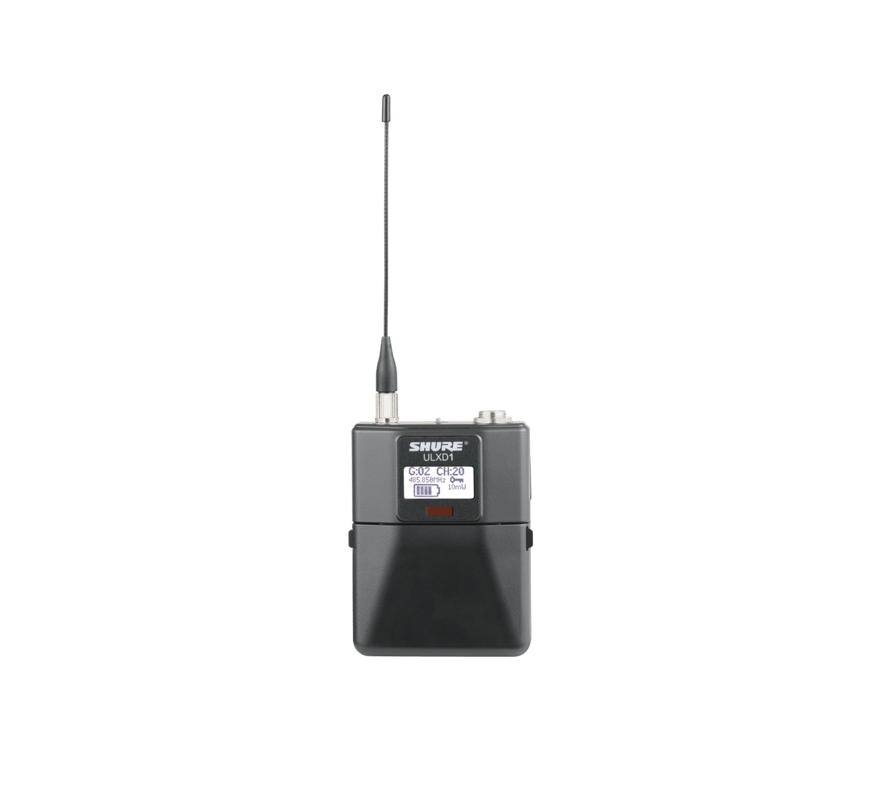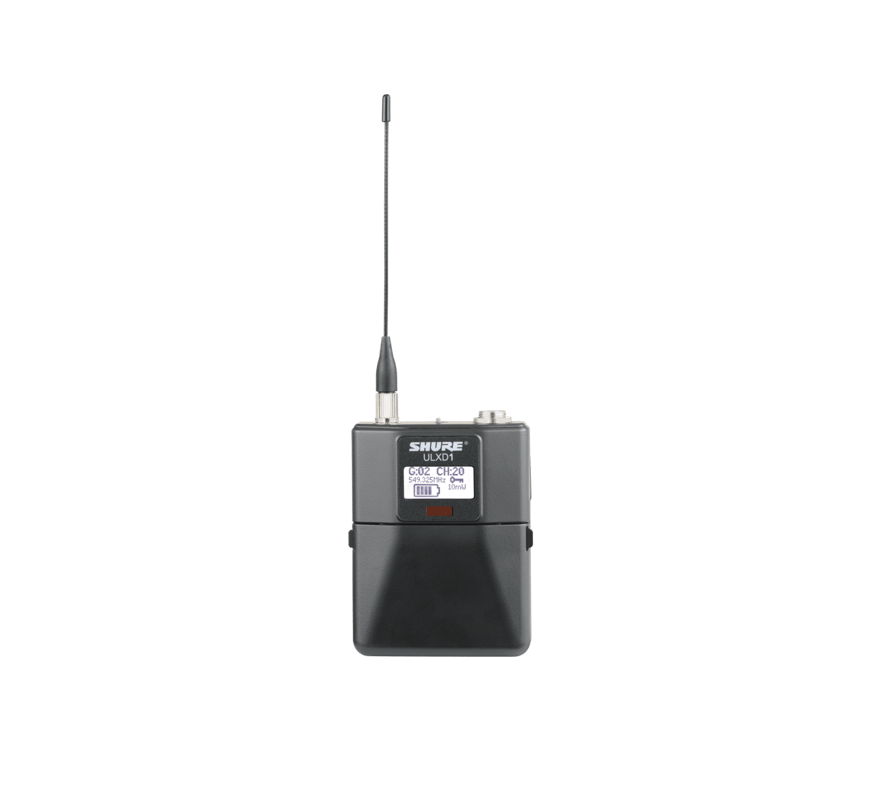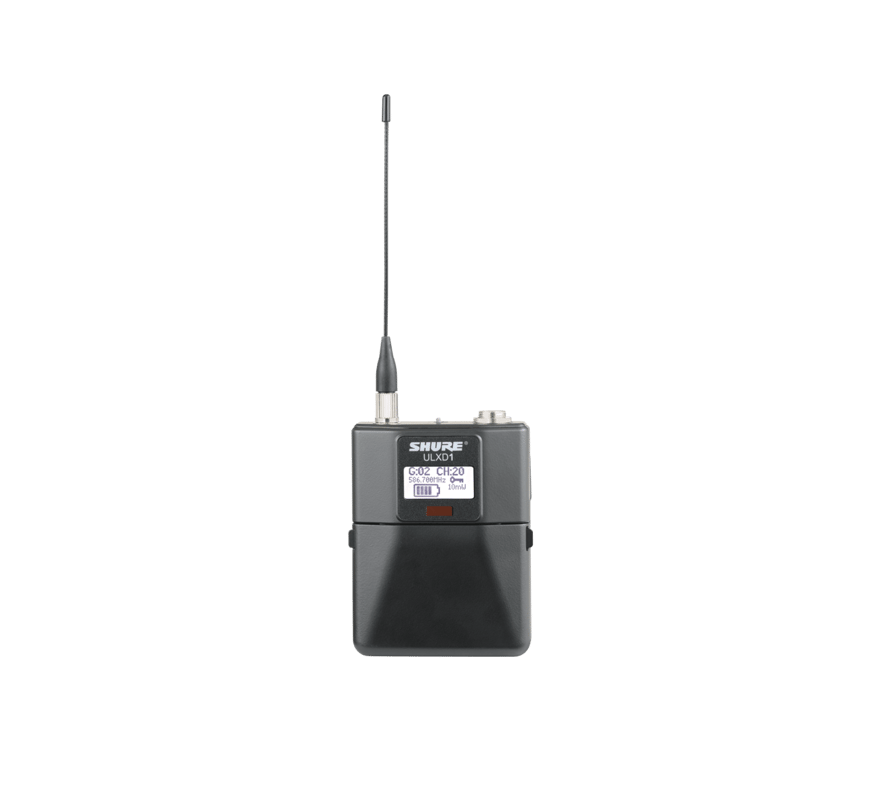 Product Details
The ULXD1 is a wireless bodypack transmitter compatible with ULX-D® Digital Wireless Systems.
With a rugged yet lightweight aluminum case, the ULXD1 delivers uncompromising audio quality and RF performance, AES 256-bit encryption for secure transmission, and advanced rechargeability options for professional sound reinforcement applications.
Note: When purchasing separate wireless components, please match their frequency bands to ensure proper system operation.
AES 256-bit encryption for applications requiring secure data transmission
Proprietary Shure Gain Ranging optimizes the system's dynamic range for any input source, eliminating the need for transmitter gain adjustments
Optional Shure SB900A lithium-ion rechargeable battery provides over 9 hours of battery life, precision metering in hours and minutes, and zero memory effect
External charging contacts for docked charging (with the SBC200 Dual Docking Charger)
Backlit LCD with easy to navigate menu and controls
Rugged metal construction
Detachable ¼ wave antenna
Frequency and power lockout
Case Studies
Straubing-Bogen District Council (known in German as the Landratsamt) needed a new conferencing system for its main debating chamber, one that matched the latest technical requirements and standards.
Microflex Advance Ceiling Array Microphones Bring Pristine Speech Intelligibility to Lucas Hall Classrooms for Enhanced Teaching and Learning Capabilities
Indiana Wesleyan is the largest private college in Indiana, based on enrollment, and is one of the largest employers in Grant County. Recently, the performance center was in need of an audio overhaul to replace old and outdated microphones and sound equipment.
Reviews
Compatible Receivers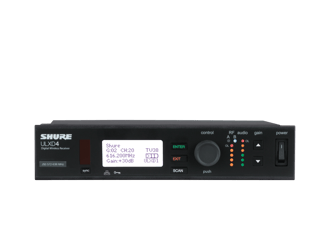 Digital Wireless Receiver
Networkable receiver with 24-bit / 48 kHz digital audio quality and AES 256-bit encryption.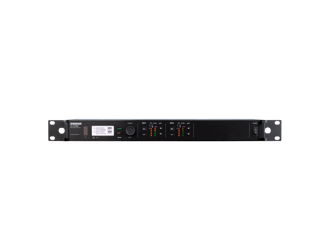 Dual-Channel Digital Wireless Receiver
Two channels of uncompromising audio quality, RF signal stability and efficiency, and advanced setup features in a single rack unit.
Quad-Channel Digital Wireless Receiver
Four channels of uncompromising audio quality, RF signal stability, and advanced setup features in a space-efficient single rack unit.
Support
Customer Support
Service & Repair
Detailed policy information regarding customer service numbers, service modifications, and replacement parts.
Service & Repair
Contact Us
Submit a ticket directly to Shure Customer Service staff, or reach out via phone or email.
Contact Us
Resources
Shure Tech Portal
Complete product documentation, technical support materials, software and firmware, and other tools and resources for all Shure products, in one place.
Sign In
Documentation
Frequency Compatibility Chart
Tools
This tool provides recommended frequencies for Shure Wireless System use in the United States.
With a few simple inputs, this selection wizard provides recommended items for your wireless microphone setup, and/or a diagram on how the antennas and antenna distribution are connected.
Enter distance between antenna and receiver to get setup recommendations for the receiver.
Software & Firmware
RF can be your sound system's best friend, and its worst enemy. But there's a software solution to keep the signal on your side, in every environment. Command your entire system with Wireless Workbench® 6.
ShurePlus Channels enables remote, real-time precision monitoring and control of Shure wireless systems. Features include audio metering, RF indicator, ShowLink signal strength, and frequency assignments with band, group, and channel information.
A modern audio network can't do its job with outdated software (and the time you spend searching for each latest version is time lost). Easy-to-use and free-to-download, the Shure Update Utility helps you update compatible Shure products while managing all of your device firmware. Giving you one less thing to worry about.