MXC, DDS5900 and DCS6000
MXC Firmware
For Shure Discussion System Products
Keep your conference system performing at its best with the latest easy-to-use and free-to-download firmware packages. These downloads include Firmware Update Utility which helps you update compatible Shure products (MXC, DDS5900, and DCS6000) while managing all of your device firmware. The MXC Firmware Update Utility (FUU) is bundled with the firmware download on the Shure website. Use this program to keep your system updated to the latest firmware version, or to upload image files to compatible conference units. For any questions see the MXC User Guide or contact support for assistance.
Reviews
Compatible Products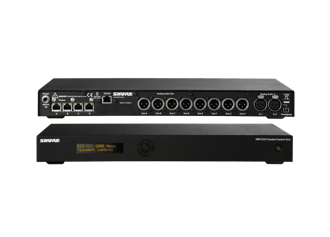 Central control unit for use with MXC-series, 5900-series, or 6000-series conference and discussion units.
Support
Customer Support
Service & Repair
Detailed policy information regarding customer service numbers, service modifications, and replacement parts.
Service & Repair
Contact Us
Submit a ticket directly to Shure Customer Service staff, or reach out via phone or email.
Contact Us
Resources
Shure Tech Portal
Complete product documentation, technical support materials, software and firmware, and other tools and resources for all Shure products, in one place.
Sign In
Documentation
Firmware Compatibility Chart
Release Notes
Version 9.2.0
Release notes cover the following models:
MXC605/605-F
MXC615
MXC620/620-F
MXC630/630-F
MXC640
MXCIC
MXCMIU
MXCSIGN
DIS-CCU
AO6004
DC5900F
DC5980P
DCS6000 legacy conference and interpreter units
Important
This firmware release can be used to update:

Microflex Complete (MXC) or DCS 6000 systems using DIS-CCU Central Unit
DC5900F and DC5980P to register and work in an MXC system

Systems using CU 5905, CU 6000, CU 6005, CU 6010, CU 6011, CU 6105, or CU 6110 Central Units are not supported in this release
The update requires using the Firmware Update Utility (FUU) included in this release
New Features
System

Support for Mifare/Desfire card when used with SW6000

When using SW6000, the MXC system can now be configured to provide:

The User ID/Login code data from ACOS3 NFC cards programmed from SW6000 (current feature) or
The Unique ID on a Mifare/Desfire NFC card or an ACOS3 NFC card (new feature)

Benefits

Using the Unique ID enables usage of cards where no (meeting) data has been written to the card
This makes it possible to use cards that are provided to users for other purposes to login to SW6000, so the user needs to hold one less card

Important

Mifare/Desfire NFC cards can only be used with SW6000 connected, not in a standalone system

DIS-CCU 

Support for setting output/level on the AO6004 Audio Output unit
Additional languages – Polish & Croatian
System Information Report – Information content updated
Support for configuring MXCMIU as Interpreter source
Support for configuring MXC605 as a voting unit
Alternate LED indications. Option to set the microphone 'Speak/Request color':

Red speak | Green Request
Green speak | Green Request

Option to disable the Request indication in the gooseneck microphone
Disable Global language selection (CGUI) when SW6000 is connected

MXCMIU

Interpreter Source option

MXC640

Additional languages – Polish & Croatian
Expand Agenda Prefix

MXC605

Option with new overlay: Voting 2- and 3-buttons, Attendance check, Secret/open voting

MXCIC
MXCSIGN

OS updated to allow the use of the USB connector together with the 'Shure MXCSIGN App'. The app allows to transfer a defined picture to the sign

TPCI

'Speak Slow' support
MIU interpreter source option
Bug Fixes
System

Ambient sound disappears when switching to VOX mode

CCU

Web GUI removes only a single unregistered unit at 'Remove unregistered units'
Web GUI – Indication in buttons in Diagnostic screen updated
Diagnostic – last unit on a chain is reported as lost when reconfigured into loop
Floor1 and Floor2 is switched in the web GUI Channel-dropdown
Force CCU-configuration to 1000 m of cable, when upgrading from earlier versions to Release 9.2.0
The indication for 605 interpreter in 'Diagnostic' is wrong

MXCMIU

Function button indication is not turning blue, when configured as ambient mic

MXC620

Unit not reacting to card inserted, when location code is altered

MXC620-F & MXC630-F

Chairman left button configured as Exclusive can take over other units already in Exclusive state

MXC630 and MXC630-F

3-Btn Secret voting with proxy – missing LED indication
Cannot login to a meeting during a paused Voting session
Indication in proxy button is not correct
Secret voting – wrong LED indication

MXC640

"Attended" text is not translated
Misleading texts corrected when logging in with card
Missing clear feedback on buttons on login screen
Present/seats value = 2000 are cut of in right side, and only 200 is shown
Speech time display permissions are not working
Voting not possible with meeting mode: No login

MXCIC

Some units are 'Locked' when the system is powered
Unable to turn off "Audible Level Warning"
Known Issues
Manually entered voting results are not shown if a normal voting session has not been started first
The agenda subject name for a manually entered result may be wrong
It is not possible to use an MXC640 configured as dual delegate with SW6000 if the use of NFC cards is enabled
Notes
These release notes include notes from the not-released FW 9.1
MXC and DCS 6000 firmware files are packaged together in the same release file.
To operate MXC devices with FW release 9.2 with other Shure networked systems, see the following list of minimum software and firmware versions:

SW6000 9.2.0
Shure NFC Programming App 1.0.3