DMK57-52
DMK57-52 Drum Microphone Kit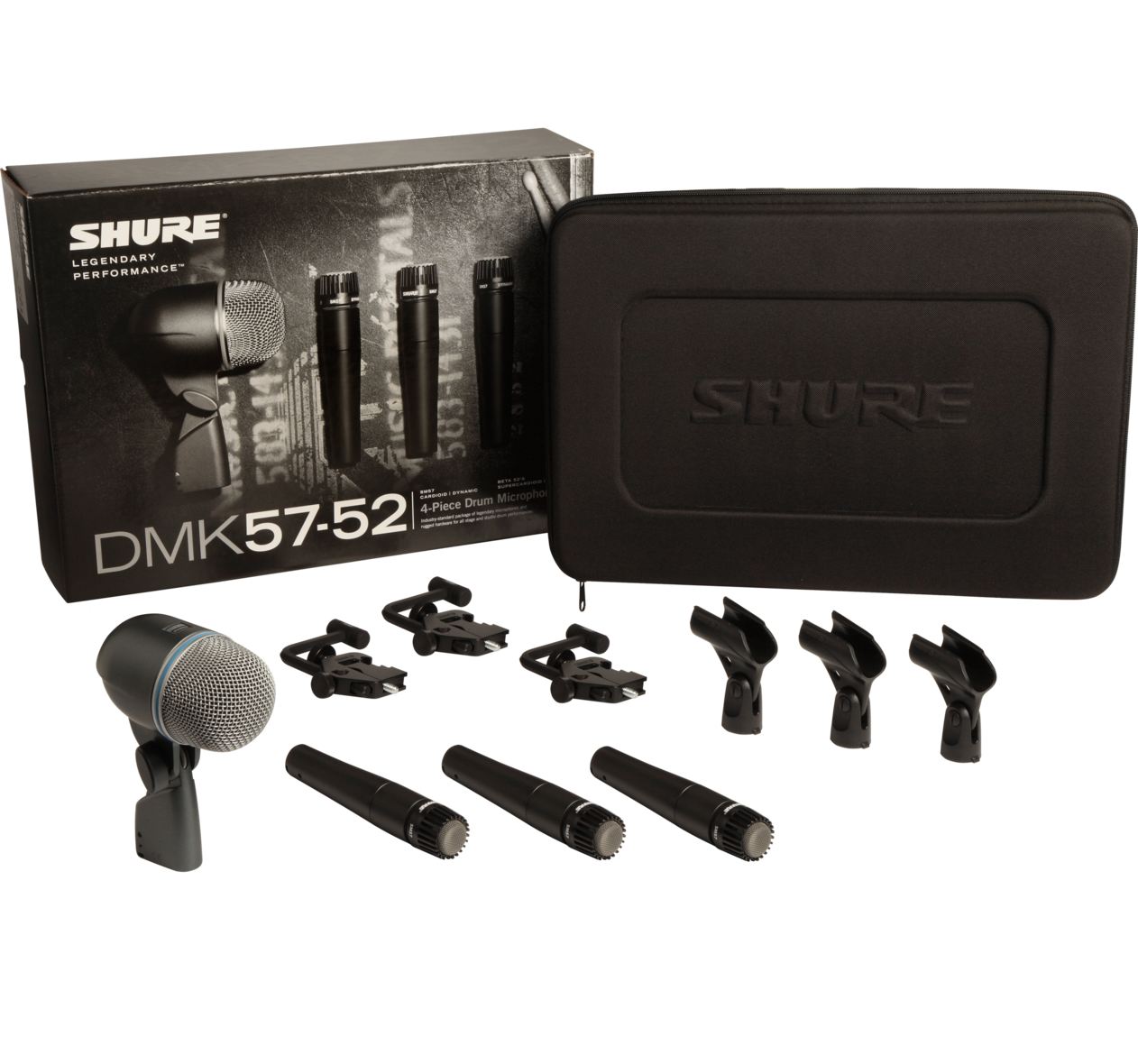 Original price:
Current price:
Industry-standard drum microphone and hardware kit features options for kick drum, snare drum, rack toms, floor toms, and congas.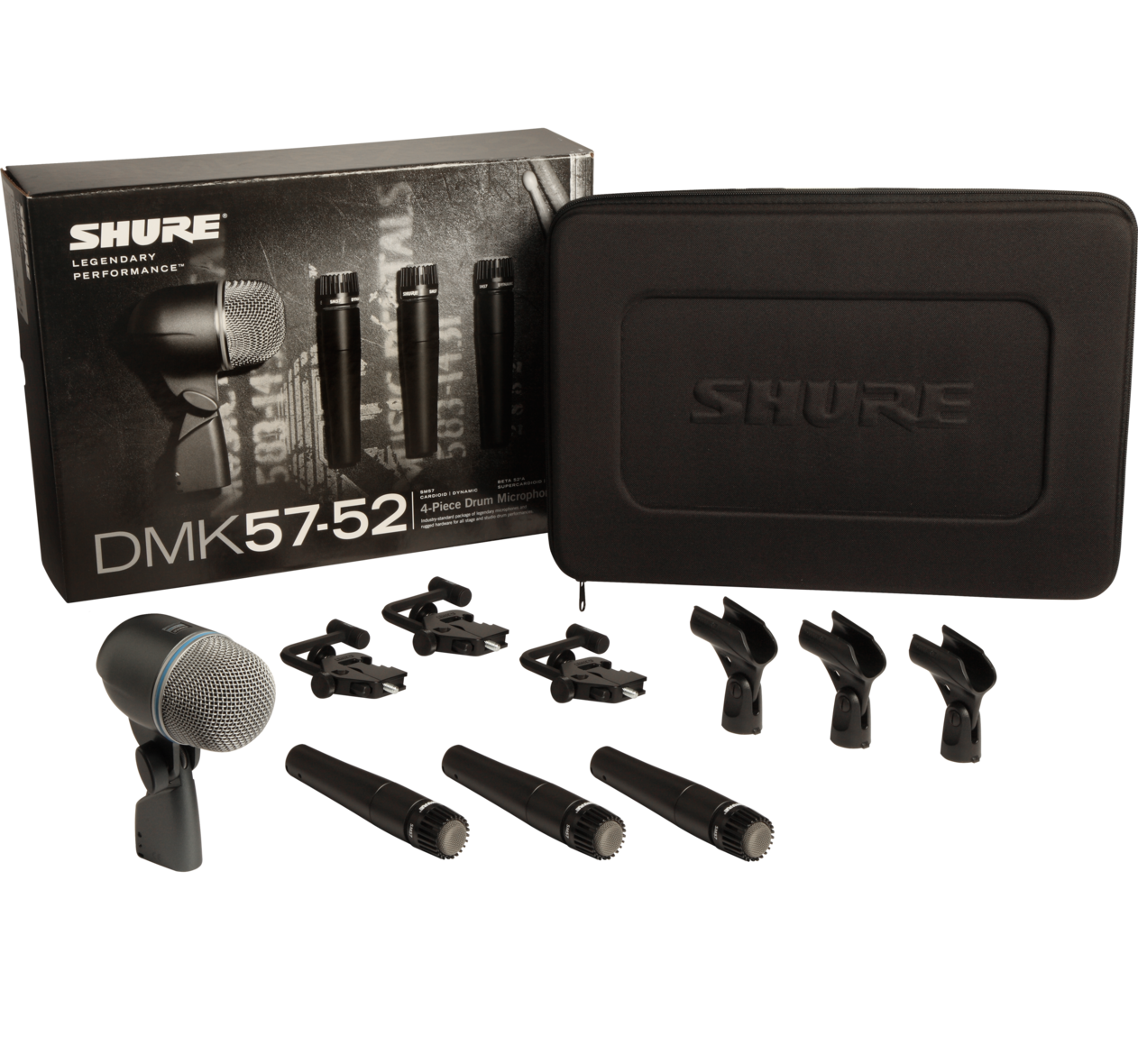 Product Details
The DMK57-52 Drum Mic Kit is a conveniently packaged selection of microphones and mounts, designed to offer a core package of microphones for recording and performing drummers at a great price.
SM57: The industry standard for snare, and a reliable, high-performing choice for toms, the Shure SM57 features a contoured frequency response that cuts through the mix with exceptional impact, while reproducing sound accurately.
BETA 52A®: Perfect for the kick drum, this mic derives low-end punch and sonic presence from a carefully tailored frequency response. Equipped with its own pneumatic shock mount, the BETA 52A is designed with an integral locking stand mount for easy set up.
A56D: This universal drum mount system can be used to position mics virtually anywhere -- drum rims, mic stands, even cymbal stands. Designed with captive parts to prevent the loss of individual pieces, the A56D is small, secure, and can be used with any standard mic.
Carrying case included.
3 - SM57 Dynamic Microphone for Snare and Toms
1 - BETA52A Dynamic Microphone for Kick Drum
3 - A56D Universal Drum Mounting System
1 - Rugged Carrying Case
Original price:
Current price:
Reviews
Support
Customer Support
Service & Repair
Detailed policy information regarding customer service numbers, service modifications, and replacement parts.
Service & Repair
Contact Us
Submit a ticket directly to Shure Customer Service staff, or reach out via phone or email.
Contact Us
Resources
Shure Tech Portal
Complete product documentation, technical support materials, software and firmware, and other tools and resources for all Shure products, in one place.
Sign In
Comparable Products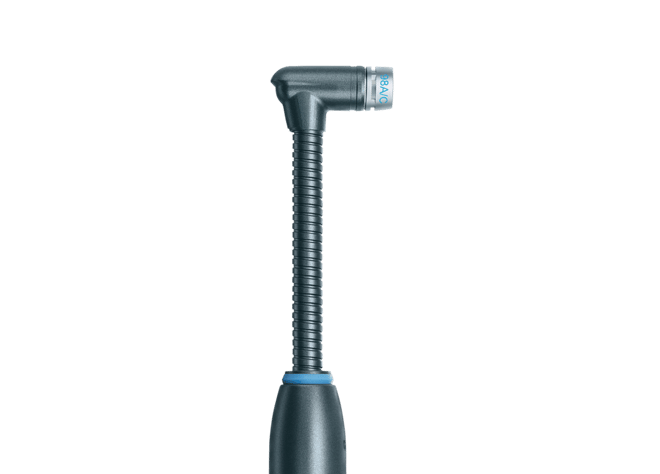 Instrument microphone combines an integrated preamplifier with a miniature condenser capsule to provide a smooth, tailored response for percussion.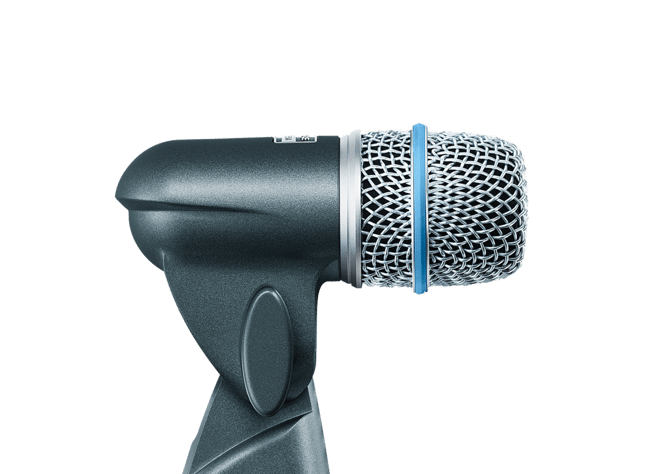 Compact drum microphone engineered for close miking of snare and toms.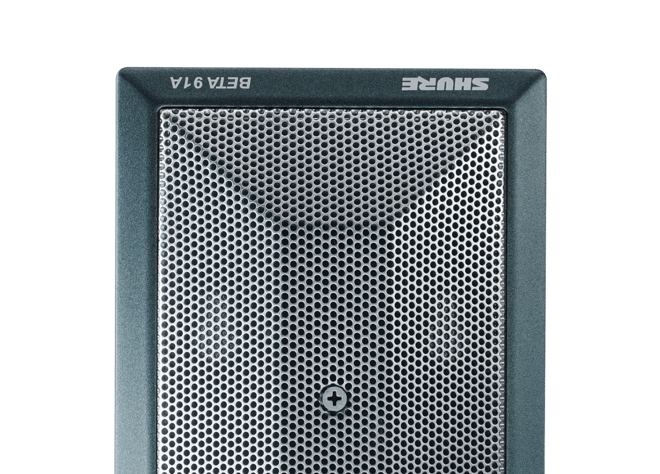 Precision-engineered. Integrated preamp. Two-position contour switch for kick drum & other low-frequency applications.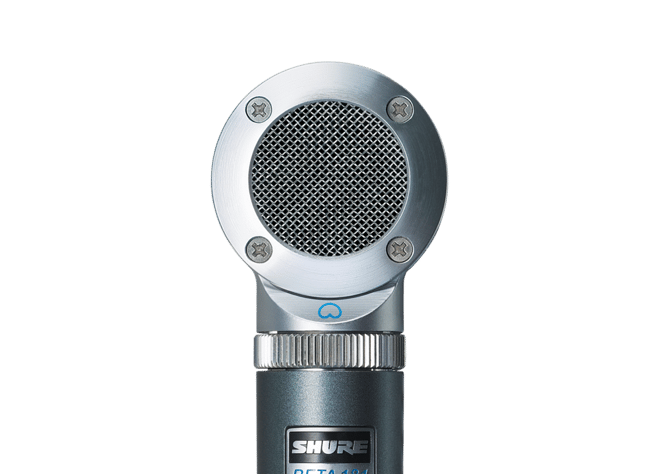 Side-Address Condenser Microphone with interchangeable capsules
Precision-engineered small-diaphragm condenser microphone with interchangeable polar pattern capsule options.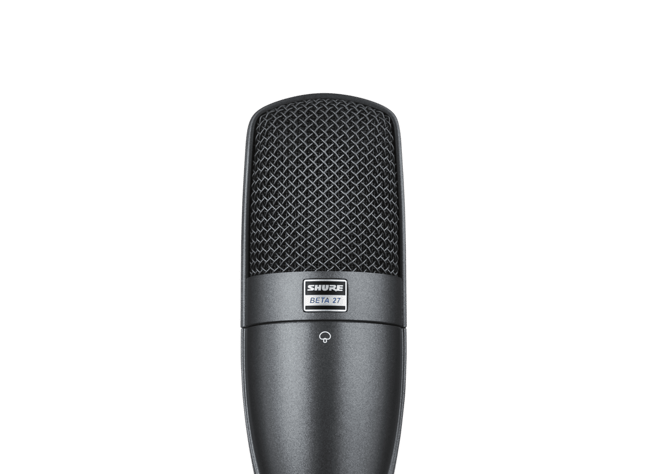 Precision-engineered, large-diaphragm side-address microphone for professional live and studio applications.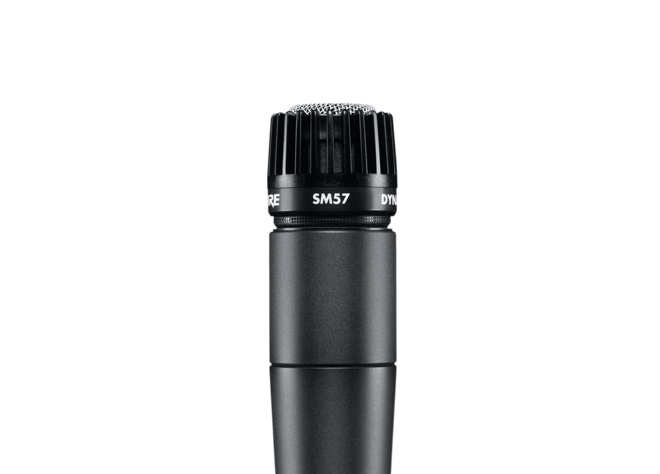 Dynamic Instrument Microphone
The world's single most versatile microphone. On stage or in studio, the SM57 captures every sound from powerful playing to nuanced performance.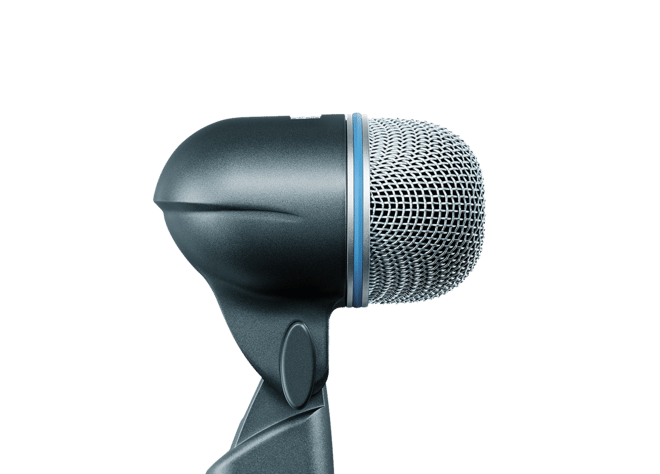 Optimized for low-frequency bass punch/high-power SPL handling. Designed for kick drum.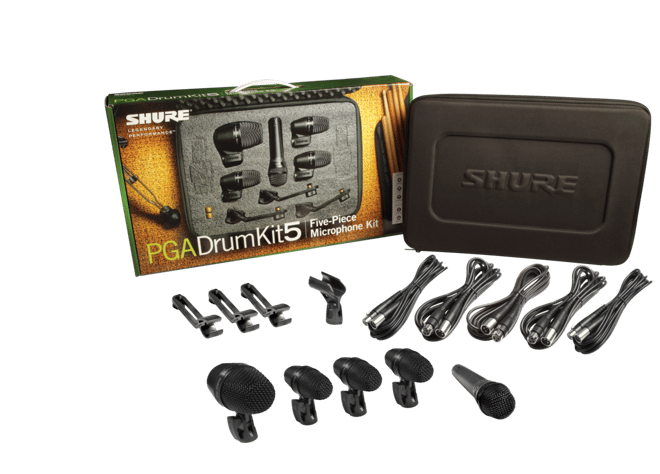 PGADRUMKIT5 Drum Microphone Kit
The PGADRUMKIT5 includes microphone options for reinforcing kick drums, snare drums, and toms for performance and recording.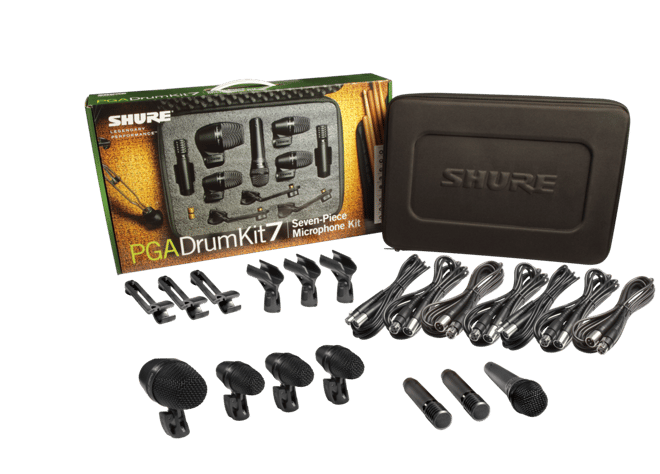 PGADRUMKIT7 7PC DRUMKIT PGA52, 57, 56(X3), 81(X2)
The PGADRUMKIT7 includes a complete microphone package for reinforcing kick drums, snare drums, rack toms, floor toms, congas and cymbals for performance and recording.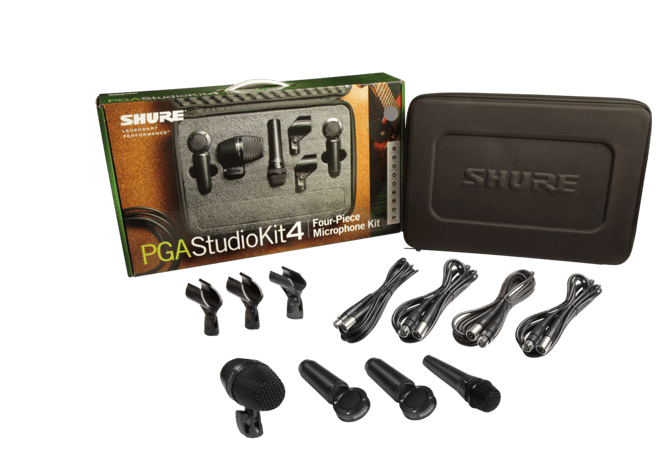 STUDIO KIT THAT CONTAINS PGA52, 57, 181 (X2)
The PGASTUDIOKIT4 features a drum microphone plus three multipurpose instrument and vocal microphones, making it an exceptionally versatile studio recording kit.