Elevate Your Audio Monitoring Capabilities
WaveTool
Audio Monitoring & Listening Software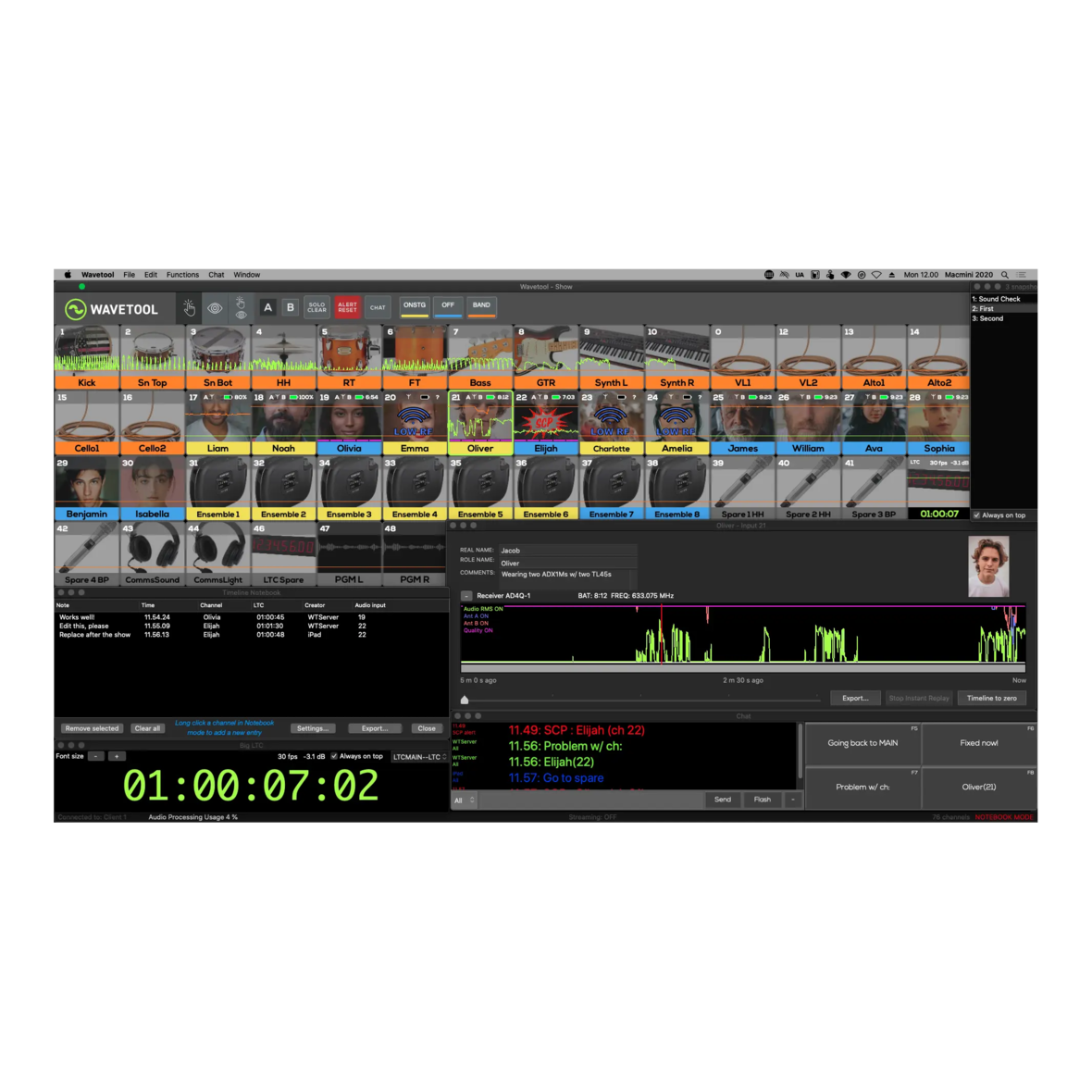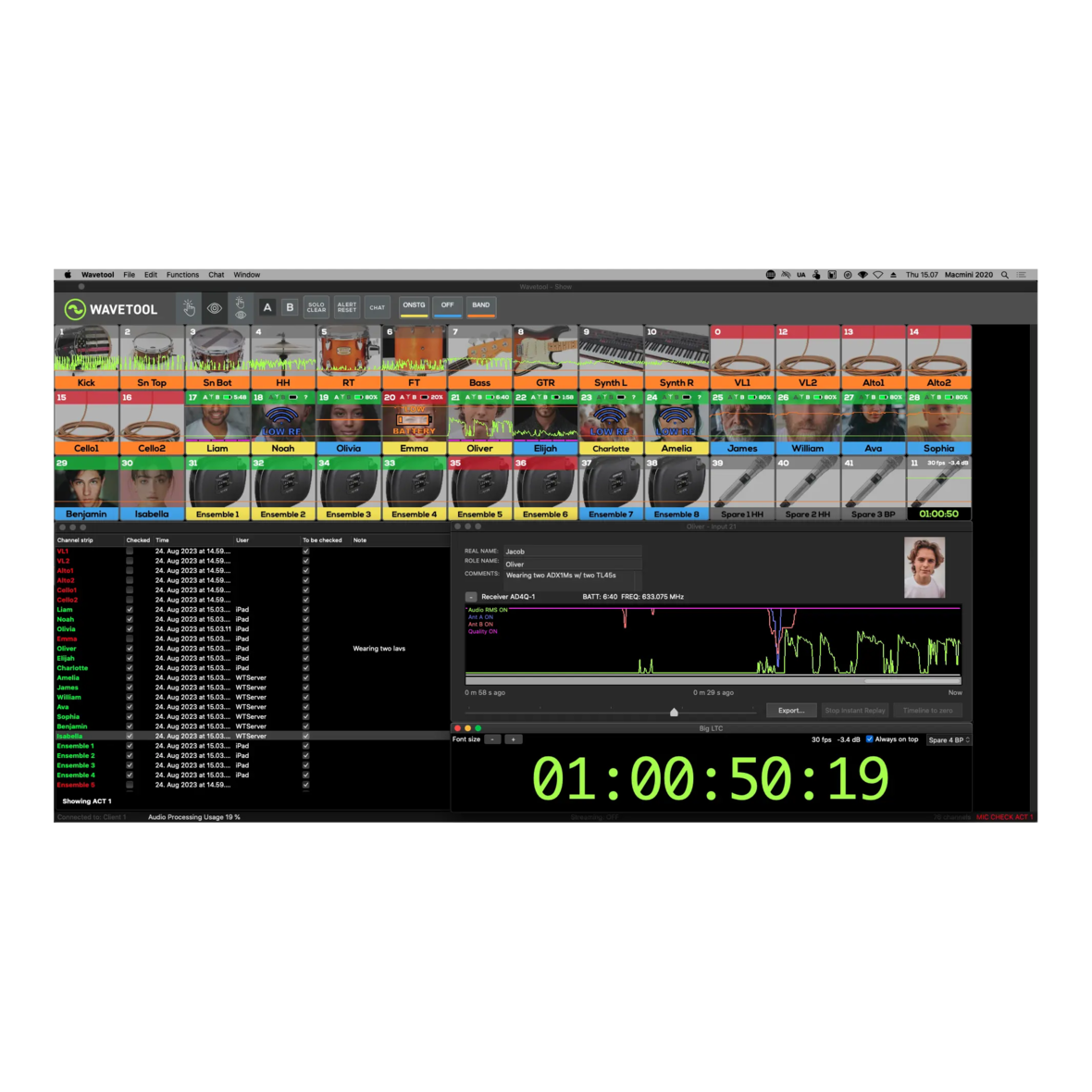 Take your audio monitoring to the next level with WAVETOOL by Wavemark Ltd. This robust software tool seamlessly combines mic monitoring and RF quality monitoring for all audio sources into a single, efficient view, tailored to meet your needs. With WAVETOOL, be confident that you'll receive accurate information precisely when you need it, ensuring a flawless audio performance.
WAVETOOL revolutionizes audio monitoring by offering a centralized solution for remote listening and viewing of every audio source, all while simultaneously monitoring RF and battery levels. The software's custom-built algorithm detects and flags faulty sound sources, allowing you to swiftly identify and resolve audio issues. The integrated chat feature makes communicating with other technicians a breeze.
Centralized Monitoring
With compatibility with the most popular RF receivers across a variety of brands, you can effortlessly keep tabs on all your audio sources on a single screen.
Made for High Stakes Productions
Audio professionals rely on WAVETOOL for the most demanding productions, including West End and Broadway, top-tier live sound, and major sporting events.
Ensure Optimal Monitoring Convenience
With the WAVETOOL mobile app, audio technicians can move freely around the stage while streaming audio directly to their iOS devices.
WAVETOOL is compatible with several Shure systems, including Axient Digital, ULX-D, SLX-D, Axient Analog, and UHF-R.
During a production, you can effortlessly monitor sound and remotely listen to up to 128 channels.
Thanks to Instant Replay, you can diagnose and investigate any odd sounds.
Insert pictures and notes on talent, streamlining your production setup process.
With Mic Check mode, mark checked and unchecked microphones to optimize preshow workflow.
Reviews
Support
Customer Support
Service & Repair
Detailed policy information regarding customer service numbers, service modifications, and replacement parts.
Service & Repair
Contact Us
Submit a ticket directly to Shure Customer Service staff, or reach out via phone or email.
Contact Us
Resources
Shure Tech Portal
Complete product documentation, technical support materials, software and firmware, and other tools and resources for all Shure products, in one place.
Sign In
Related Products
Wireless Workbench puts a full suite of RF spectrum management tools in one place to give you full command of your compatible wireless devices.
Channels Mobile App for iOS and Android
ShurePlus Channels enables remote, real-time precision monitoring and control of Shure wireless systems.
Easy-to-use and free-to-download, the Shure Update Utility helps you update firmware on firmware on compatible Shure products.
Wireless Microphone System
The Shure Axient Digital Wireless Microphone System delivers world-class sound quality for the most critical broadcasts and live events with high channel counts.
Wireless Microphone System
The Shure SLX-D Digital Wireless Microphone System delivers premium digital audio and network control that easily scales to match your production needs.
From managing diverse sound sources to protecting RF signal, ULX-D® Digital Wireless systems are secure and durable for large events and installations.