AXT600
AXT600 Axient Spectrum Manager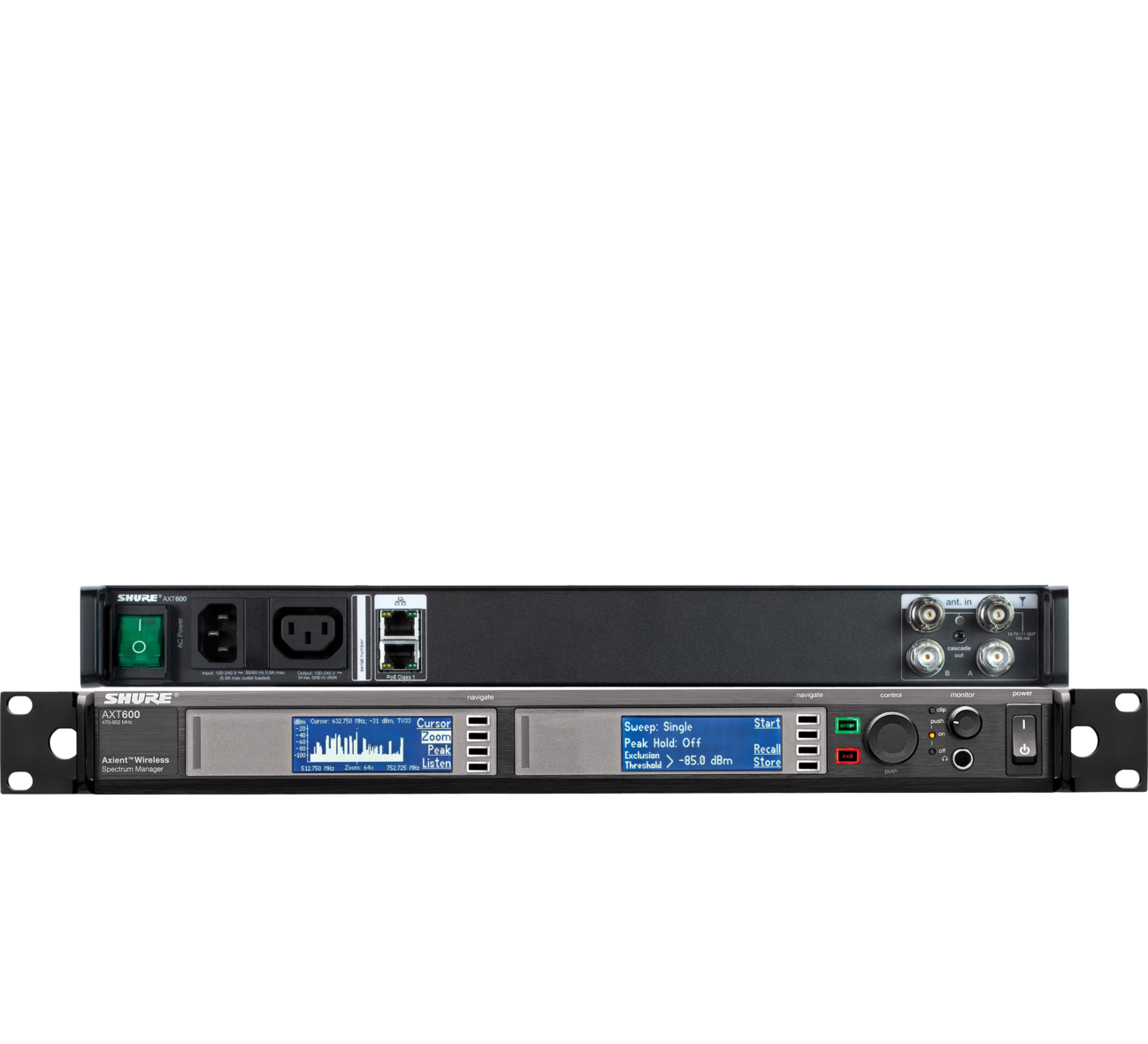 Defining a new class of RF management tools, the AXT600 Axient Spectrum Manager delivers wide-band UHF spectrum scanning, spectrum analysis and compatible frequency coordination—all in a single rack unit.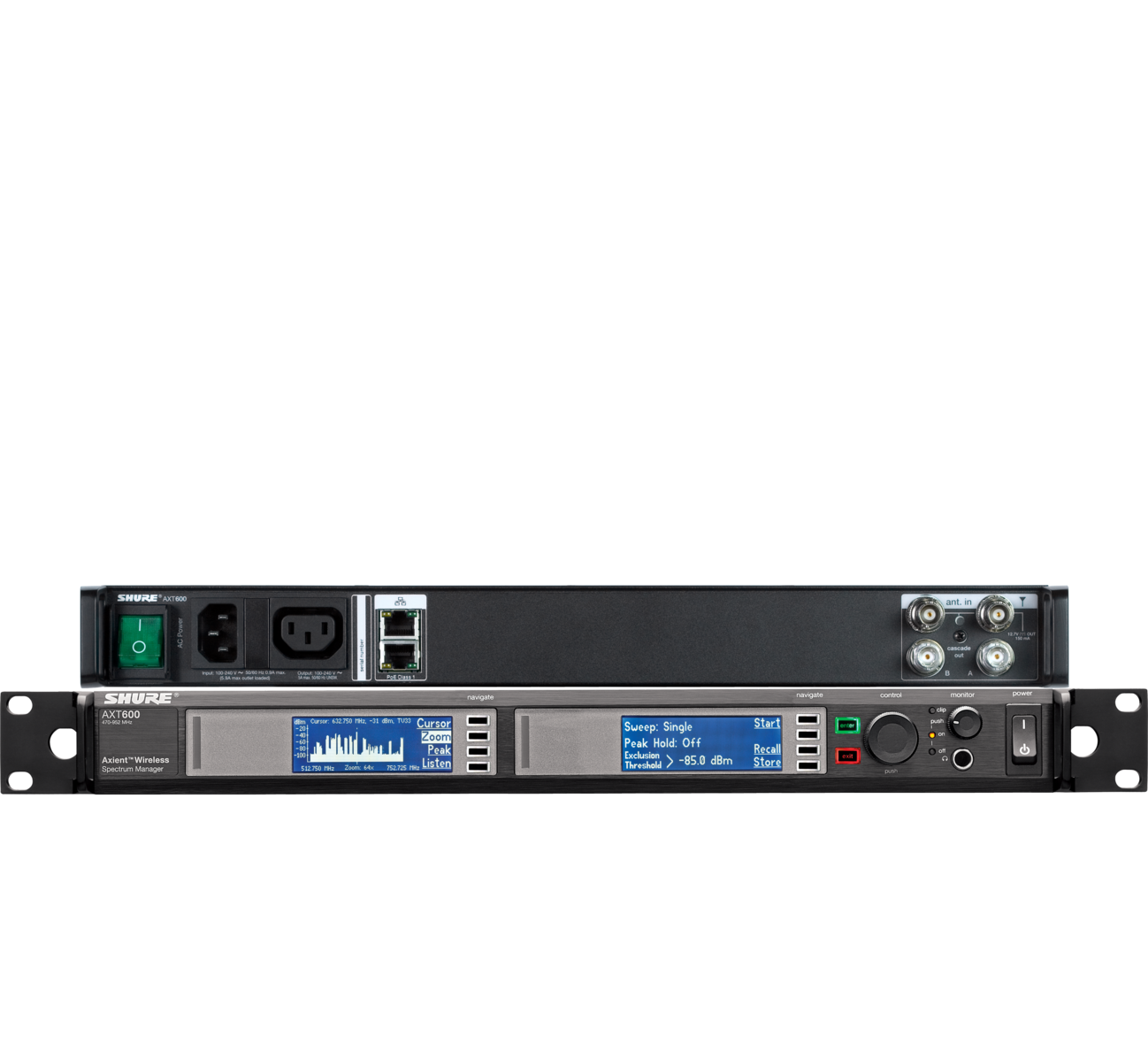 Product Details
By scanning and displaying the RF environment, calculating compatible frequencies and deploying them to Axient receivers easily and efficiently, the Axient Spectrum Manager offers a sophisticated interface and precise information for allocating the best available frequencies to any number of wireless channels.
For added flexibility in complex RF environments, the AXT600 also monitors and ranks a live list of backup frequencies—and can deploy them instantly and automatically when an Axient Receiver detects interference. Together with Shure Wireless Workbench 6 software, Axient Spectrum Management tools offer a rich graphical interface for viewing the RF world and choosing the optimal frequencies for all of an event's wireless channels.
Coordination
Wideband scanning

Scans the global UHF spectrum (470-952) MHz in less than 1 minute.
Scan data is directly matched to Axient receiver parameters and performance; the scan results are stored for later analysis.

On board frequency calculator generates compatible frequencies for all networked Shure wireless devices.
Frequency lists can be exported to the Spectrum Manager from Wireless Workbench 6
Networked hardware programming simplifies and streamlines setup of multi-channel Axient and UHF-R systems.
Advanced user controls

Adjustable threshold excludes frequencies above a selected noise level.
Known TV channels or frequency ranges to avoid can be input quickly and easily.
Viewable and editable frequency list.
Analysis of a modified frequency list to verify compatibility.
Analysis
Backup frequency monitoring continuously evaluates backup frequencies in real time.
Backup frequency ranking evaluates the quality of backup frequencies and determines which are most viable for use.
Frequency list management maintains knowledge of all devices on the network.
On-demand frequency server delivers a clean, compatible frequency when a change is required.
Visibility
Spectrum display provides a front-panel spectrum plot with Cursor, Zoom and Peak Find.
Backup frequency display quantifies backup frequencies ready for use by Axient channels.
"Listen" feature demodulates FM signals for headphone monitoring and displays real-time signal strength.
Connectivity
RF signal cascade connects up to 5 receivers using 1 RF signal source.
2 Ethernet ports allow convenient computer and ShowLink™ Access Point connection.
IEC in/out power ports enable daisy-chaining of AC power.
Reviews
Support
Customer Support
Service & Repair
Detailed policy information regarding customer service numbers, service modifications, and replacement parts.
Service & Repair
Contact Us
Submit a ticket directly to Shure Customer Service staff, or reach out via phone or email.
Contact Us
Resources
Shure Tech Portal
Complete product documentation, technical support materials, software and firmware, and other tools and resources for all Shure products, in one place.
Sign In
Related Products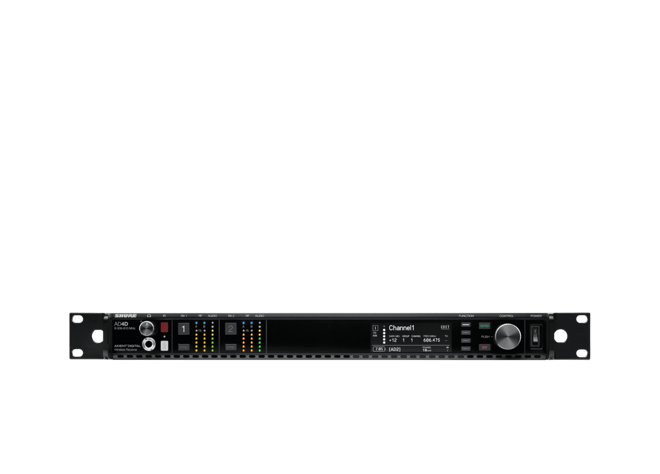 AD4D Two-Channel Digital Wireless Receiver
Compatible with all AD series and ADX series transmitters.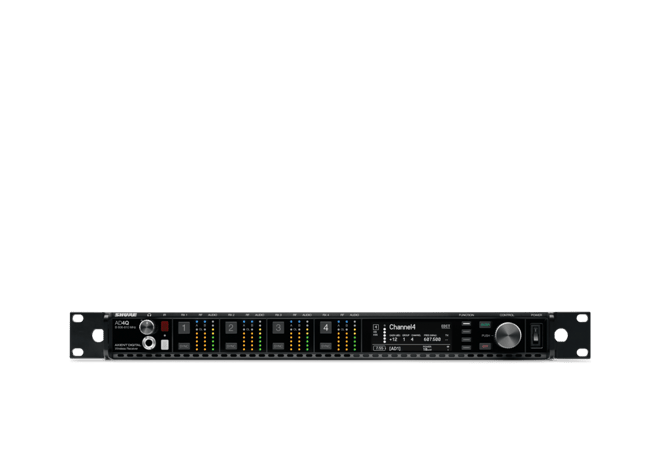 AD4Q Four-Channel Digital Wireless Receiver
Compatible with all AD series and ADX series transmitters.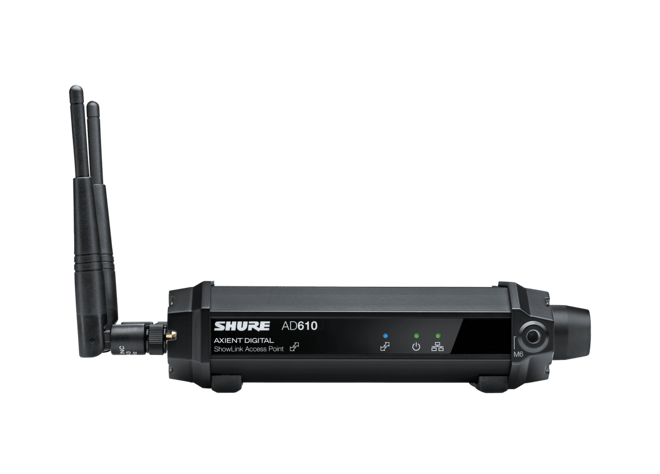 Diversity ShowLink® Access Point
The AD610 provides a wireless ShowLink® connection between all linked transmitters and receivers.
Case Studies
Kees Heegstra, RF specialist for Dutch event companies Mojo Concerts and Loc7000, coordinated and monitored all wireless systems used at Lowlands (the biggest 3 day festival in the Netherlands).
Throughout his career, Lenny Kravitz has always insisted on accuracy in his guitar tone.
The Voice Kids has run every year since 2013, and is a large-scale production with contestants and additional live acts performing song and dance routines every week, using a large number of wireless mics with plenty of backups in case of unexpected failures.