Discontinued
FP33
FP33 Stereo ENG Mixer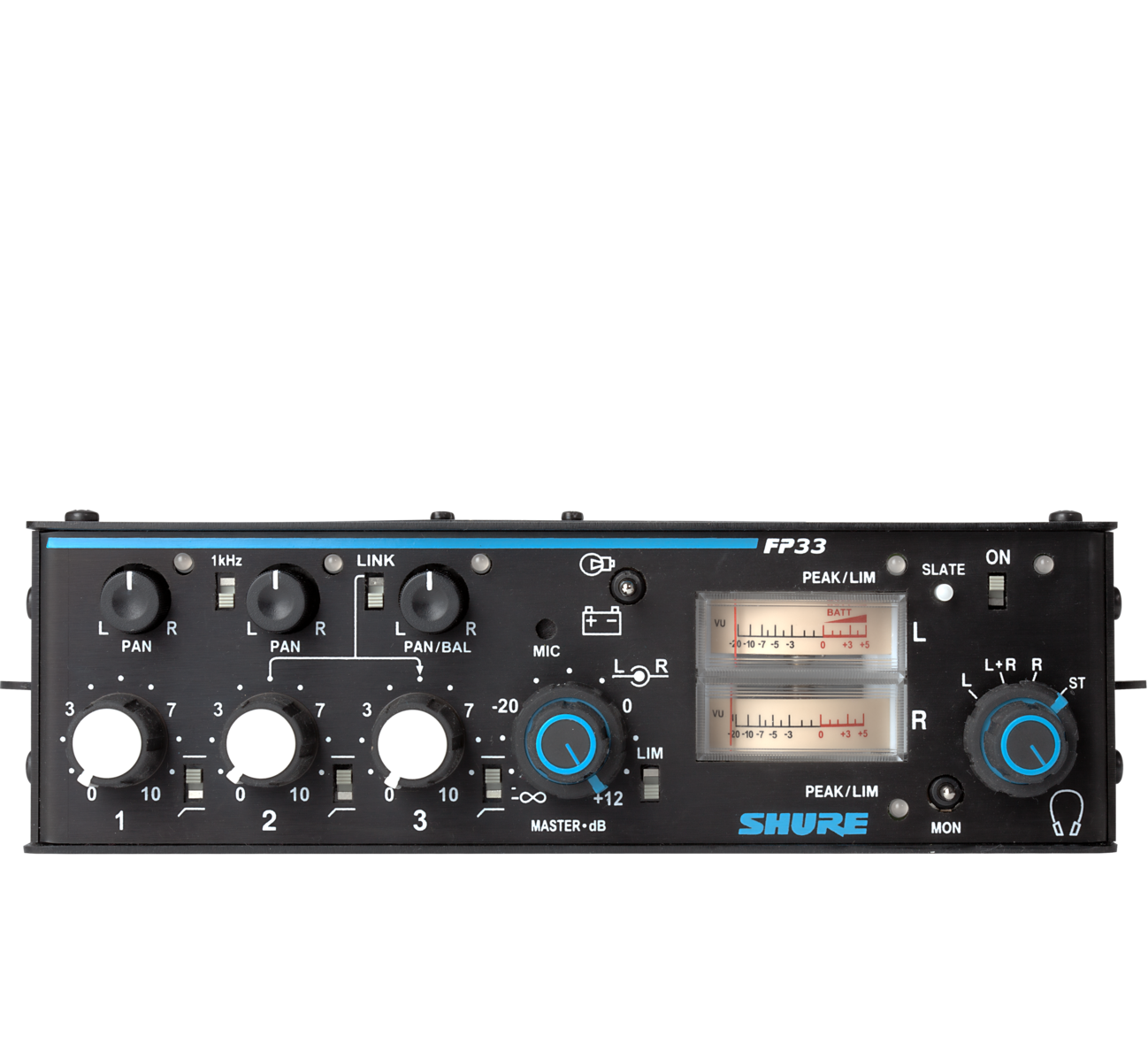 Stereo ENG mixer offers 3 inputs and 2 outputs for remote audio recording, electronic news gathering, and location film production. Includes switchable low-cut filters, LED signal presence, VU meters, and dual-clutched Master gain control.
Product Details
Exceptionally quiet design, suitable for use with DAT and other digital formats
Transformer balanced inputs and outputs for superior rejection of RFI and electromagnetic hum
Three selectable mic/line inputs
Two selectable mic/line outputs
Wide range input gain controls handle hot signal levels without attenuators
48 V phantom, 12 V phantom, and 12 V T (A-B) microphone power
Pop-up pan pots
Link switch gangs inputs 2 and 3 to control a stereo microphone
Switchable low-cut filters on each input
Bi-color LED signal presence and peak indicator for each input
Professional VU meters with selectable timed or toggled backlighting
Dual clutched Master gain control for simultaneous or separate adjustment of output levels
Precision, conductive plastic, sealed rotary input potentiometers
Bi-color LED limiter and peak indicator for each output
Two linkable output peak limiters with adjustable thresholds and release times
Slate microphone and slate tone with selectable functions
Isolated two-way talk-back using Monitor In and modified Slate Mic/Tape Out jack
High tolerance 3.5 mm jacks for stereo Tape Out and Monitor In
1 kHz tone oscillator
Mix bus jack and cable to link FP33 mixers
Headphone monitor mode switch to select L, L+R (Mono), R, or Stereo)
Internal headphone level adjustments to balance post–master audio levels and Monitor
In levels at the headphone output
Selectable M/S decoding circuit for headphone monitor
Mixer/Monitor In switch (locking and momentary)
Internal Monitor defeat switch for split-feed headphone operation
Headphone volume control
1/4 in. and 3.5 mm jacks for stereo headphone outputs
Customized operation via internal DIP switches, trim pots, slide switches, and optional jumpers
Regulated voltage rails (+/-15 Vdc) provide exceptional headroom
Bi-color power On/Off LED
Battery check switch and low battery warning LED
Non-polarized external power jack
External power operating range of 12 to 30 Vdc
Soft-touch, color coded control knobs with raised position indicators
Metal XLR input and output connectors
Rugged, plated metal chassis
Operates for 8 hours on two 9 V alkaline batteries
Includes carrying case, shoulder strap, and mix bus cable
Support
Customer Support
Service & Repair
Detailed policy information regarding customer service numbers, service modifications, and replacement parts.
Service & Repair
Contact Us
Submit a ticket directly to Shure Customer Service staff, or reach out via phone or email.
Contact Us
Resources
Shure Tech Portal
Complete product documentation, technical support materials, software and firmware, and other tools and resources for all Shure products, in one place.
Sign In