MXWNCS8
Networked Charging Station
8-port networked charging station charges handheld, bodypack, and boundary transmitters and gooseneck bases. Features include charge status indicators, charge status monitoring, easy transmitter linking, and overcharge protection for battery damage.
Product Details
Versatile microphone docking: Each station accepts all Microflex Wireless transmitters
Charge status indicators: 5-segment LED's on the unit display charge status individually for every docked microphone
Remote charge status monitoring: Ethernet connection to the system enables remote monitoring of battery charge status in hours and minutes via the control software or third party control systems
Easy transmitter linking: Assign docked wireless microphones to channels on an Access Point Transceiver by simply pressing "link"
Rapid charge times: Reaches 50% charge in one hour and fully charges transmitters in two hours
Overcharge protection: Smart recharging circuitry safeguards against battery damage and extends life cycles
Support
Customer Support
Service & Repair
Detailed policy information regarding customer service numbers, service modifications, and replacement parts.
Service & Repair
Contact Us
Submit a ticket directly to Shure Customer Service staff, or reach out via phone or email.
Contact Us
Resources
Shure Tech Portal
Complete product documentation, technical support materials, software and firmware, and other tools and resources for all Shure products, in one place.
Sign In
Software & Firmware
Shure Update Utility streamlines the process of updating the firmware and software of compatible Shure products. Features include Windows and Apple operating system support and the ability to update hardware for various Shure products and systems.
Comparable Products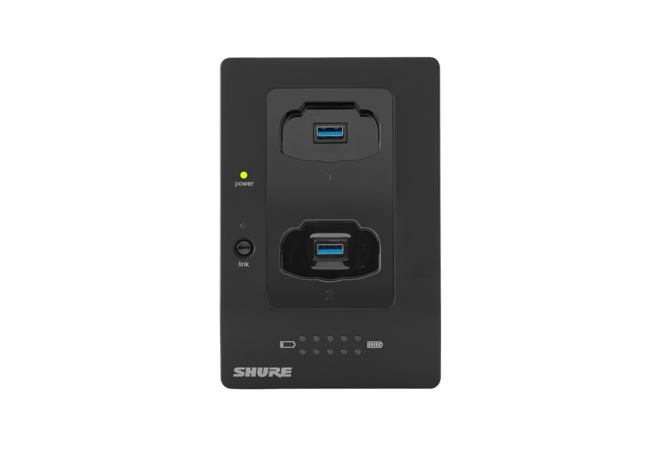 Two-Channel Networked Charging Station
2-port networked charging station allows handheld, bodypack, and boundary transmitters to charge in 1 port for each.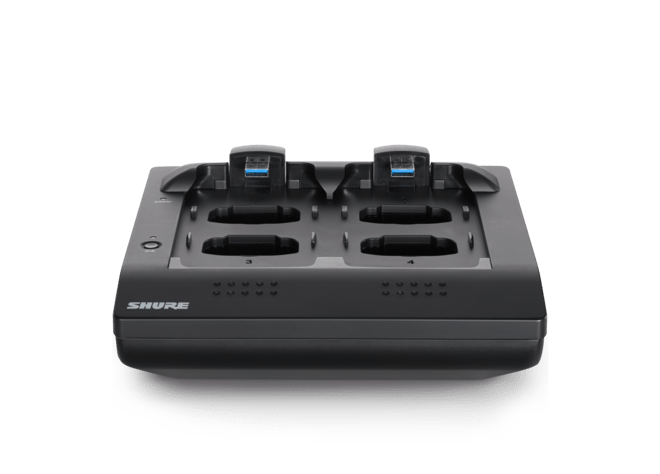 Networked Charging Station
4-port networked charging station charges handheld, bodypack, and boundary transmitters and gooseneck bases.
Case Studies
Marine transport company successfully removes distracting sounds like paper turning, keyboard tapping, and mouse clicking from Zoom calls.
Major international mooting competition goes virtual amid COVID restrictions, enabled by technology partners Zoom, Shure and Huddly.
Founded in 1906 in Lille, the EDHEC Business School is one of Europe's top 15 business schools. World renowned in finance, the school distinguishes itself with 2 innovation centres and more than 180 world-class professors and researchers.