Simplifica la gestión del espectro de RF
Wireless Workbench 7
WWB7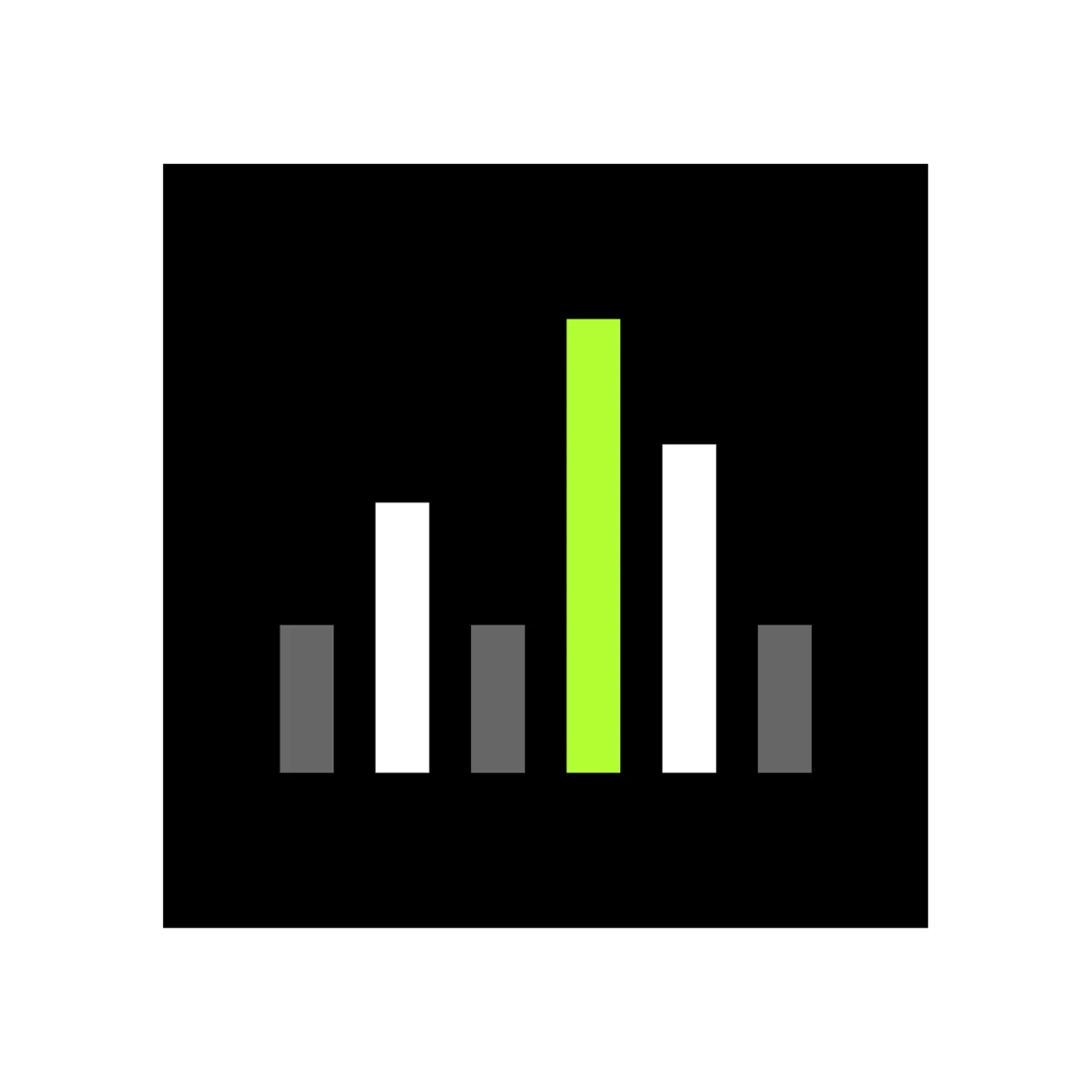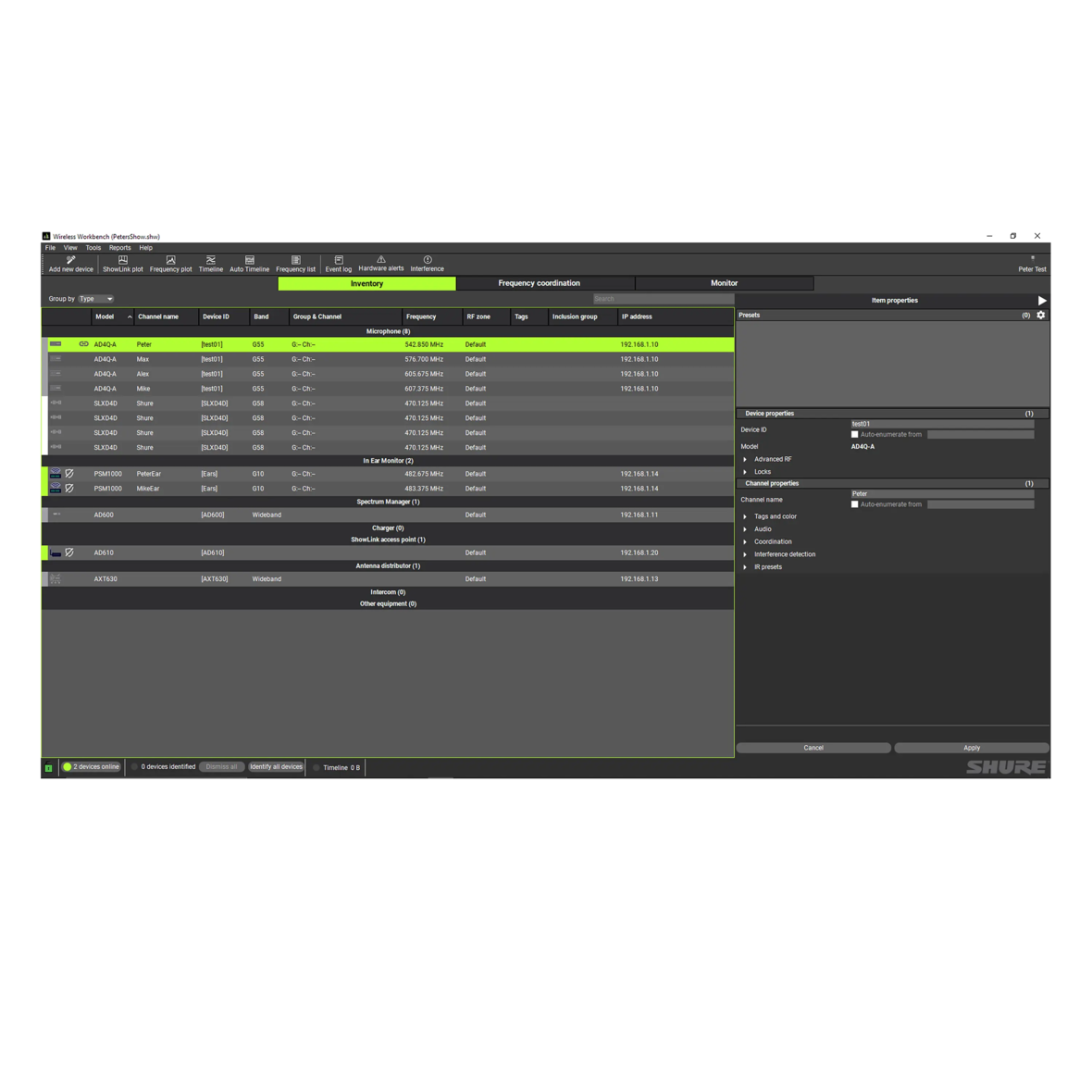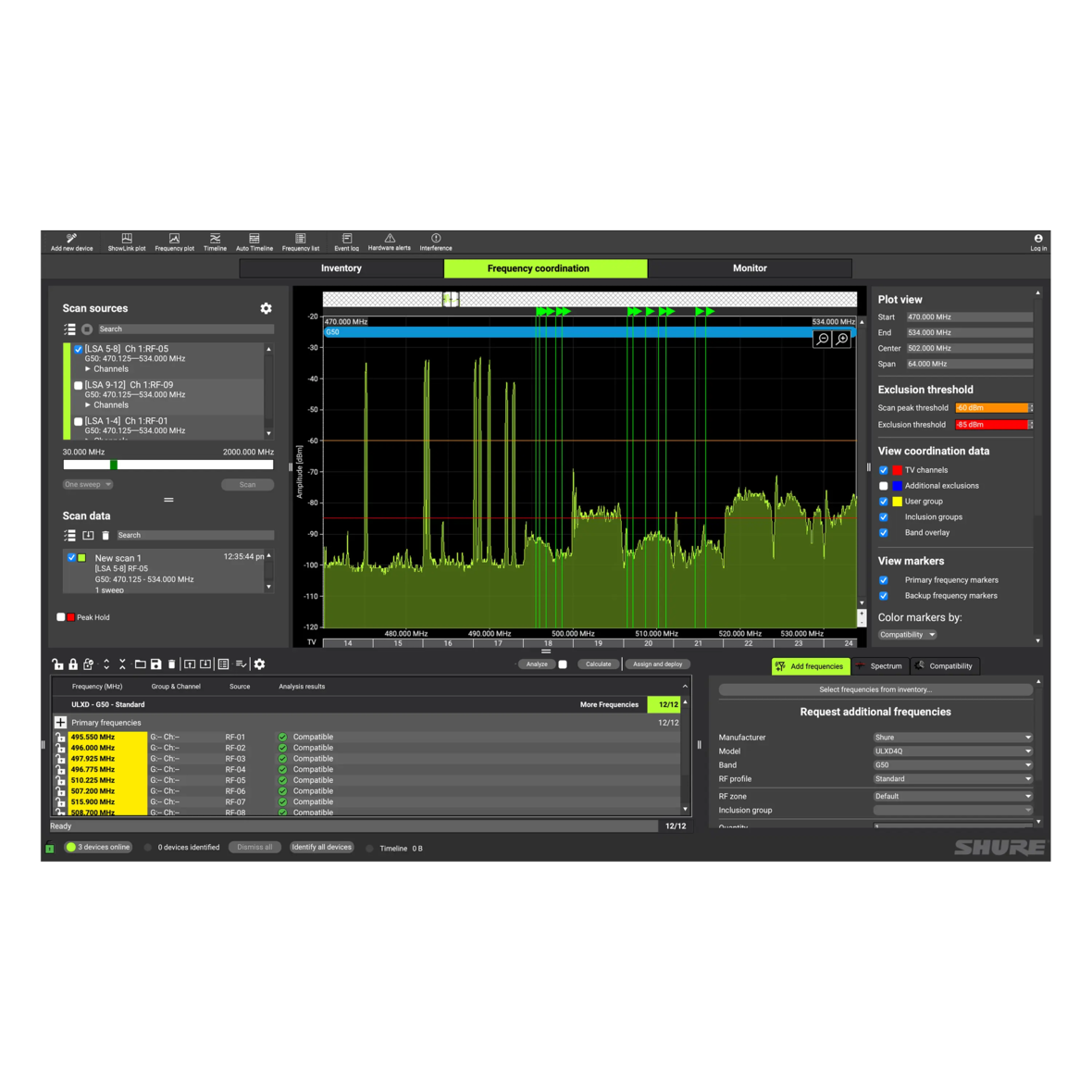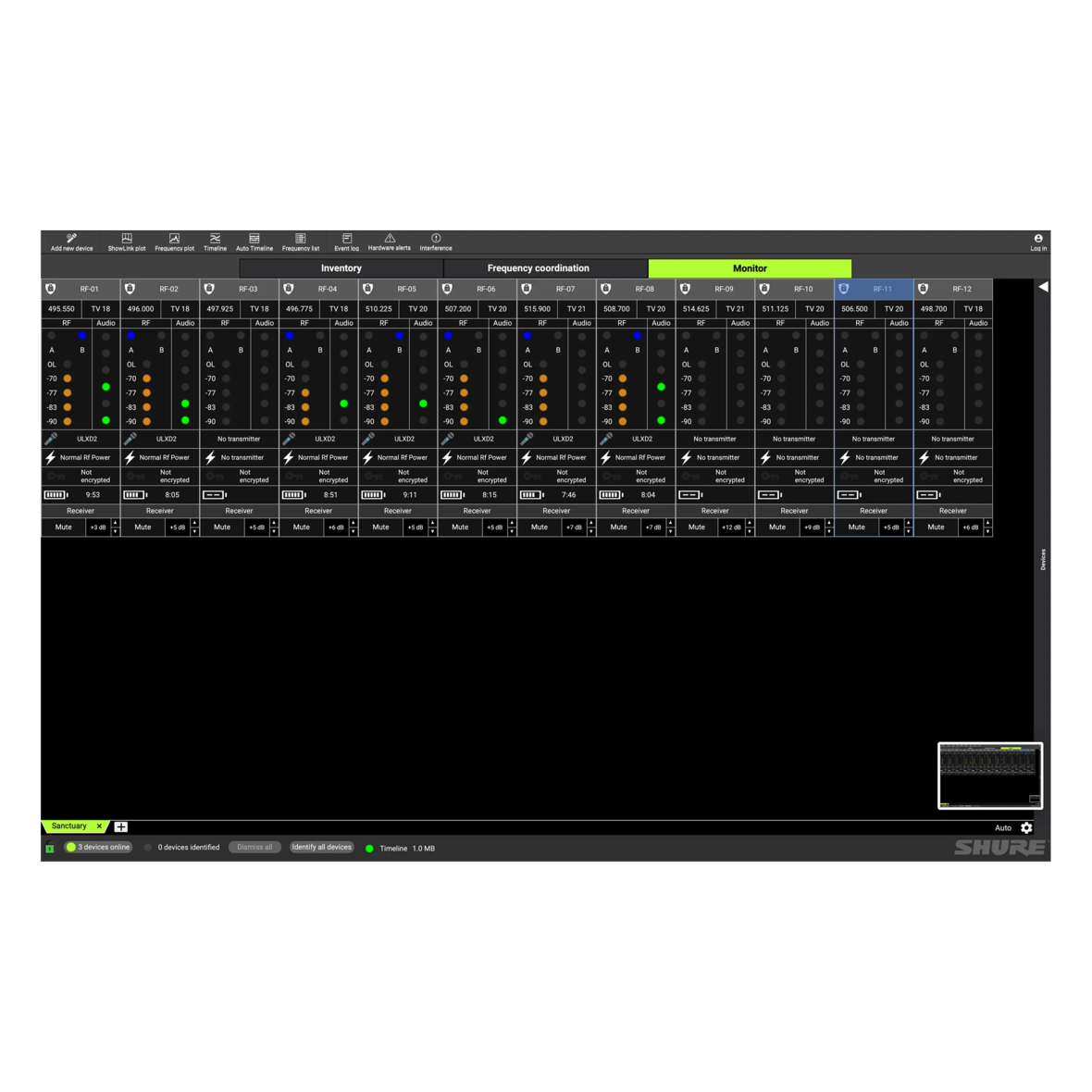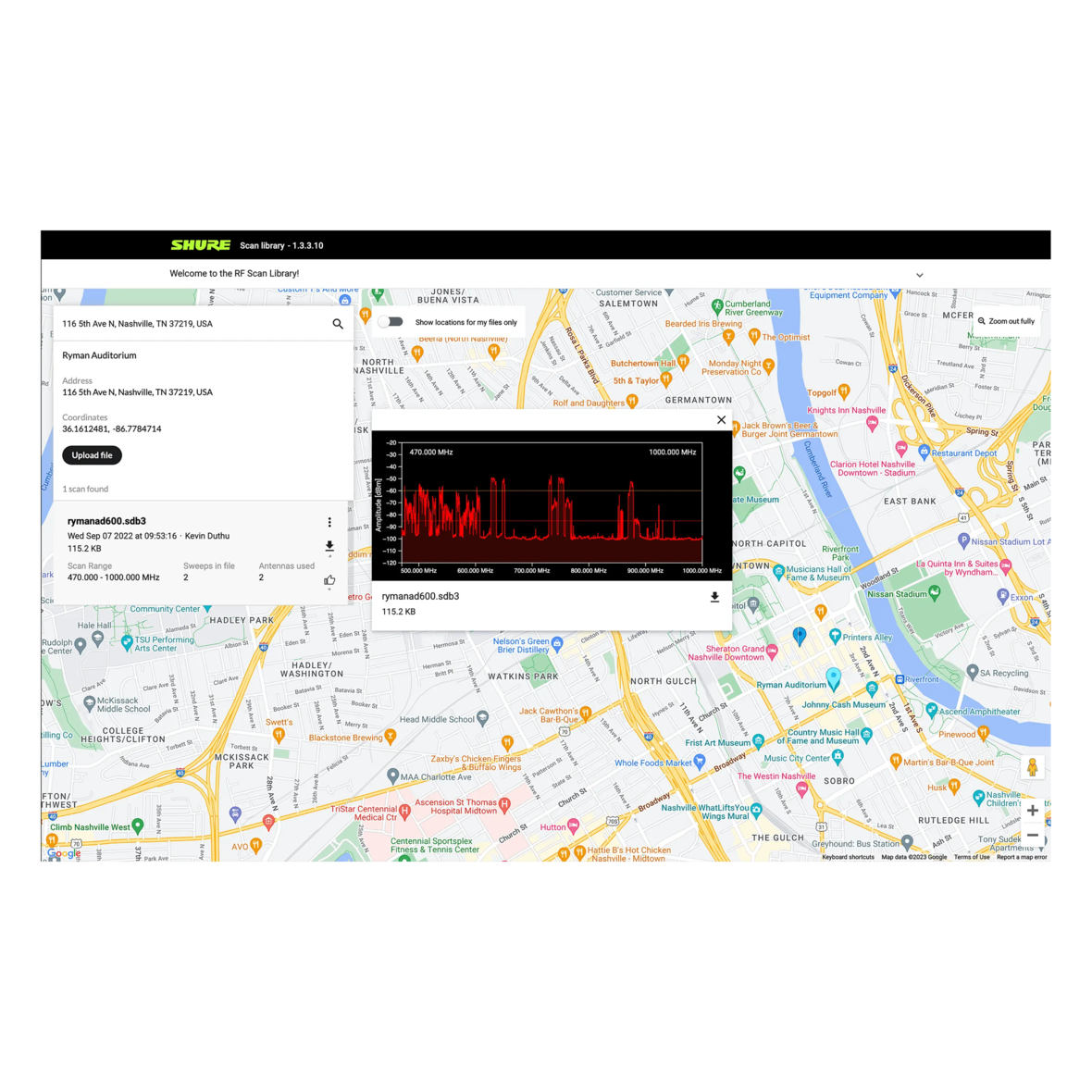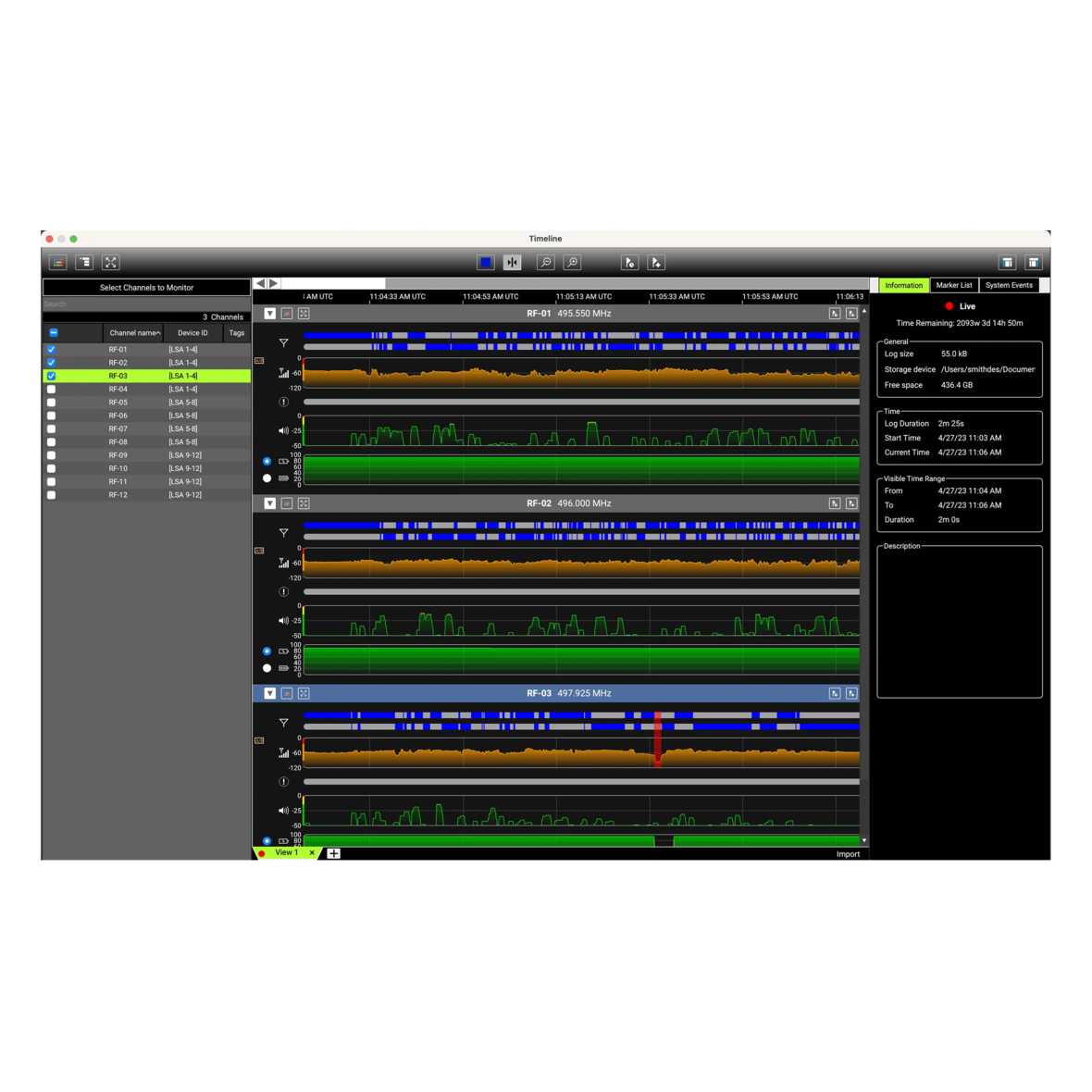 Wireless Workbench es el software gratuito de Shure para los profesionales del audio que combina un conjunto completo de herramientas de gestión del espectro de RF y ofrece un control total de los dispositivos inalámbricos compatibles. De este modo, se podrán superar los desafíos de cualquier entorno de RF, sin importar la ubicación.
Wireless Workbench ayuda a configurar y gestionar los dispositivos inalámbrico en red. Permite escanear el espectro de RF rápidamente, así como identificar y asignar frecuencias a los dispositivos de manera muy eficiente con solo unos pocos clics. Al empezar la producción, podrás gestionar de forma remota la RF de cada componente inalámbrico de Shure para garantizar que la producción se desarrolla satisfactoriamente.
Gestión eficaz
Ahorra tiempo de configuración al cargar en los dispositivos los ajustes guardados previamente.
Coordinación de RF
Coordina las frecuencias de los sistemas de microfonía inalámbrica de Shure y de otras marcas para garantizar un funcionamiento confiable en cualquier evento.
Grabación de datos
La función Línea de tiempo graba los datos de 120 dispositivos en red y permite solucionar problemas de RF durante o incluso después de la actuación.
Descarga gratuita del software de radiofrecuencia
Compatible con Windows 10 y 11, y con macOS Big Sur, Monterey y Ventura.
Accede a la biblioteca de escaneos "WWB Scan Library" para ver los escaneos de RF recientemente cargados antes de preparar la siguiente producción.
Consulta las alertas en tiempo real de los dispositivos, como los avisos de RF, audio y estados de batería.
Crea informes de inventarios, coordinación y redes.
Aprovecha todas las ventajas que ofrece la base de datos de espectro de RF que ofrece Shure gratuitamente.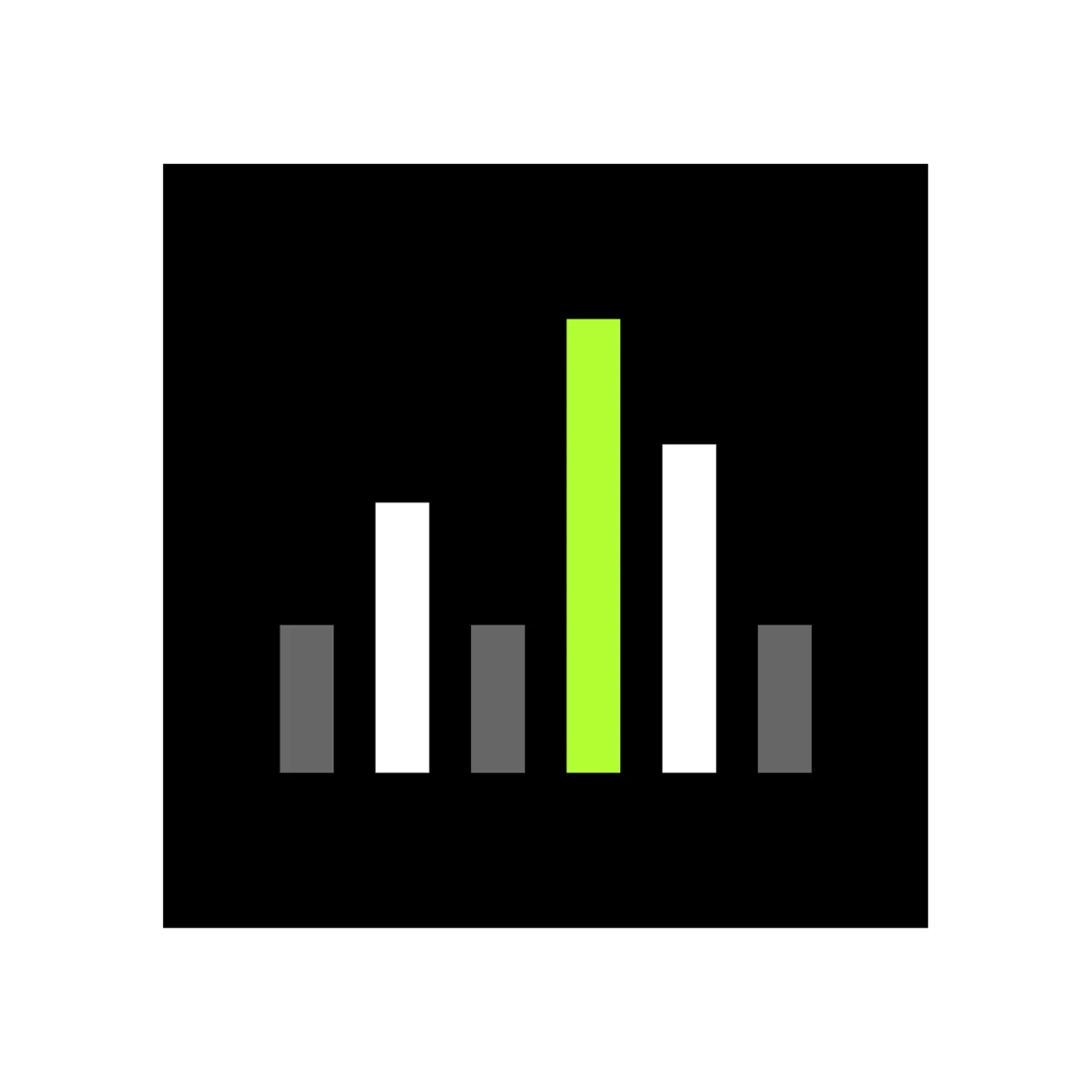 Descargar Wireless Workbench 7
Videos
Wireless Workbench 7 Videos
Soporte
Atención al Cliente
Servicio Técnico y Reparaciones
Conoce la política detallada sobre el servicio, modificaciones, piezas de repuesto y la información de contacto.
Servicio Técnico y Reparaciones
Contáctanos
Contacta directamente al personal de Atención al Cliente de Shure, o comunícate por teléfono o correo electrónico.
Contáctanos
Recursos
Shure Tech Portal
Documentación completa de producto, materiales técnicos de apoyo, software y firmware, así como otras herramientas y recursos técnicos, todo en un mismo lugar.
Registrarse
Notas de la versión
Version 7.0.0
New Features
WWB Scan Library

Scan Library, a new cloud-based tool, enables customers around the globe to upload their RF scans to an online database. Users can save scans privately or share them publicly so others can download the scan data to prepare for their live events.

App UI Refresh

A new dark mode user interface reduces brightness emitted from the screen to accommodate production settings and low-light environments.

Welcome Screen

Upon opening the software, a new welcome screen allows quick access to recently edited shows, the option to create a new show, and the ability edit network settings.

Show Pack

Show Pack, a new file storage option, contains all the files necessary to recreate your show file, streamlining sharing and collaboration with others.
Improvements
Improved Device Discovery and Management

In Network settings, each network interface is displayed with the number of discovered devices, making it quicker and easier to select the right one.
Devices are now clearly marked as Online (Green), Offline (Gray) and Virtual (White) to help the user distinguish between device status

Improved HD Mode Support

Customers using Axient Digital and ULX-D in HD mode can now generate a set of evenly spaced, compatible frequencies by right-clicking on the device profile header.

Improved Workflows

Wireless Workbench now provides more ways to customize reports to ensure it only includes the information you need.
Users can now import multiple scan files at the same time for a more efficient workflow.
An updated Zone Management workflow reduces accidental clearing of all zone mappings.

New Third-Party Profiles

Sony DWX profiles have been added.

Updated TV Database data for the United States and Canada.
Wireless Workbench now allows a continuous scan for up to 72 hours, provided sufficient disc space
Known Issues
ULX-D receivers running firmware version 2.0.28 or earlier may trigger a Settings Conflict when rediscovered after updating their firmware to version 2.1 or later. There is no issue with the device—there was simply a new property added in version 2.1. To dismiss the alert, resolve the Settings Conflict by selecting the properties you wish to keep.
The Timeline System Event "Active Transmitter Online" for ULXD6/8 transmitters does not always include Transmitter Device ID in the event description.
SLX and ULX frequencies in Master List mode cannot be manually entered in the Coordination Workspace. They can, however, be coordinated and analyzed.
While working in the RF Coordination or Frequency Plot, the scan data peaks change depending on horizontal zoom level.
In certain scenarios, the Frequency List dialog is empty and the CFL is not imported from AXT600.
While Timeline is running, no marker will display when changing FD-Override on an FD-Selection channel.
Selecting a virtual UHF-R device in Inventory shows all types of presets in Item properties in Inventory sidebar.
When Interference is active and a channel strip is added to Monitor area, the Interference text may take ~15sec to disappear when power cycling the device.
Deploying CWS frequencies to a created virtual FD-C channel can fail in certain cases, particularly when multiple virtual devices of the same type are created simultaneously via "Add New Devices" dialog (i.e., the "Active Devices" widget is more than 1). Shure recommends creating such virtual devices one-by-one.
When editing the two frequencies of an FD-C channel via the property panel, mixed use of the frequency and group/channel widgets on both frequencies can cause unexpected frequencies to be set for the channel. Shure recommends using only the two frequency widgets when editing both frequencies via the property panel, or using the Inventory row frequency, group, or channel widgets to edit each individual FD-C frequency.
Merging a created virtual device that has a different transmission mode than the target online device can fail in certain cases. Shure recommends directly setting the transmission mode of the online device to match the virtual device before attempting a merge. Note that setting the transmission mode will cause the online device to reboot.
In the AD600/AXT600 Property panel, when accessing 'Edit CFL', the user is unable to select 'Type' as AD or existing type in backups after changing it.
Notes
WWB6.15.3 and WWB7 can be installed on the same machine but cannot run at the same time.
The following features are no longer supported in WWB7 (customers may continue to use WWB6.15.3 if these features are required):

Online UHF-R control and monitoring
Frequency Conversion (e.g., converting a J50 receiver to J50A).
Import and export inventory

Opening show files created with older versions of Wireless Workbench may result in the Settings Conflicts dialog opening once the file has loaded. This is due to newly supported hardware parameters that have been introduced with updated firmware versions. To maintain all settings from the show file, select "Keep all settings from: Wireless Workbench."
Alerts logged when devices first come online may list device parameters and their values as they are being discovered even though the parameter values themselves have not changed.
Compatibility
Supported operating systems

Windows

Windows 10, Intel only
Windows 11, Intel only

macOS

macOS 11 (Big Sur), Intel only
macOS 12 (Monterey), Intel and Apple Silicon
macOS 13 (Ventura), Intel and Apple Silicon
Note: WWB 6.15.2 was the last release to support macOS 10.15 (Catalina)

To operate this version of Wireless Workbench with other Shure products, reference the following list of recommended versions:

Axient Digital 1.4.7
AD600 1.0.39
Axient 2.1.41
PSM1000 1.8.5
QLX-D 2.6.2
SLX-D 1.1.2
ULX-D 2.7.3
SBC220/240 Two-bay Chargers 1.4.7
SBC250/450/850 Networked Charging Stations 2.7.3
SBRC Shure Battery Rack Charger 1.1.6
Shure Update Utility 2.8.2
ShurePlus Channels iOS 1.6.0
ShurePlus Channels Android 1.6.0
Productos para Comparar
ShurePlus Channels App móvil para iOS
ShurePlus Channels permite la monitorización y control remotos y en tiempo real de los sistemas inalámbricos de Shure.
Casos prácticos
12 channels of Shure's flagship Axient wireless microphone system have been installed for use at Bregenz's international music and performing arts festival in Western Austria.