PSM 1000
PSM 1000 Sistema de monitorización personal In-Ear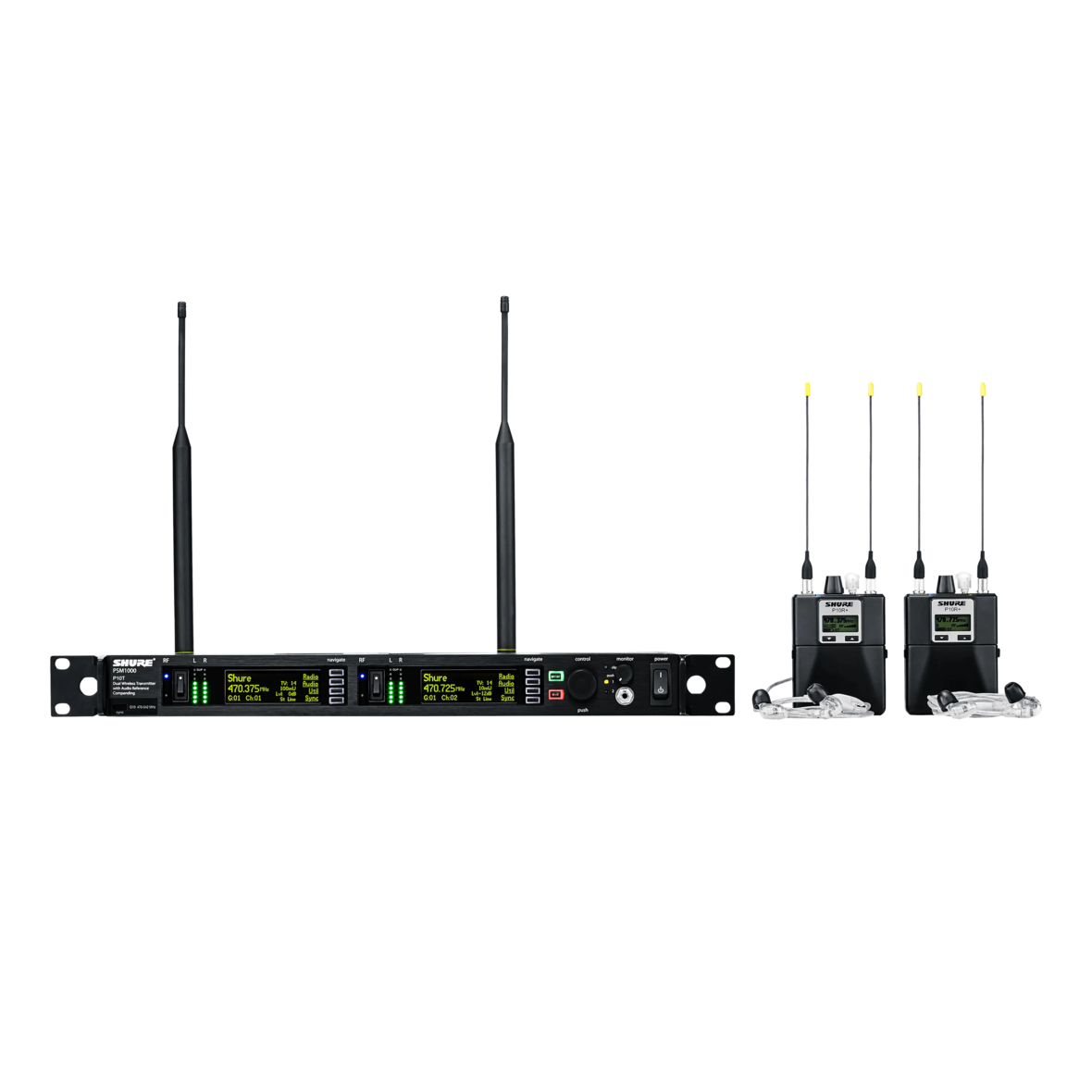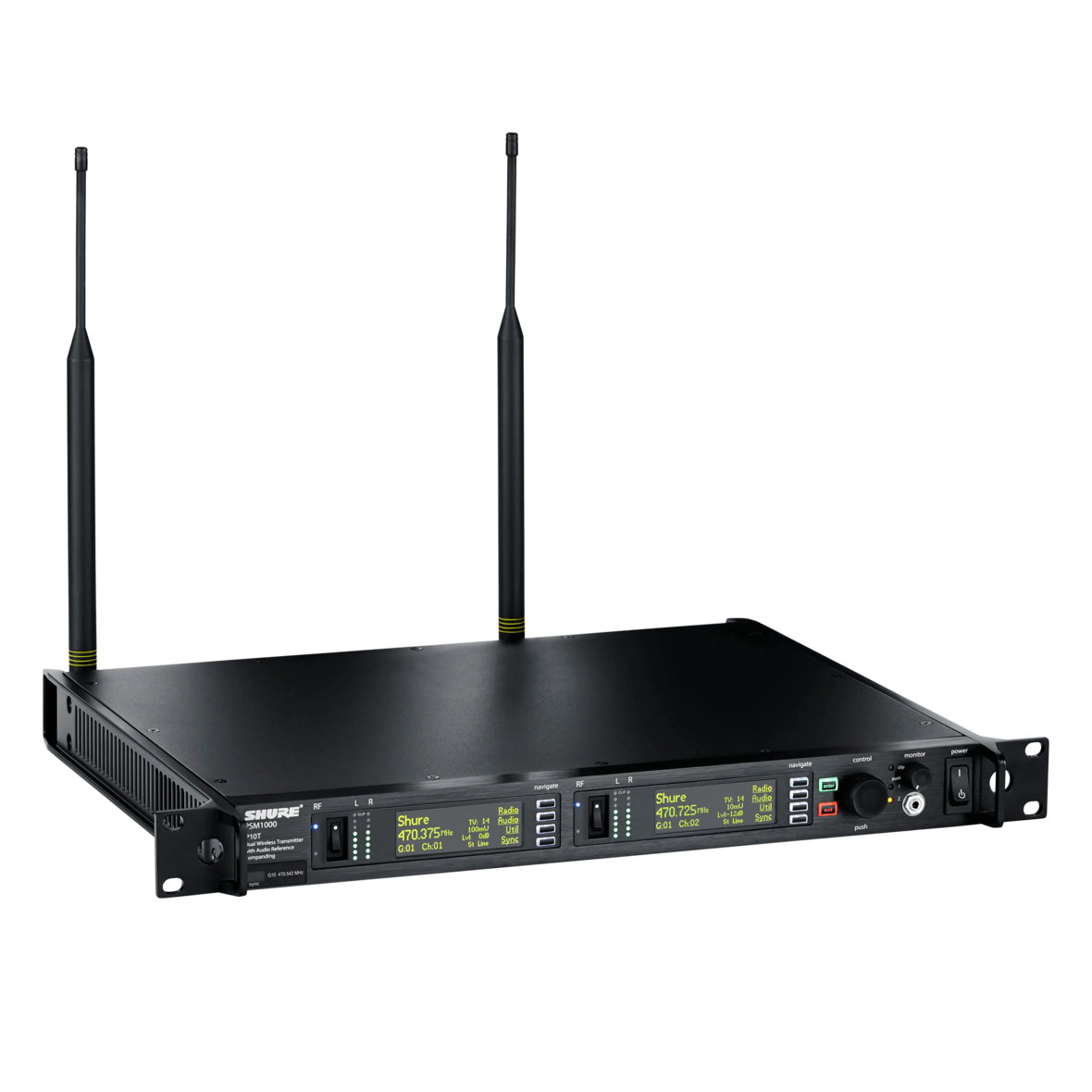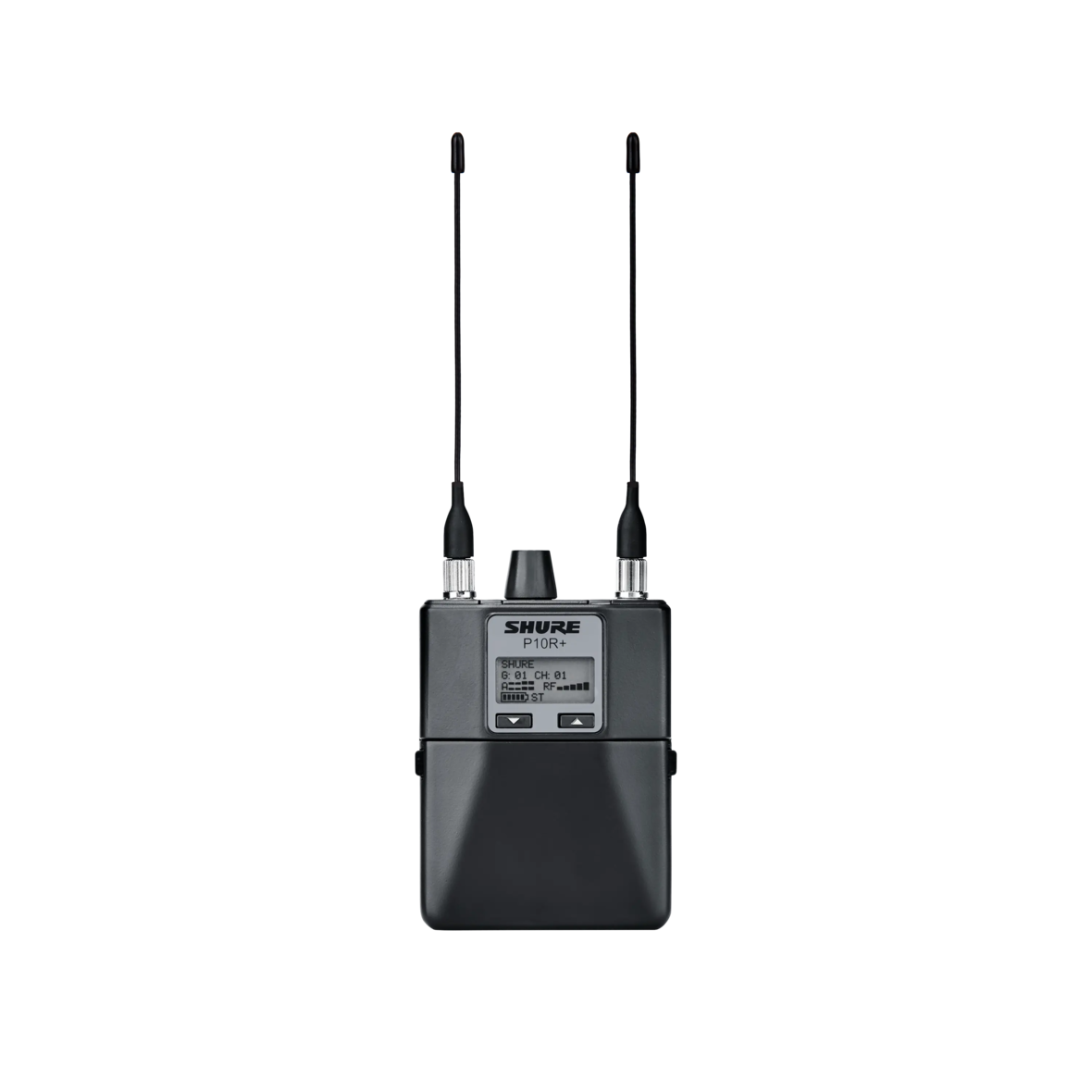 El sistema de monitorización personal In-Ear está formado por un transmisor de dos canales y un receptor diversity de petaca para ofrecer un audio optimizado. Integra un codificador digital estéreo mejorado, la tecnología patentada Audio Reference Companding y ofrece linealidad del transmisor y de RF.
With a category-leading combination of the finest audio quality, robust RF performance, and touring-grade features, Shure's PSM 1000 Wireless Personal Monitor System is the choice of top-tier audio professionals for productions with zero room for error. More on-air channels, and breakthrough automation that makes setup and use simple, yet powerful. Add Shure professional Sound Isolating™ Earphones for total audio conviction, start to finish.
More Channels on Air
Deliver up to 39 channels in a single frequency band with the widest PSM tuning range, ultra-linear RF transmission, and fewer dropouts than any other system.
Enhanced RF Performance
P10R+ twin-antenna diversity bodypack receivers with advanced digital signal processing technology dramatically improve signal reception and increase range
Dual-Channel, Networkable Transmitter
Expand your wireless control. Simplify setup for high channel counts. The P10T is a full-rack, dual-channel transmitter housed in a touring-grade, all-metal chassis, with networked control via ethernet
Wireless Workbench. Smarter Network Management
PSM 1000 is fully networkable with Shure Wireless Workbench® software. From pre-show planning through post-performance analysis, work with a friendly interface with more features for professional monitoring and management of your entire wireless system.
Up to 72 MHz Tuning Bandwidth (region dependent) provides flexibility in today's crowded and unpredictable RF environments.
P10T is a full-rack, dual-channel wireless transmitter housed in a touring-grade, all-metal chassis
P10R+ diversity analog/digital bodypack receiver offers advanced digital signal processing technology that delivers unparalleled audio quality with more headroom, better stereo separation, and higher fidelity
Networked control via Ethernet connection vastly simplifies setup for high channel counts and enables remote control via Wireless Workbench® software
Internal power supply with IEC in/out ports enables easy power chaining in the rack
Precision front-end RF filtering reduces RF interference for a cleaner, stronger RF signal, fewer dropouts, and less audible artifacts
CueMode allows monitoring of different stage mixes and storing of up to 20 separate channels on one bodypack for quick and easy reference
Patented Audio Reference Companding provides natural and transparent sound
Backwards compatibility with PSM® 900 receivers for simplified inventory management
Componentes
Transmisor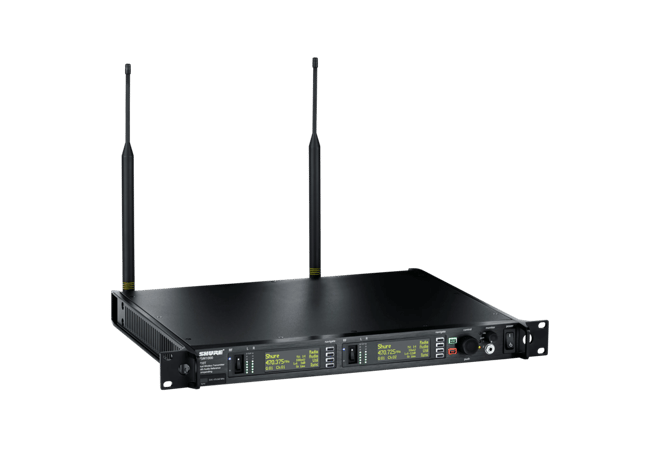 P10T Transmisor inalámbrico
El transmisor inalámbrico se utiliza junto con el receptor de bodypack P10R como parte del sistema inalámbrico de monitorización personal PSM 1000.
Receptor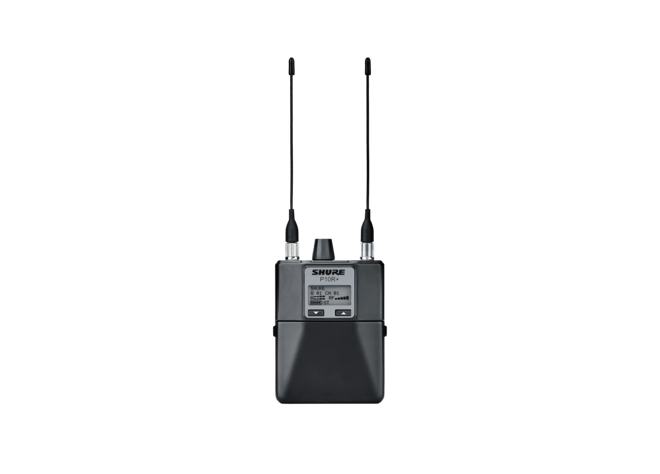 P10R+ Receptor de diversidad de Bodypack
El P10R+ de Shure es un receptor de bajo perfil diversity de Bodypack para el uso con el Sistema de Monitorización Personal PSM® 1000.
Soporte
Atención al Cliente
Servicio Técnico y Reparaciones
Conoce la política detallada sobre el servicio, modificaciones, piezas de repuesto y la información de contacto.
Servicio Técnico y Reparaciones
Contáctanos
Contacta directamente al personal de Atención al Cliente de Shure, o comunícate por teléfono o correo electrónico.
Contáctanos
Recursos
Shure Tech Portal
Documentación completa de producto, materiales técnicos de apoyo, software y firmware, así como otras herramientas y recursos técnicos, todo en un mismo lugar.
Registrarse
Software & Firmware
Una red de audio moderna no puede hacer su trabajo con un software desactualizado (y lo que te demoras buscando la versión más reciente es una pérdida de tiempo). Fácil de usar y con descarga gratuita, la SUU te ayuda a actualizar todos los productos Shure compatibles, mientras administra todo el firmware de tu dispositivo. Ya tienes una cosa menos de qué preocuparte.
Wireless Workbench es el software gratuito de Shure para los profesionales del audio que combina un conjunto completo de herramientas de gestión del espectro de RF y ofrece un control total de los dispositivos inalámbricos compatibles. De este modo, se podrán superar los desafíos de cualquier entorno de RF, sin importar la ubicación.
Productos para Comparar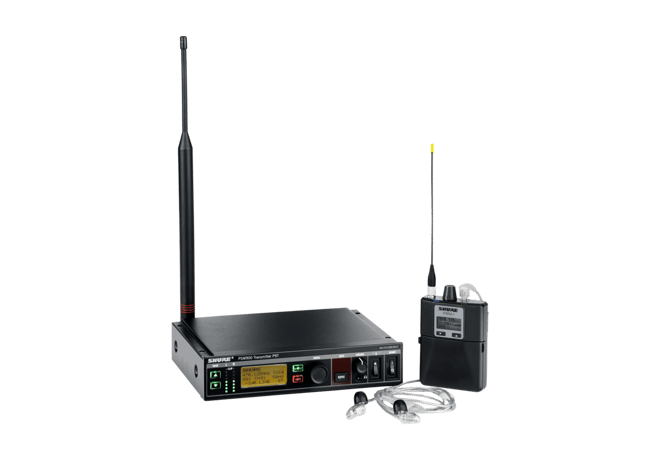 PSM 900 Sistema de monitorización personal In-Ear
El sistema de monitorización personal In-Ear ofrece una gran calidad de audio y un rendimiento de RF impecable para las aplicaciones profesionales.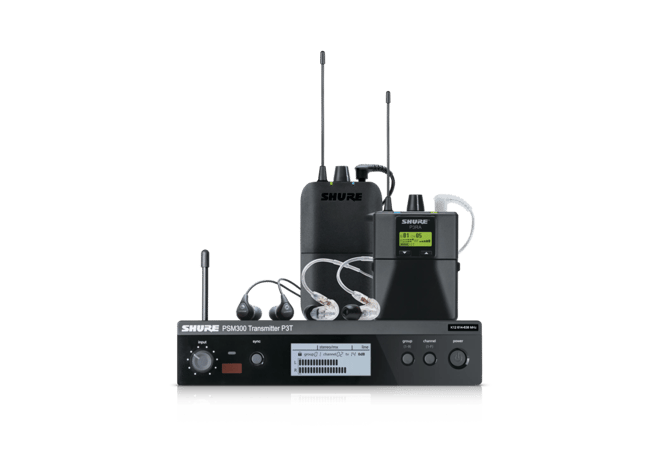 PSM 300 Sistema de monitorización personal In-Ear estéreo
Sistema de monitorización personal estéreo con audífonos SE112 In-Ear Sound Isolating , montaje en rack, antena de 1/4 de onda, fuente de alimentación, bolsa con cremallera y 2 pilas AA.
Casos prácticos
The 2018 ACM Awards were held in the MGM Grand Garden Arena in Las Vegas, with a reputation as one of the city's more challenging RF venues.
The stakes were high for more than just the boxers during the May 2, 2015 fight between Floyd Mayweather, Jr. and Manny Pacquiao. Televised live, the pay-per-view event was a rare collaboration between Showtime and HBO, and both networks expected technical perfection. Handling the selection, deployment, and coordination of wireless microphones, IEMs, and intercoms for the event was the team from Soundtronics, led by Mark Barbuti.