ANI4OUT
ANI4OUT Audio Network Interface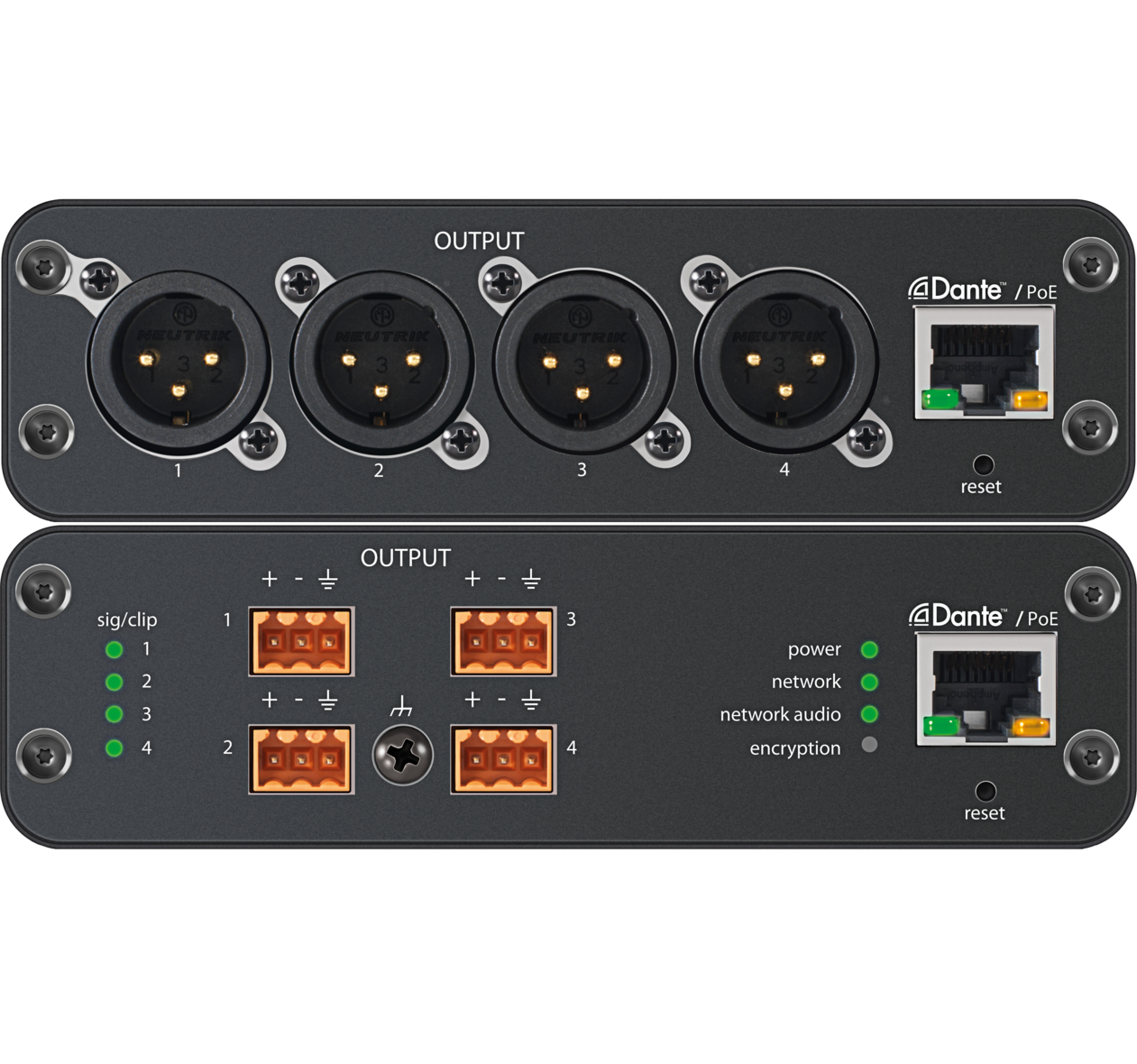 Prezzo di Vendita Suggerito
Converts Dante™ digital audio signal to four discrete line / mic analog signals for easy audio routing and convenient browser-based remote control.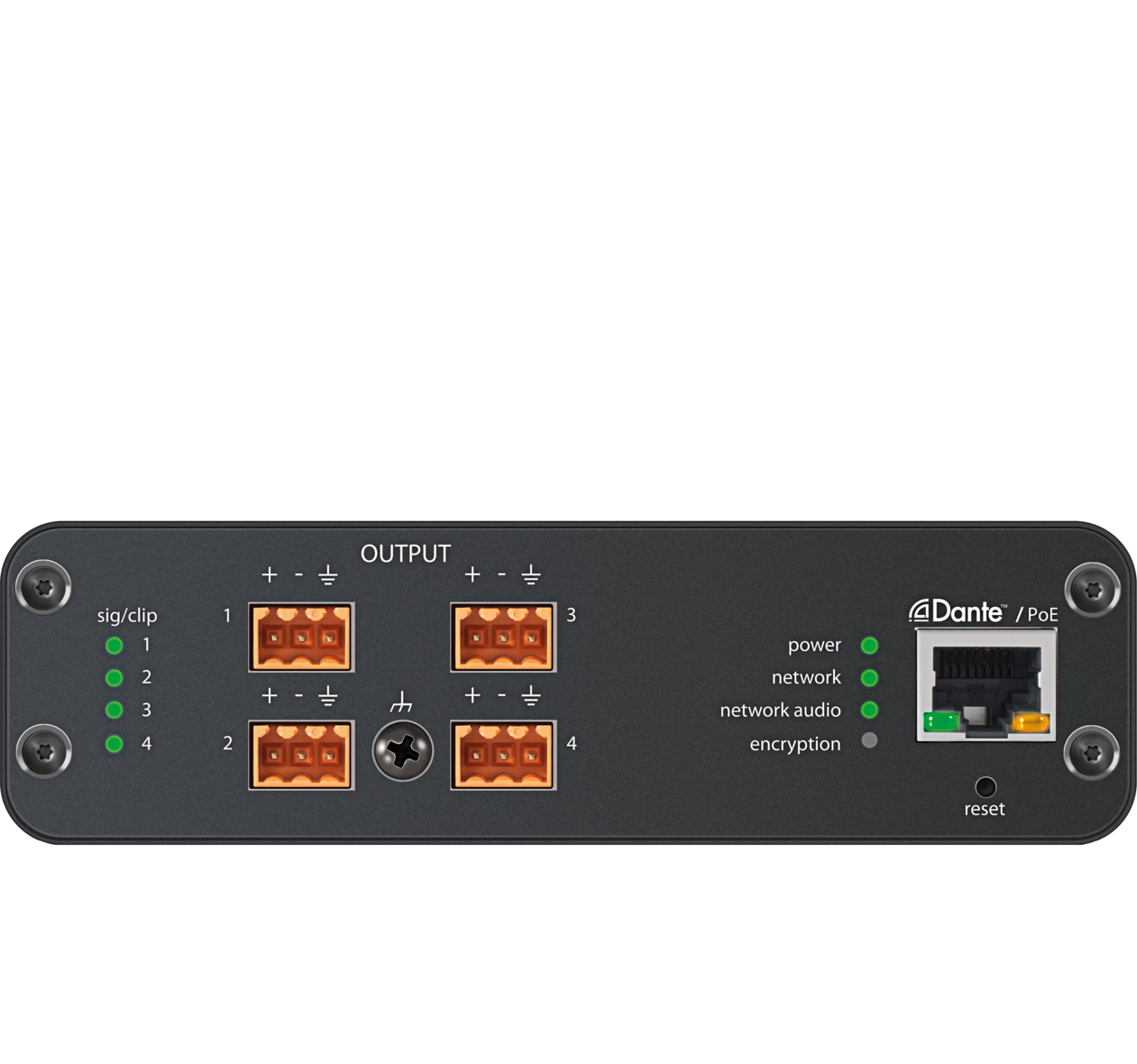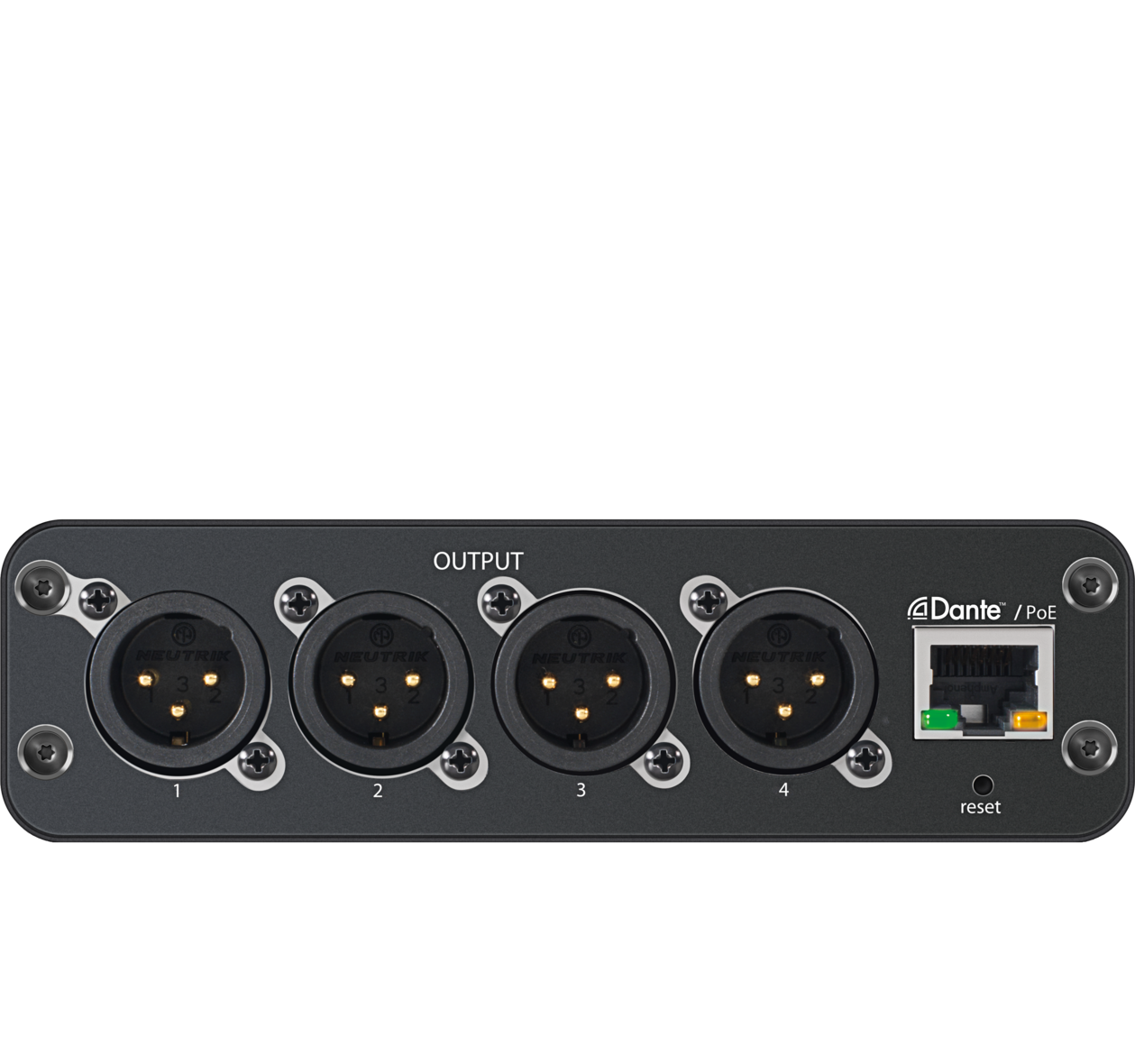 Dettagli prodotto
Single Ethernet port carries Dante audio, power (PoE – class 0)
LEDs indicate device status and audio signal
Control strings for third-party preset controllers including Crestron® and AMX®
4 Band C/S PEQ on every channel
Provides channel summing to combine Dante™ signals from the network and send them over a single analog output
Browser-based software control for all device parameters, per output channel:

Mute control
Digital gain
Polarity control

1/3 Rack unit wide
Chassis ground screw (BLOCK version only) provides common chassis ground for multiple inputs
Available in block connector and standard XLR variations
View the ANI4OUT Software GUI Demo.
Prezzo di Vendita Suggerito
Assistenza
Supporto Clienti
Supporto & Riparazione
Informazioni dettagliate sulla politica relativa ai numeri del servizio clienti, modifiche del servizio e parti di ricambio.
Supporto & Riparazione
Contatto
Invia un ticket direttamente al team del Custromer Service Shure, o contattaci via telefono o email
Contatto
Risorse
Shure Tech Portal
La documentazione completa dei prodotti, i materiali per il supporti tecnico, software e firmware, e tutti gli strumenti e le risorse relative ai prodotti Shure, in un unico posto.
Accedi
Software & Firmware
Una moderna rete audio non rende al meglio se il suo software è obsoleto. Ma passare del tempo a cercare l'ultima versione di ciascun elemento è tempo sprecato. Facile da usare e gratuita da scaricare, Shure Update Utility ti aiuta ad aggiornare i prodotti Shure compatibili gestendo il firmware di tutti i tuoi dispositivi. Un altro pensiero in meno.
Shure Web Device Discovery mostra tutti i device Shure che funzionano sulla stessa rete del computer. Supporta i sistemi operativi Windows e Apple ed è compatibile con i sistemi Shure.
Prodotti Correlati
FUORI PRODUZIONE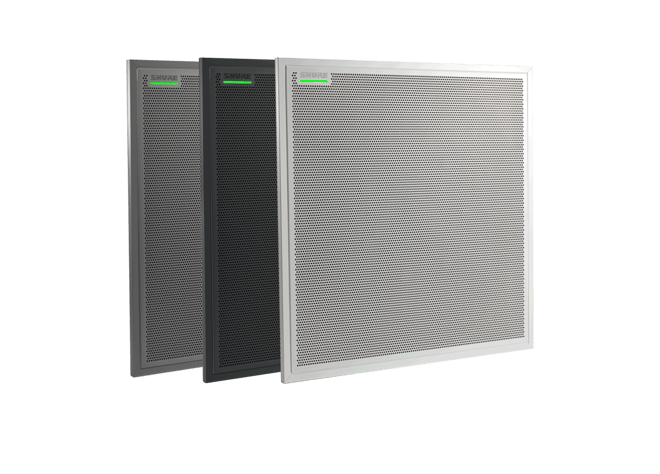 Microfono array da soffitto Microflex® Advance™ MXA910
Microflex® Advance™ MXA910 con IntelliMix Array Microfonico da soffitto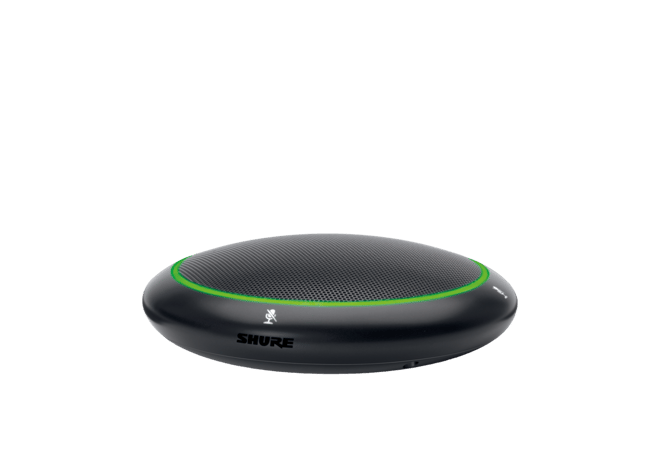 Microfono array da tavolo Microflex® Advance™ MXA310
Array microfonico da tavolo con copertura variabile per un'acquisizione sonora estremamente precisa in ambienti conference di varie dimensioni e forme.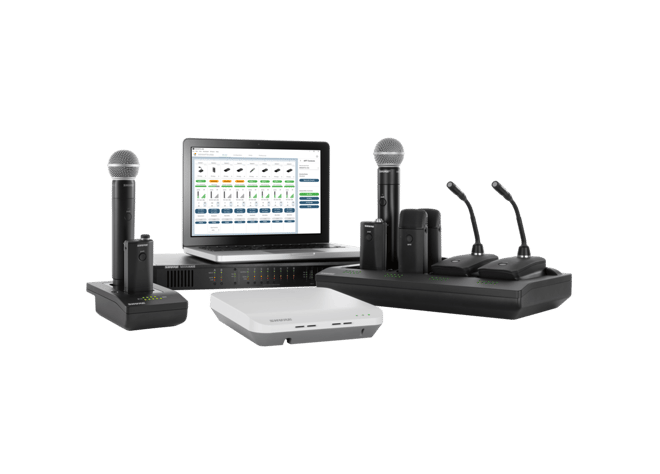 Soluzioni radiomicrofoniche versatili e modulari per un suono nitido e realistico nelle conferenze AV.
Case Study
L'UNIVPM, Università Politecnica delle Marche, è situata ad Ancona, Italia, ed è stata fondata nel 1969. Nelle 5 diverse facoltà della città, l'università ospita un totale di circa 17000 studenti. A causa della pandemia da Covid-19 e le linee guida per il distanziamento sociale, la modalità di erogazione della formazione è diventata ibrida. Questo ha richiesto un aggiornamento di alcune apparecchiature AV per consentire agli studenti un'esperienza di apprendimento senza interruzioni.
Shure Microflex® Wireless Offers an Elegant Conferencing Solution at the DOGA Foundation