ANI22
ANI22 Audio Network Interface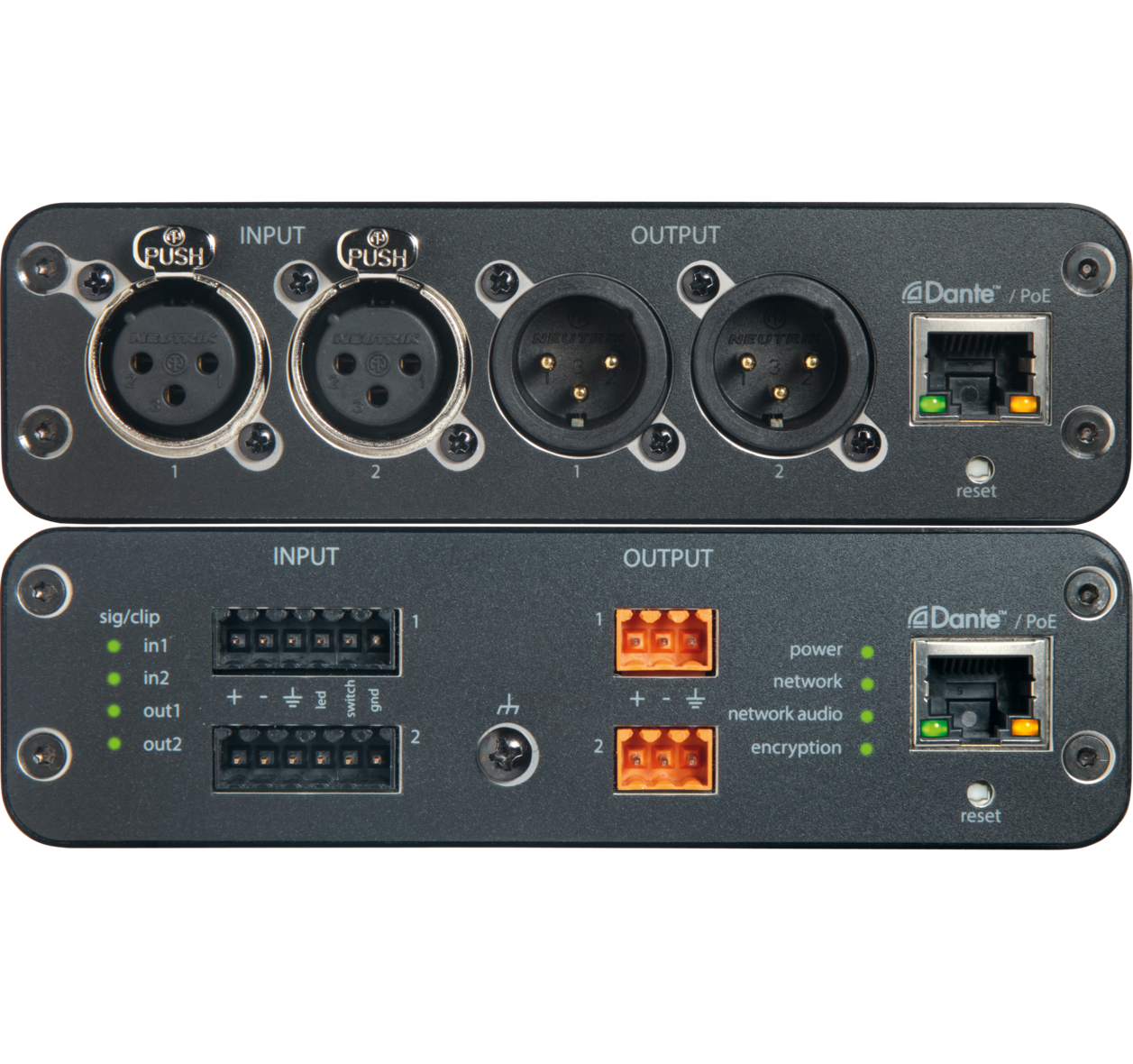 Prezzo di Vendita Suggerito
Audio network interface allows 2 analog mic or line inputs and 2 analog outputs to connect to a Dante network for easy audio routing and convenient browser-based remote control. Audio network interface complements the existing ANI4IN and ANI4OUT products.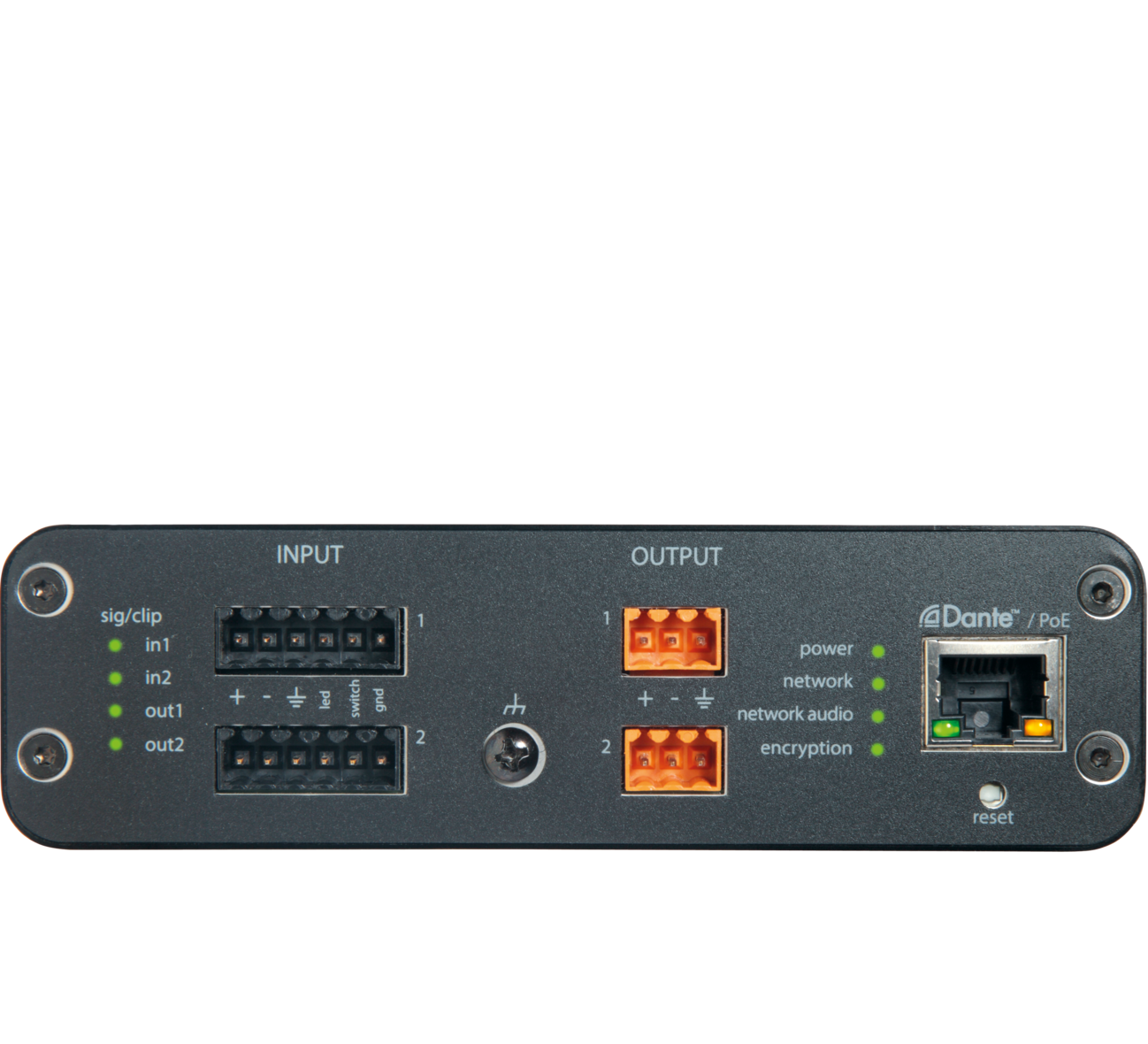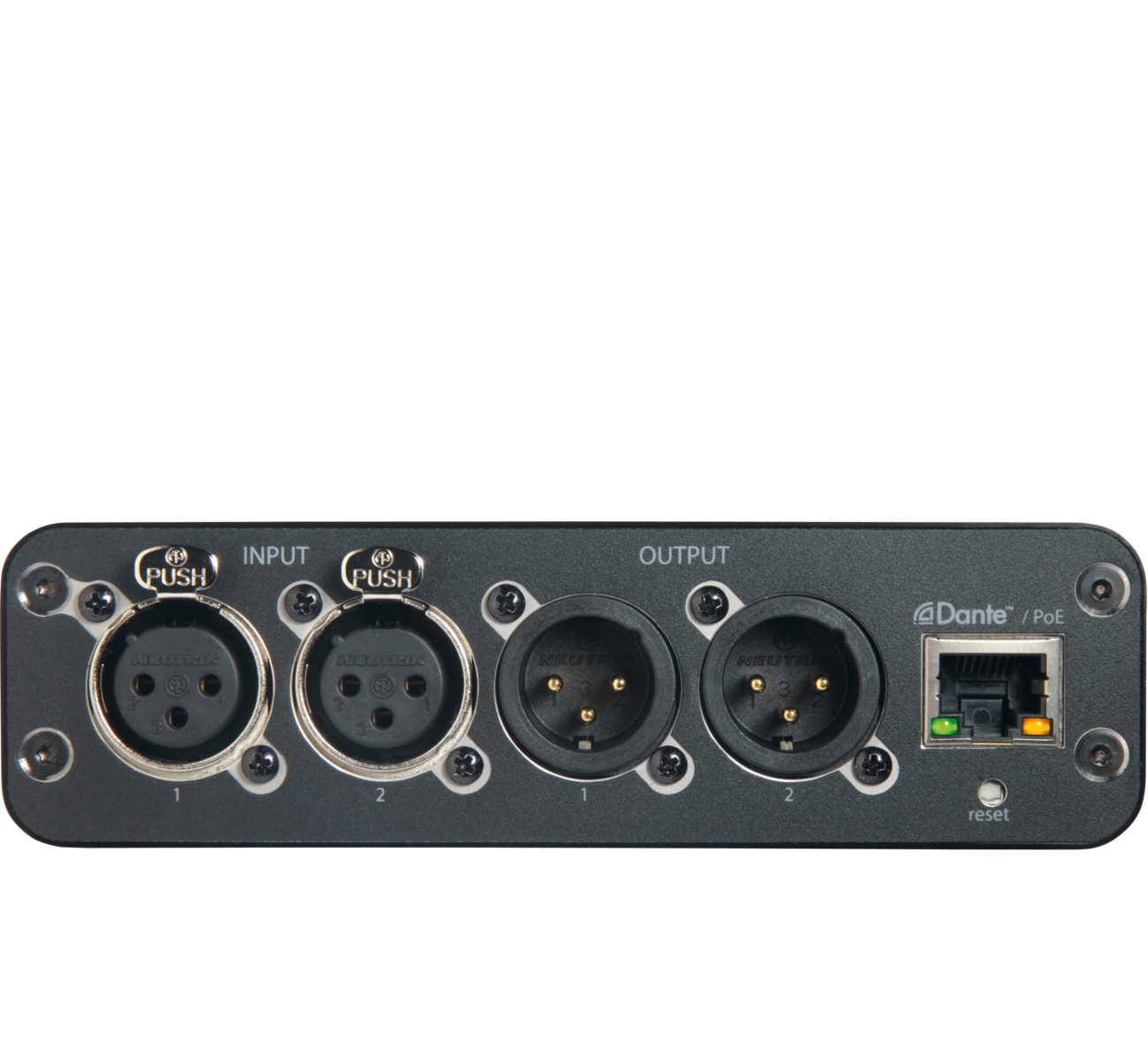 Dettagli prodotto
More flexibility for every kind of application where it is required to get analog audio onto and from a Dante network: The ANI22 Audio Network Interface complements the existing ANI4IN and ANI4OUT products, and is available with XLR and block connectors. It brings up to two line / mic signals onto or from a Dante network for easy audio routing and convenient browser-based remote control.
Converts up to 2 mic/line analog signals onto a Dante Network
Converts up to 2 Dante digital audio signals to line/mic analog signals, ANI22BLOCK: Analog audio block connectors (2 in, 2 out); ANI22XLR: Analog audio XLR connectors (2 in, 2 out)
Power-over-Ethernet (PoE) eliminates need for outboard power supply
Compact form factor is easy to mount without equipment rack
Prezzo di Vendita Suggerito
Assistenza
Supporto Clienti
Supporto & Riparazione
Informazioni dettagliate sulla politica relativa ai numeri del servizio clienti, modifiche del servizio e parti di ricambio.
Supporto & Riparazione
Contatto
Invia un ticket direttamente al team del Custromer Service Shure, o contattaci via telefono o email
Contatto
Risorse
Shure Tech Portal
La documentazione completa dei prodotti, i materiali per il supporti tecnico, software e firmware, e tutti gli strumenti e le risorse relative ai prodotti Shure, in un unico posto.
Accedi
Software & Firmware
Una moderna rete audio non rende al meglio se il suo software è obsoleto. Ma passare del tempo a cercare l'ultima versione di ciascun elemento è tempo sprecato. Facile da usare e gratuita da scaricare, Shure Update Utility ti aiuta ad aggiornare i prodotti Shure compatibili gestendo il firmware di tutti i tuoi dispositivi. Un altro pensiero in meno.
Shure Web Device Discovery mostra tutti i device Shure che funzionano sulla stessa rete del computer. Supporta i sistemi operativi Windows e Apple ed è compatibile con i sistemi Shure.
Prodotti Correlati
FUORI PRODUZIONE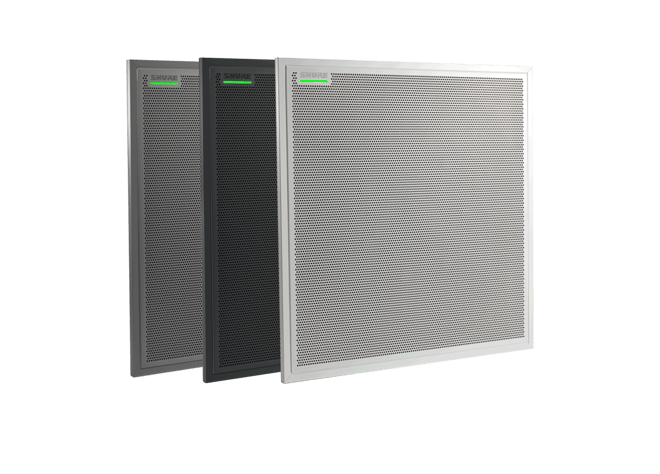 Microfono array da soffitto Microflex® Advance™ MXA910
Microflex® Advance™ MXA910 con IntelliMix Array Microfonico da soffitto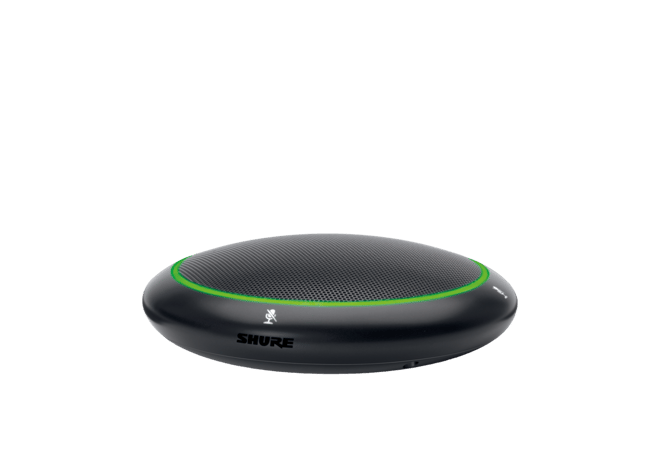 Microfono array da tavolo Microflex® Advance™ MXA310
Array microfonico da tavolo con copertura variabile per un'acquisizione sonora estremamente precisa in ambienti conference di varie dimensioni e forme.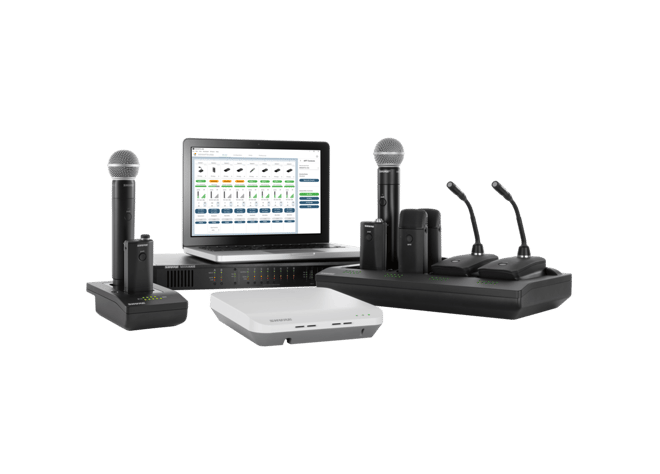 Soluzioni radiomicrofoniche versatili e modulari per un suono nitido e realistico nelle conferenze AV.
Prodotti Correlati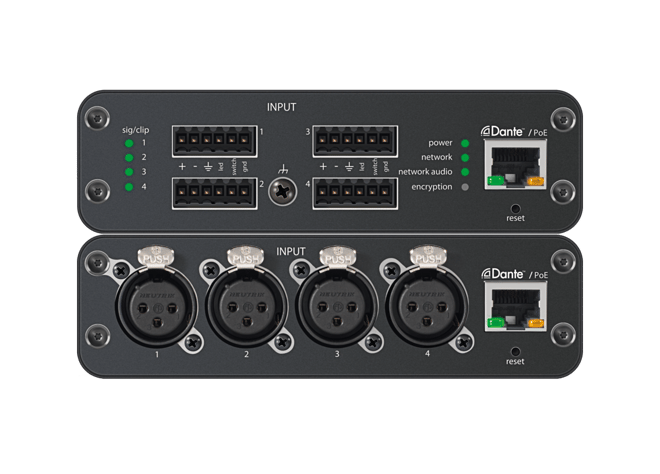 Interfaccia di rete audio
Interfaccia di rete audio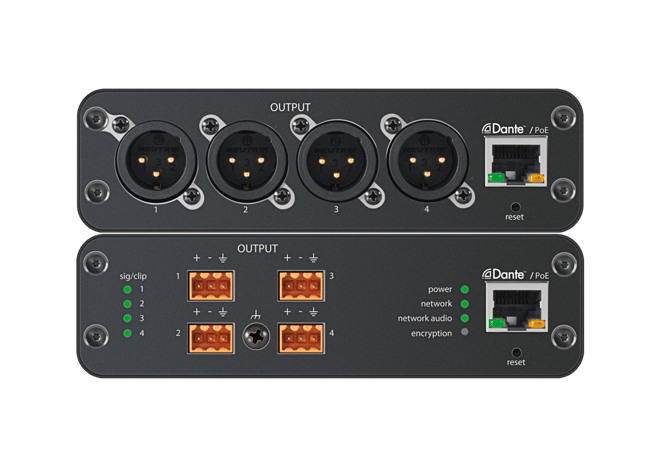 ANI4OUT Audio Network Interface
Converts Dante™ digital audio signal to four discrete line / mic analog signals.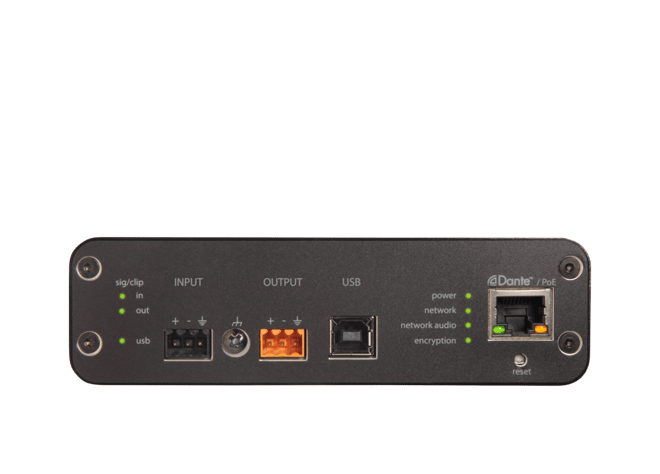 ANIUSB-MATRIX USB Audio Network Interface with Matrix Mixing
Audio network interface connects up to 4 Dante channels and 1 analog output to a room's audio and video conferencing system via USB connection.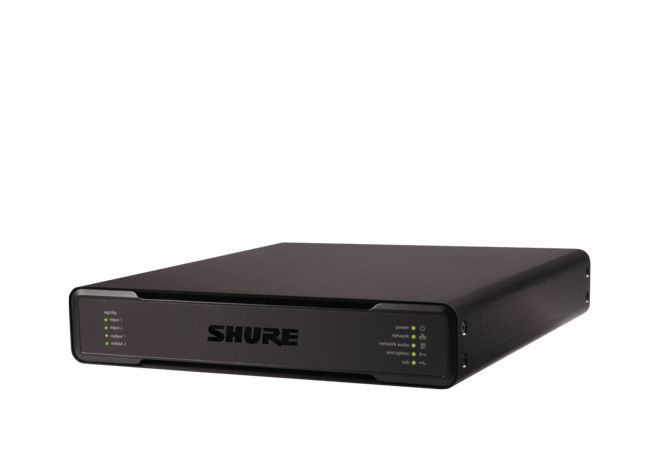 Processore per conferenze audio
Intellimix P300 Audio Conferencing Processor fornisce un comparto audio di alta qualità per applicazioni di videoconferenza grazie ad un potente DSP.
Case Study
Il campus della Pepperdine University a Firenze migliora il suo sistema di apprendimento ibrido con l'Array Microfonico Lineare Shure MXA710 e SLX-D Digital Wireless System.
Nel novembre del 2020 la Sparkasse (SPK) Bremen ha inaugurato il suo quartier generale in un moderno edificio situato nel Parco Tecnologico dell'Università di Brema. Uno dei requisiti fondamentali era facilitare un cultura aziendale e operativa agile per i 600 dipendenti distribuiti sui cinque piani della sede.