PSM 900
PSM® 900 Sistema de monitorización personal
Gracias a la tecnología patentada Audio Reference Companding, la excepcional linealidad del transmisor y la función CueMode patentada, el sistema inalámbrico de monitorización personal PSM® 900 de Shure responde a las necesidades de las aplicaciones de audio profesional y ofrece una calidad de audio excelente y un rendimiento de RF fiable. Con veinte frecuencias compatibles por banda y un ancho de banda de sintonización de 36 a 40 MHz, el sistema PSM 900 tiene la capacidad necesaria para gestionar los entornos más exigentes, incluidas las aplicaciones de monitorización in-ear e intercom.
With patented Audio Reference Companding, exceptional transmitter linearity, and patented CueMode functionality, the Shure PSM 900 Wireless Personal Monitor System meets the needs of professional audio applications of all kinds, providing excellent audio quality and reliable RF performance. Twenty compatible frequencies per band and a 36 MHz to 40 MHz tuning bandwidth (region dependent) give the PSM 900 system the horsepower to handle demanding environments, including professional IEM and IFB applications. Add Shure professional Sound Isolating™ Earphones and for total audio conviction, start to finish.
Up to 20 Compatible Channels
Operate 20 compatible channels on one frequency band simultaneously with advanced filtering and vastly reduced frequency intermodulation.
More Options for A Strong Signal
36 MHz tuning range. Through precision filtering on front-end RF, the P9RA+ enhances your reception and range, delivers more channels on-air, and cuts down on dropouts.
Half-Rack, Single Channel Transmitter
Intuitive front panel controls in a compact, half-rack chassis. The P9T transmitter allows you to handle the signal smarter. Operate with precision.
20 compatible frequencies per band and a 36 MHz to 40 MHz tuning bandwidth (region dependent)
P9T half-rack wireless transmitter with balanced connection and front or back antenna mounts
P9RA+ offers a hybrid analog/digital architecture for more headroom, improved stereo separation, and higher audio fidelity
Patented Audio Reference Companding offers natural and transparent sound
Precision front-end RF filtering significantly reduces RF interference for a cleaner, stronger RF signal, fewer dropouts, and less audible artifacts
Exceptional transmitter linearity vastly reduces frequency intermodulation and allows up to 20 compatible channels per frequency range
Auto RF gain control prevents signal distortion due to RF overload before it can affect performance
CueMode allows monitoring of different stage mixes and storing of up to 20 separate channels on one bodypack for quick and easy reference
Front Panel RF mute switch for enabling or disabling RF transmission
Use Scan and Sync to scan the RF environment with the bodypack and assign the identified group and channel to your system over wireless IR link
MixMode® Technology allows the bodypack user to balance the level of two separate channels while simultaneously listening to both signals in both ears
LCD menu with grouped menu items for easier user interface
Componentes
Transmisor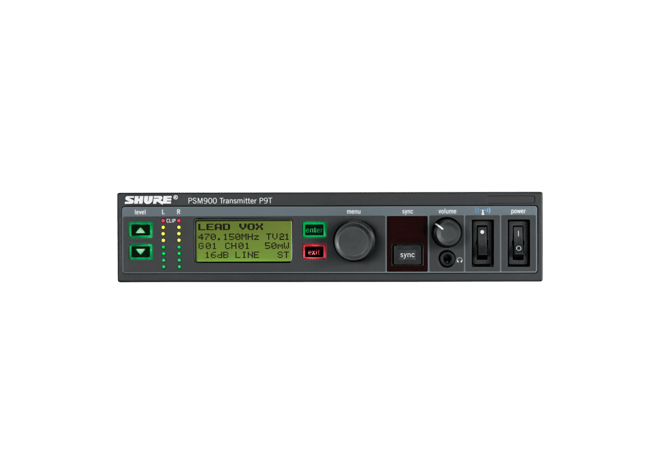 P9T Transmisor inalámbrico
El transmisor inalámbrico se utiliza junto con el receptor de petaca P9R como parte del sistema de monitorización personal in-ear PSM 900.
Receptor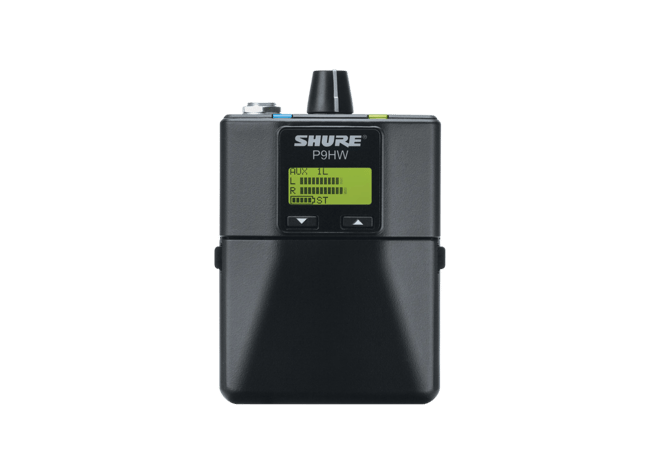 PSM®900 Wired Bodypack Personal Monitor
Monitor personal alámbrico de petaca que ofrece una claridad de audio mejorada y una realimentación reducida en el escenario frente a las cuñas de escenario tradicionales.
Receptor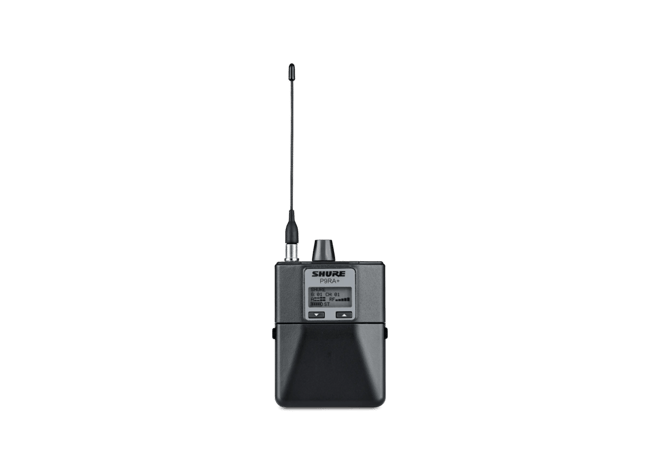 P9RA+ Receptor de Bodypack
El Receptor P9RA+ de Bodypack de Shure ofrece una tecnología avanzada de procesamiento de señal digital para proporcionar un amplio espacio libre, fuerte separación estéreo y alta fidelidad de audio.
Soporte
Customer Support
Service & Repair
Detailed policy information regarding customer service numbers, service modifications, and replacement parts.
Service & Repair
Contáctanos
Submit a ticket directly to Shure Customer Service staff, or reach out via phone or email.
Contáctanos
Recursos
Shure Tech Portal
Documentación completa del producto, material de apoyo técnico, software y firmware, así como herramientas y recursos para los productos Shure, todo desde un mismo lugar.
Iniciar sesión
Comparativa de Productos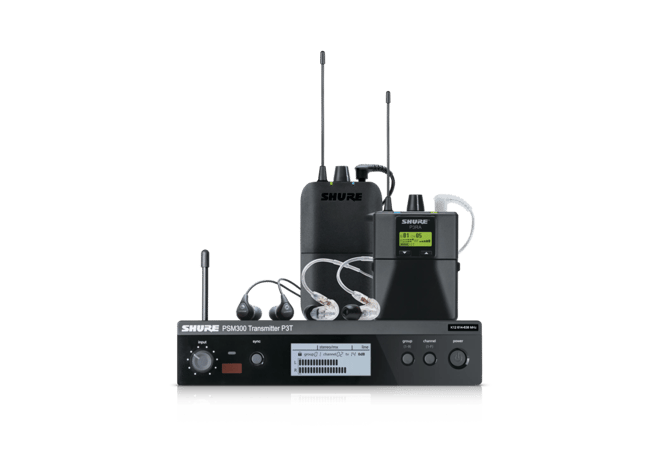 PSM 300 Sistema de monitorización personal in ear estéreo
Sistema de monitorización personal estéreo con auriculares intraurales Sound Isolating SE112, montaje en rack, antena de 1/4 de onda, fuente de alimentación, bolsa con cremallera y 2 pilas AA.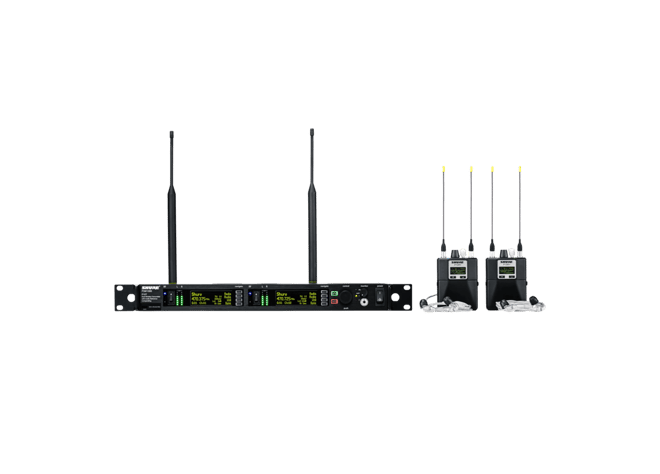 PSM 1000 Sistema de monitorización personal in ear
El sistema de monitorización personal in ear está formado por un transmisor de dos canales y un receptor diversity de petaca para ofrecer un audio optimizado.