Out of sight. More capable than ever.
MXA910
Ceiling Array Microphone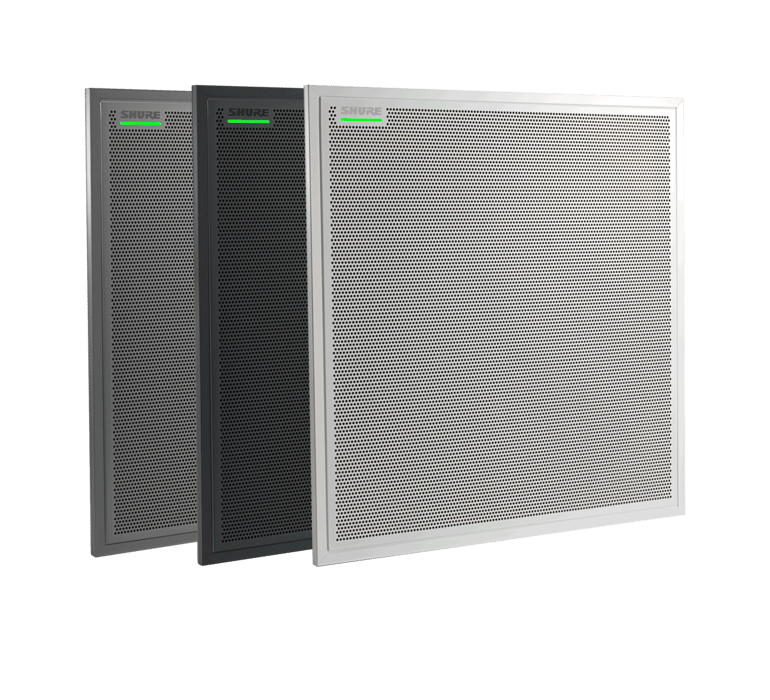 Harmonious integration leads to more open discussion. An elegant approach to conferencing audio, MXA910 with IntelliMix eliminates all equipment clutter, leaving more room for clarity. Instead of focusing on a microphone's position, you can concentrate on compelling communication.
With versatile mounting options, the MXA910 delivers speech that's naturally intelligible, giving you widespread coverage for AV needs of all sizes. Collaboration. Presentation. Training. With no mics or cables in the way, you're free speak, and clear to connect.
Focused conversation
With Steerable Coverage™ and onboard IntelliMix digital signal processing, you can capture every voice. Patent-pending Autofocus™ technology fine-tunes the audio pickup in real time, for consistent sound even if participants lean back or stand up.
Clever operation
Intuitive, programming-free LED mute sync functionality with leading third party software codecs including Zoom Rooms, Microsoft Teams and Skype for Business when connected to the IntelliMix P300 Audio Conferencing Processor or ANIUSB-MATRIX Audio Network Interface.
Scale Up
Onboard IntelliMix DSP allows multiple MXA910s to effectively cover large meeting spaces with ease, making it ideal for applications that include voice lift or camera tracking requirements.
Encryption
Shure Audio Encryption can be enabled when used with the IntelliMix P300 Audio Conferencing Processor or Shure Audio Network Interfaces, which utilizes AES-256 encryption to protect confidential content.
Available in three colors (white, black, aluminum) or custom paintable to match room aesthetics
Dante Domain Manager / Device Lock compatible
UL 2043 plenum rated and IP5X rated
LED status bar with configurable colors and brightness
Case Studies
UNIVPM, Università Politecnica delle Marche, is a University in Ancona, Italy that was established in 1969. Due to the COVID-19 pandemic and the social distancing guidelines, the school had to transfer into hybrid learning. This required an upgrade in some of the AV equipment to enable a seamless learning experience for the students.
A recent installation of Shure's Microflex® Advance™ MXA910 Ceiling Array Microphone has provided unrivalled audio clarity, along with flexibility, at KPMG's U-Collaborate space in Canary Wharf, UK, with MXA910 part of the company's new Voice Lift system.
Due to current Coronavirus safety guidelines, a solution was needed allowing for flexible teaching arrangements in existing rooms. As only a small number of students are currently permitted in one room at the same time, it was necessary to ensure students would be able to participate remotely without restrictions. To comply with social distancing guidelines, a flexible seating configuration was required for students attending on-site that could still enable remote participants to understand them clearly, regardless of their seating position.
Support
Customer Support
Service & Repair
Detailed policy information regarding customer service numbers, service modifications, and replacement parts.
Service & Repair
Contact Us
Submit a ticket directly to Shure Customer Service staff, or reach out via phone or email.
Contact Us
Resources
Shure Tech Portal
Complete product documentation, technical support materials, software and firmware, and other tools and resources for all Shure products, in one place.
Sign In