AXT610
Axient ShowLink Access Point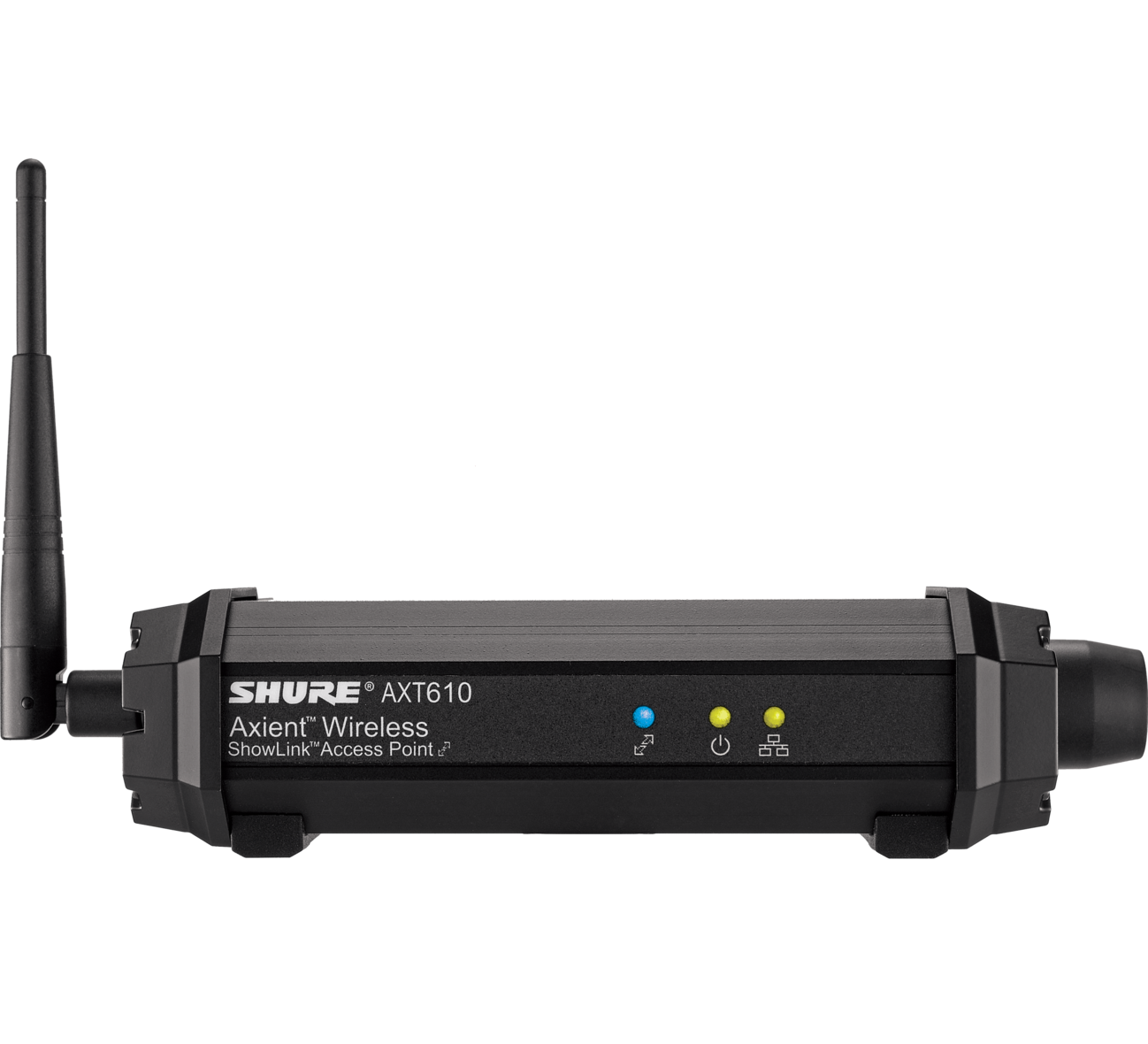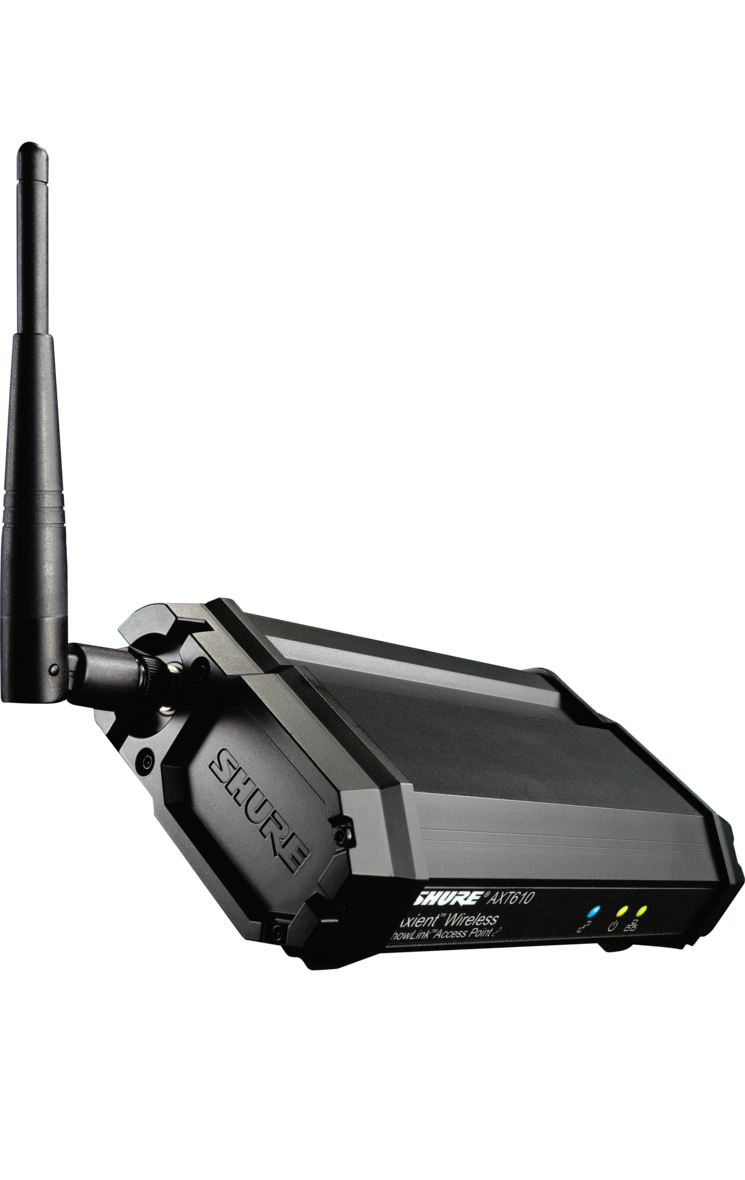 Axient ShowLink Access Point enables real-time control of up to 16 transmitters per access point and the unprecedented ability to make instantaneous remote adjustments to all transmitter settings.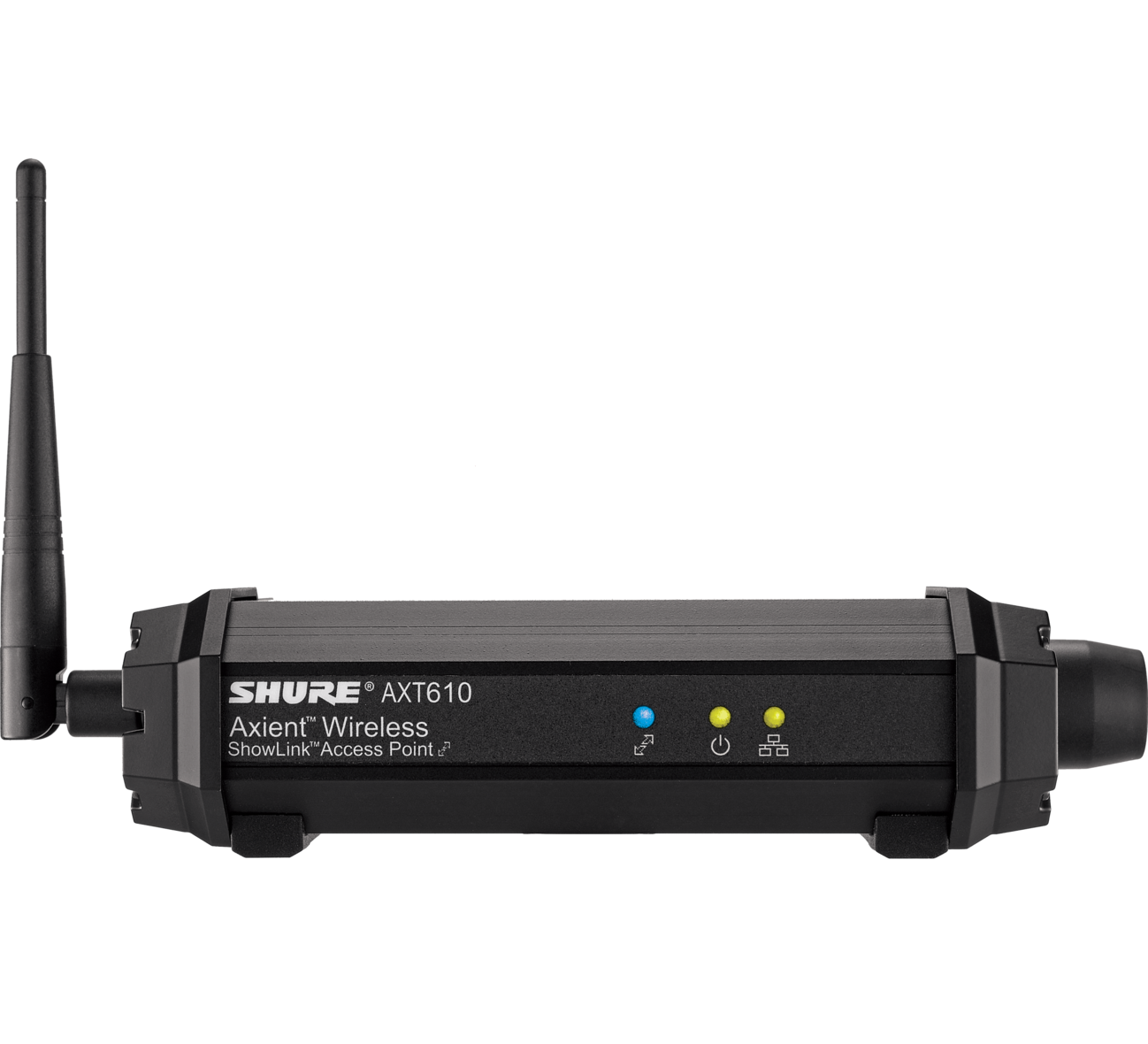 Product Details
The AXT610 ShowLink™ Access Point establishes a wireless network connection between linked Axient transmitters and receivers, enabling real-time networked control over a wide coverage area, equivalent to the range of Axient transmitters.
Each access point supports up to 16 transmitters, and additional Access Points can be added for larger systems or to enhance range as needed. The ShowLink™ Directional Antenna can be added for even greater range performance.
ShowLink™ Remote Control
Enables a 2.4 GHz wireless network connection with linked Axient transmitters and receivers.
Real-time wireless remote control of up to 16 transmitters per ShowLink™ Access Point.
Remote gain adjustability: Remotely adjust a performer's transmitter gain in real time.
Remote frequency change: Execute a synchronized frequency change with a linked receiver in a split second.
Remote RF Mute: Conserves power and RF spectrum.
Remotely edit transmitter name and device ID.
ShowLink™ test mode measures Link Quality Index (LQI) to determine ShowLink™ network coverage area.
Simple Setup
Automated channel selection independently scans 2.4 GHz frequency range and determines best channel for use.
Power over Ethernet (PoE) receives power over Ethernet network connection, or the device can be powered with an external power supply (PS43).
Easy transmitter authentication immediately recognizes linked transmitters upon IR sync.
Versatile mounting options to fit readily-available microphone stand adapters and features built-in threading for permanent installation.
Coverage
Wide coverage area equivalent to the range of Axient transmitters with an automatic transfer between multiple access points for extended range.
Automatic frequency agility moves a ShowLink™ network to the best available 2.4 GHz channel in the event of signal degradation.
Can be used with optional directional antenna to enhance coverage
Support
Customer Support
Service & Repair
Detailed policy information regarding customer service numbers, service modifications, and replacement parts.
Service & Repair
Contact Us
Submit a ticket directly to Shure Customer Service staff, or reach out via phone or email.
Contact Us
Resources
Shure Tech Portal
Complete product documentation, technical support materials, software and firmware, and other tools and resources for all Shure products, in one place.
Sign In
Case Studies
Justin Timberlake has again selected Montreal's Solotech as the audio provider for his "20/20 Experience" world tour.