Automatic mixing. Quick set up.
IntelliMix P300
Audio Conferencing Processor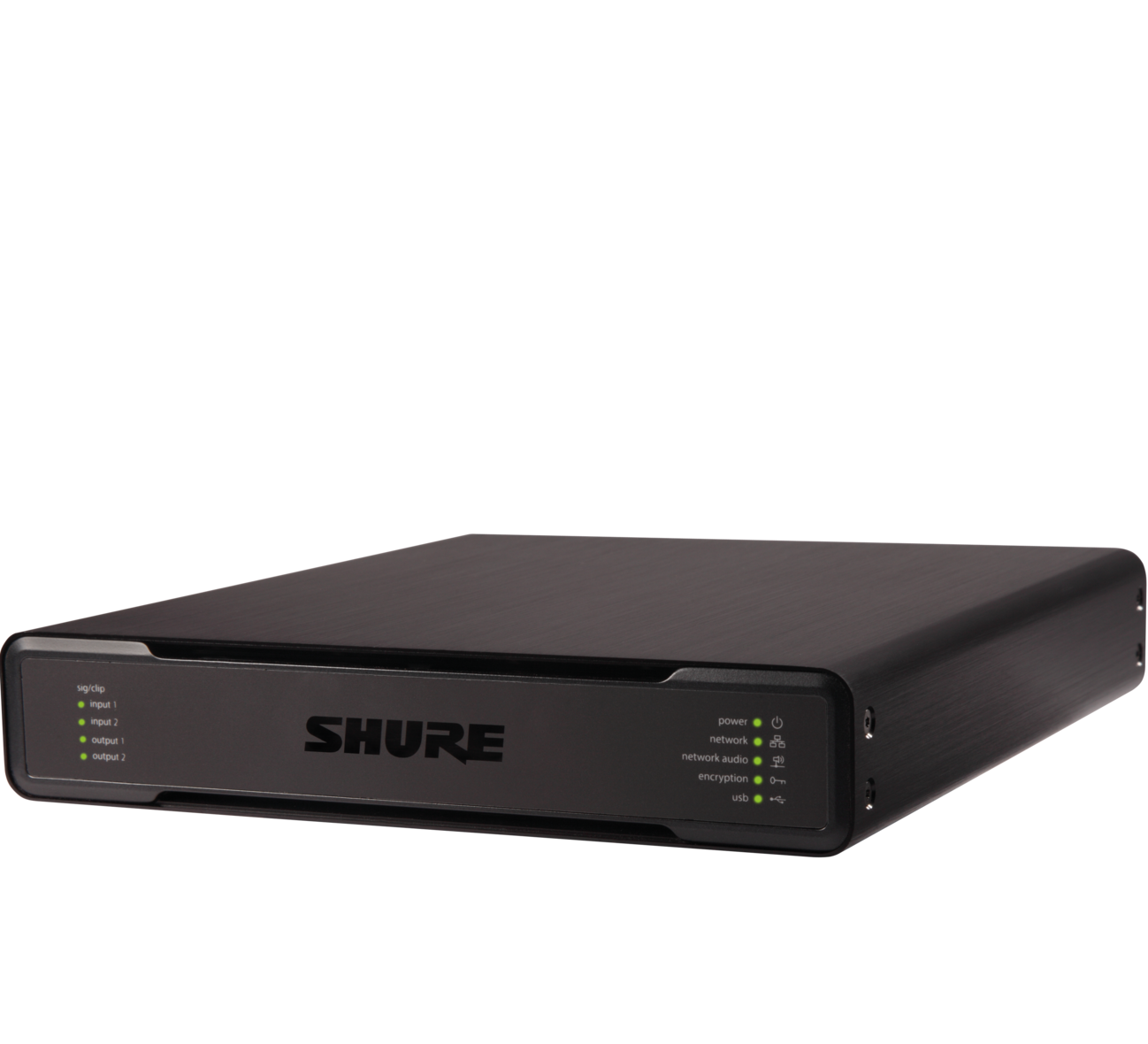 Audio conferencing processor offers IntelliMix DSP algorithms optimized for audio/video conferencing applications. Includes 10 Dante inputs, 2 analog inputs, 8 channels of microphone processing with AEC, delay, compressor, gain control, and more.
Streamline the audio experience for every discussion. Fixed architecture provides simple setup, requiring less DSP programming and commissioning time. Multiple connectivity options allow for seamless integration with Shure conferencing microphones, laptops and even mobile devices. Easy, rackless mounting enables quick, compact integration behind a display, under a table, or in a credenza. The IntelliMix P300 makes sound smarter, faster.
Audio enhanced
Echo cancellation. Noise reduction. Automatic mixing. Automatic gain control. Your conference is only as good as your audio.
Clever Operation
Intuitive, programming-free LED mute sync functionality with leading third-party software codecs including Zoom Rooms, Microsoft Teams and Skype for Business.
Scale Up
Easily add a presenter mic or control additional zoned loudspeakers with onboard matrix mixing for sound reinforcement applications
Connect with Confidence
Driverless USB audio connection to PCs for soft codecs. Analog I/O for hard codecs. 3.5 mm connection to mobile phones to bridge a remote caller. Design projects offline with Designer System Configuration Software for simple project management. Seamlessly compatible with Microflex Advance and Microflex Wireless conferencing microphones for a complete Shure ecosystem.
Meet In Confidence
Shure Audio Encryption utilizes AES-256 technology to protect confidential content.
* Dante Domain Manager / Device Lock compatible
Discretely mounts underneath a table or behind a display
Versatile connectivity and powerful DSP for AV conferencing
Easily setup and deploy settings with Designer System Configuration Software
Monitor and manage with SystemOn Audio Asset Management software
PoE+ powered eliminates the need for an outboard power supply
Support
Customer Support
Service & Repair
Detailed policy information regarding customer service numbers, service modifications, and replacement parts.
Service & Repair
Contact Us
Submit a ticket directly to Shure Customer Service staff, or reach out via phone or email.
Contact Us
Resources
Shure Tech Portal
Complete product documentation, technical support materials, software and firmware, and other tools and resources for all Shure products, in one place.
Sign In
Case Studies
With teaching activities restricted due to COVID, NYU Shanghai tackled remote and hybrid learning challenges with flexible solutions from Zoom and Shure
The EBZ Elektro-Bildungs-Zentrum in Illnau-Effretikon, Switzerland, uses MXA910 ceiling microphone arrays to conduct seminars both online and in hybrid form with face-to-face teaching and online participation.
UNIVPM, Università Politecnica delle Marche, is a University in Ancona, Italy that was established in 1969. Due to the COVID-19 pandemic and the social distancing guidelines, the school had to transfer into hybrid learning. This required an upgrade in some of the AV equipment to enable a seamless learning experience for the students.