AXT900
Axient Rackmount Charging Station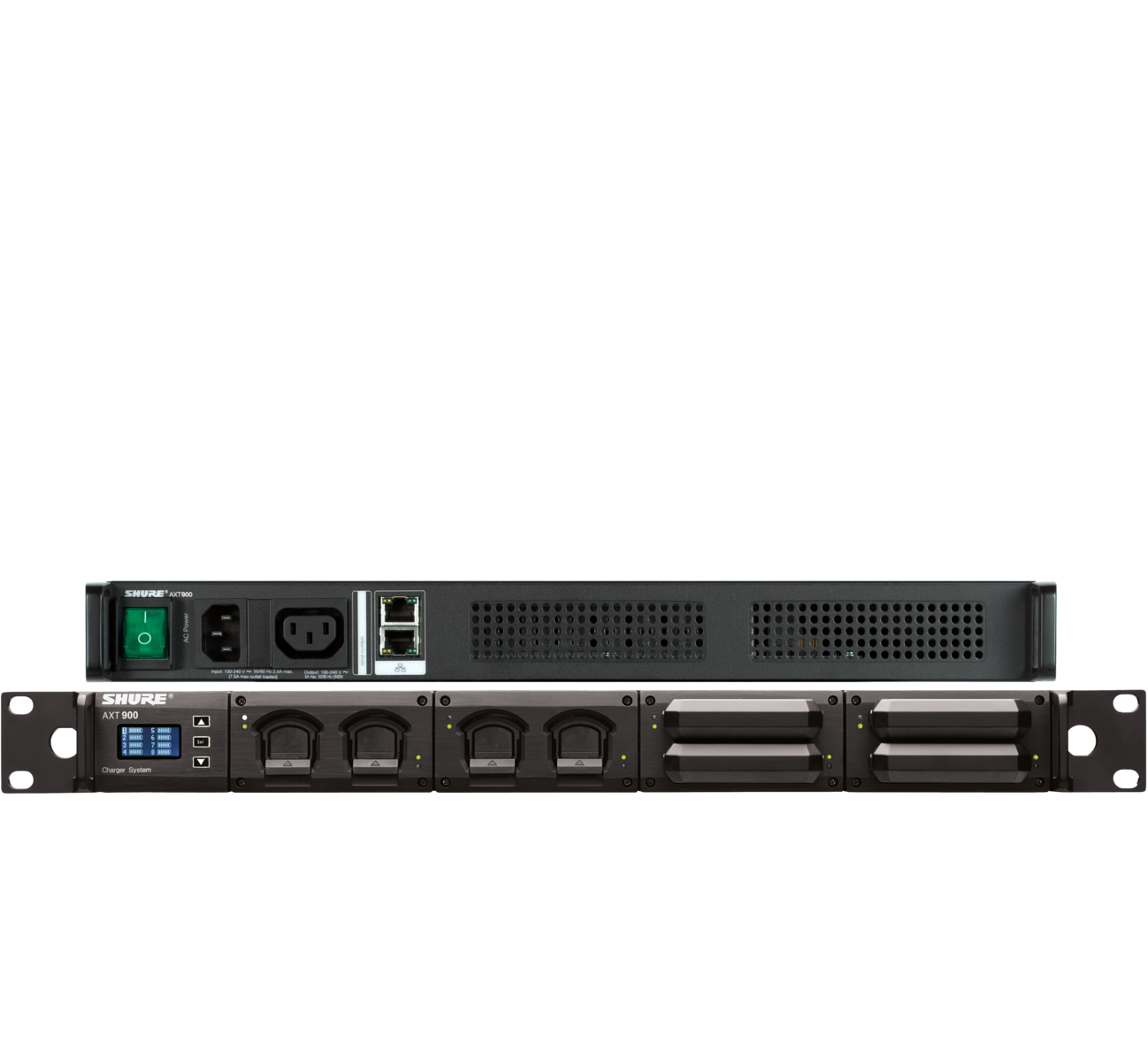 The Shure AXT900 Rackmount Charging Station provides a touring-ready battery charging and storage solution with networked visibility of all battery status parameters.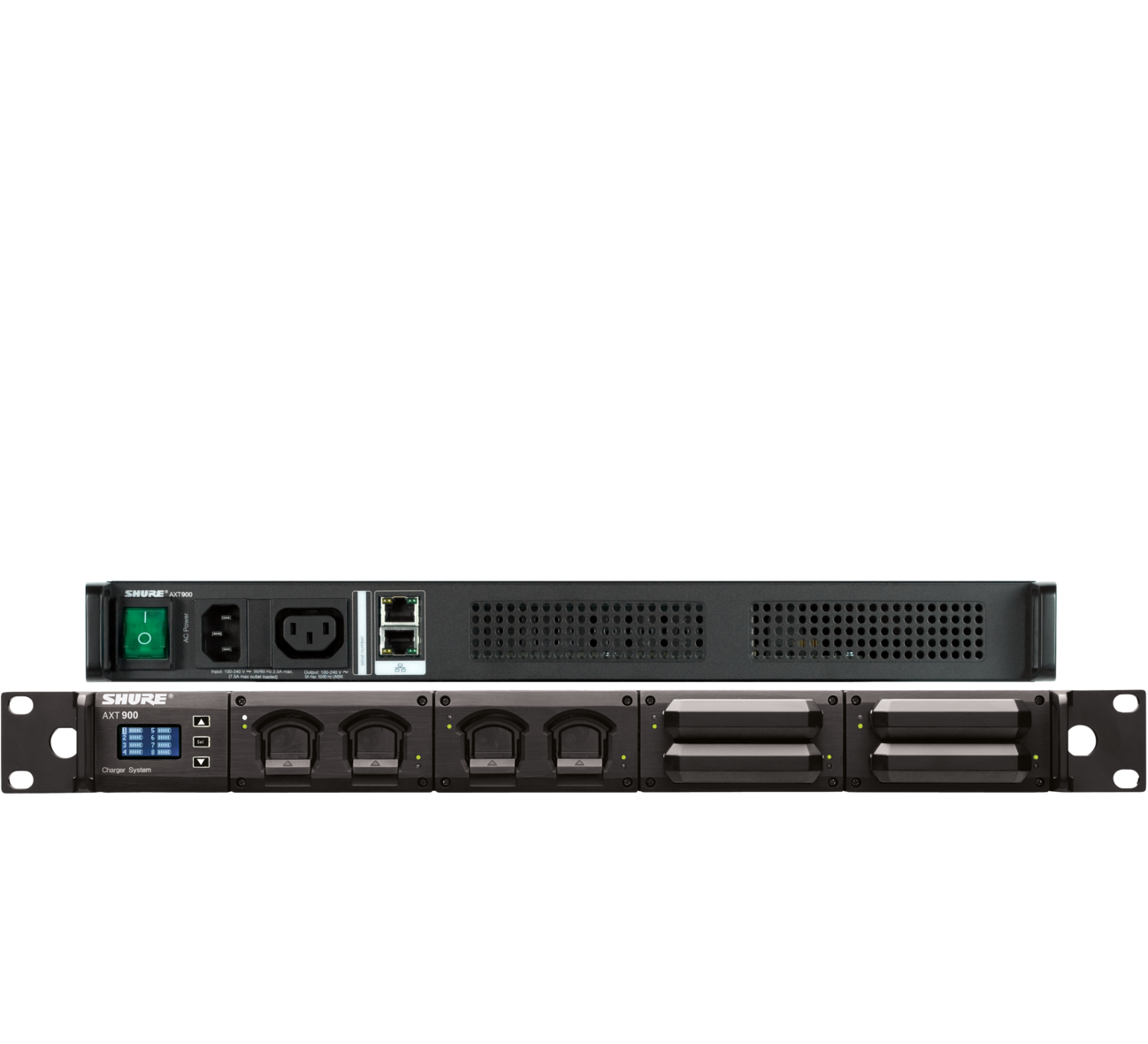 Product Details
Configurable for up to 8 bodypack or handheld batteries, the AXT900 delivers detailed status reports for each battery, including remaining battery power, time to full charge, capacity and battery health. Status reports are displayed on the front panel, or in WWB6 for enhanced visibility.
Design
Touring-ready battery storage and charging solution with comprehensive status display.
Fully networkable for monitoring of all charging status parameters via WWB6.
Configurable bays for mixing/matching 8 bodypack and handheld batteries.
Intelligence
Reports remaining battery power in hours and minutes on transmitters, receivers and WWB6, accurate to within 15 minutes.
Reports percentage of capacity and time to full charge, visible on the Rack Mount Charging Station and WWB6.
Tracks battery health using charging cycle count and percentage of original capacity as metrics.
Chemistry
Advanced lithium-ion batteries provide reliable, rechargeable power with up to 10 hours' run-time.
Rapid charging brings batteries to 50% capacity within 1 hour.
Practical, sustainable design provides an efficient, systematic power management alternative to disposable batteries.
Support
Customer Support
Service & Repair
Detailed policy information regarding customer service numbers, service modifications, and replacement parts.
Service & Repair
Contact Us
Submit a ticket directly to Shure Customer Service staff, or reach out via phone or email.
Contact Us
Resources
Shure Tech Portal
Complete product documentation, technical support materials, software and firmware, and other tools and resources for all Shure products, in one place.
Sign In
Comparable Products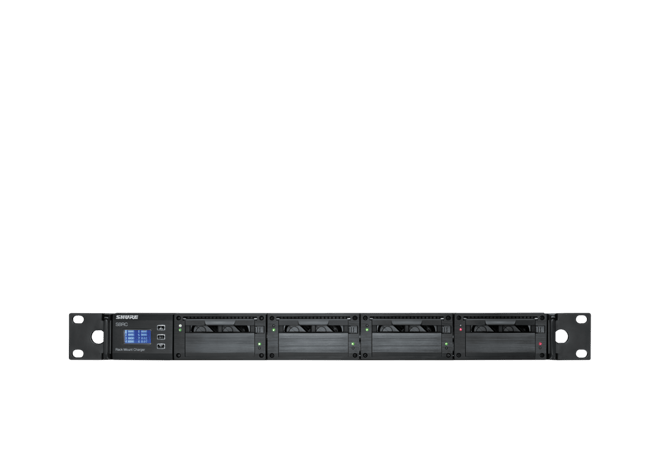 Shure Battery Rack Charger
Accommodates up to 8 Shure rechargeable bodypack and handheld transmitter batteries in a single rack space.
Case Studies
The stakes were high for more than just the boxers during the May 2, 2015 fight between Floyd Mayweather, Jr. and Manny Pacquiao. Televised live, the pay-per-view event was a rare collaboration between Showtime and HBO, and both networks expected technical perfection. Handling the selection, deployment, and coordination of wireless microphones, IEMs, and intercoms for the event was the team from Soundtronics, led by Mark Barbuti.