Software
Microflex Wireless Software
Versions
Date Posted
Download
December 18, 2020
Important
If you have installed Shure Designer, you need to update to Designer v4.3 or higher before installing Microflex Wireless Software.
Simultaneous runtime operation of Microflex Wireless Software with Shure Wireless Workbench is not supported, but both may be installed on the same computer.
If the desired NIC is not selectable during the software installation, or does not show up in runtime in the Settings of Microflex Wireless Software, ensure the interface is enabled and is active (i.e. Ethernet cable plugged in & has activity LED's)
Update any MXW devices which are below the minimum supported firmware 8.0.3 by using the Shure Update Utility (SUU) found here. Close the SUU when complete.
Notable workflow differences from MXW legacy Flash User Interface
Prior to setup, a passphrase is required to initialize the device(s) (MXWAPT, MXWANI). The passphrase will be applied to all discovered devices which need initialization. This passphrase must be entered to access the devices. As in the Flash UI, all MXWAPTs in a configuration share a passphrase but each MXWANI's passphrase is independent.

MXWNCS networked chargers do not require authentication, so users will be able to change device properties without logging in.

If you are accessing MXW devices across subnets with Shure Software Update Utility on the same machine while Microflex Wireless Software is running, cross-subnet MXW devices may be discovered, but control and monitoring is not supported. This differs from the legacy Flash UI where it was possible to access any routable MXW IP address on the network by manually entering its IP address in a browser. Shure SystemOn Audio Asset Management Software is recommended for cross-subnet monitoring and control. Click here for information.

*See chart below for a comparison of Microflex Wireless software and SystemOn software controls.

Double-click the MXWNCS from the Devices view to set the charger's IP addresses as well as other device properties. The legacy workflow of setting charger device properties from the MXWAPT's Utility tab remains supported.
Language selection is done in the Settings tab of Microflex Wireless Software.
Shure Device Discovery software is no longer needed for typical setups. Microflex Wireless Software displays the discovered devices in the Devices view.
The "Lock Configuration" feature available in the MXW legacy Flash user interface has been removed in Microflex Wireless Software.
In the Devices view, "Configuration Status" is introduced. New/uninitialized MXWAPTs are designated "OPEN". After setup, each MXWAPT configuration will have 1 "Primary" MXWAPT, and up to 9 "Secondary" MXWAPTs. Sorting by Primary is a convenience for larger MXW deployments. Note also that the Primary APT is the device which is initially viewed when opening any of the Secondary MXWAPTs in the same configuration.
Known Issues
In some network scenarios with larger configurations some actions will take slightly longer. For example, networks of 100-200 devices may take 30-60 seconds for all devices to be discovered.
Microflex Wireless Software and Shure SystemOn should not be installed on the same computer. SystemOn users can continue using a web browser to access a SystemOn installation.
When monitoring an MXWAPT channel which utilizes both a Primary and a Secondary mic on the same channel, there is no auto-switch functionality to display the on-air microphone.Workaround: manually select the Primary or Secondary mic to display.
Microflex Wireless Software must be restarted after Shure Designer 4.3 is uninstalled.
Issues with the Dante interface may cause discovery issues with Microflex Wireless Software
In the JDECT band (Japan only), there is an "RF carrier number mismatch" message missing as a potential reason for link failure. Displayed message is "Link Failure".
Notes
Microflex Wireless Software 1.0.0 is compatible with the following device firmware versions:

MXWAPT2, MXWAPT4, MXWAPT8 FW 9.0.4
MXWANI4, MXWANI8 FW 9.0.4
MXWNCS2, MXWNCS4, MXWNCS8 FW 9.0.4
MXW1, MXW2, MXW6, MXW8 FW 9.0.4
SCM820 1.3.3

Requires Windows version 10 64-bit
Requires macOS 10.14 "Mojave", 10.15 "Catalina"
At the time of this release, macOS 11.0 "Big Sur" has not been tested
*Comparison of Microflex Wireless software and SystemOn software December 17, 2020.
| | | |
| --- | --- | --- |
| Capability / Function / Feature | Microflex Wireless Software (PC or MAC) | SystemOn Software (Server) |
| Cross-Subnet Monitoring/Ctrl | N | Y – Browser interface to IP address of SystemOn server |
| Set APT name | Y | Y |
| Set Channel names | Y | Y |
| Identify APT | Y | Y |
| Identify Mics | Y | Y |
| View Audio Metering | Y (multi-segment) | Y (signal presence) |
| View RF Metering | Y (multi-segment) | Y (signal presence) |
| Set Mic audio gain | Y | Y |
| Global Mic Controls (Active, Mute, Standby, Off) | Y | Y (Per APT) |
| Individual Mic Controls (Active, Mute, Standby, Off | Y | Y |
| Local Linking & Unlinking Mics | Y | Y |
| Remote Linking & Unlinking | N | Y |
| Battery Cycle Count | Y | Y |
| Battery Hours & Minutes | Y | Y |
| Battery Health | Y | Y |
| Mic Status (Charging, offline, in use) | Y | Y |
| Reboot MXWAPT | Y | Y |
| Factory Reset | Y | N |
| View Serial Number | Y | Y |
| View Firmware Number | Y | Y |
| IP Address, Subnet Mask, Gateway | Y | Y (Read only) |
| Associate Devices (APT-NCS-ANI) | Y | N |
| Set Preferences (global settings) | Y | N |
| Set Device Password | Y | N |
| User Access Control, LDAP integration | N | Y |
| MXWAPT A/B Mode | Y | N |
| Organize systems by location/room | N | Y |
| Text SMS & email alerts: low battery, device missing | N | Y |
Associated products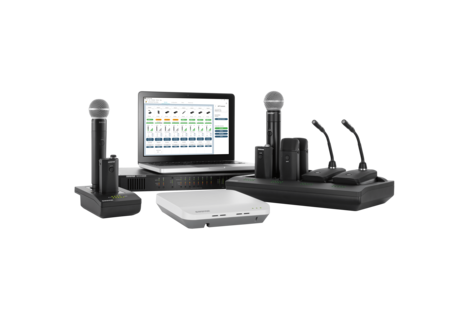 Choose Microflex® Wireless table microphones for flexible setup and confident communication, ensuring every voice will always be heard.