Firmware
ADX5D - Axient Digital Portable Wireless Dual-Channel Slot Receiver
Versions
Date Posted
Download
August 23, 2021
New Features
Party Dial - enables the technician to efficiently select different transmitters from a list
New convenient method for performing factory resets
Improvements
Menu updates
Support for 3rd party devices (Aaton Digital & Sound Devices)
Improved ShowLink stability and performance
Notes
To operate ADX5D version 1.3.26 devices with other Shure systems and software, see the following list of minimum versions:

Axient Digital AD1/2, ADX1/1M/2/2FD and AD3 Transmitters 1.3.26
Axient Digital AD4D/Q Receivers 1.3.26
Axient Digital AD610 Diversity ShowLink® Access Point 1.3.26
Axient AXT600 Spectrum Manager 2.1.38
Shure Update Utility 2.6.1
Wireless Workbench 6.14.1
ShurePlus Channels iOS 1.4.6
ShurePlus Channels Android (Beta) 1.0.1
June 14, 2021
Initial Release
This firmware was designed to be paired with AD610 version 1.3.6
Known Issues
ADX5D will not power on or off via camera setting while docked at Unilslot cameras. A work-Around would be manually use the ADX5D power switch to turn ON/OFF the ADX5D when docked.
Notes
To operate AD4D version 1.3.4 devices with other Shure systems and software, see the following list of minimum versions:

Axient Digital AD1/2, ADX1/1M/2 and AD3 Transmitters 1.3.6
Axient Digital AD4D/Q Receivers 1.3.6
Axient Digital AD610 Diversity ShowLink® Access Point 1.3.6
Axient AXT600 Spectrum Manager 2.1.38
Shure Update Utility 2.6.1
IOS ShurePlus Channels 1.4.6
Android ShurePlus Channels 1.0.0 (public beta)
Wireless Workbench 6.14.1
Associated products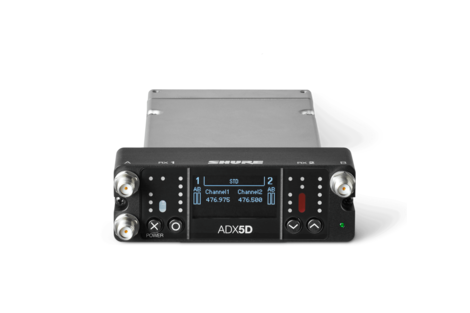 Superior Axient Digital RF performance, spectral efficiency, and transparent audio quality in a portable, slot-in design. Axient Digital. Now portable.