Break through with wireless scalability.
ULX-D
ULX-D® Digital Wireless Systems









Large conference and convention installations come with unique wireless challenges. A campus-wide solution, ULX-D® Digital Wireless is secure, scalable and durable. From managing diverse sound sources to protecting RF from smartphones and other stray signals, this intelligent system solves wireless problems of all sizes.
The ULX-D pushes wireless audio further. More streamlined. Higher density. Up to 63 systems running simultaneously within 8 MHz. There's no compromising signal. That's one reason it's become the standard bearer for installed digital wireless. And you can hear it in crystal clear performance at major events around the world.
True to the source
The 24-bit digital audio and the wide frequency response capture the sound as clearly and accurately as it was produced.
Scalable control
The network is always yours to command with proven Shure tools like Wireless Workbench®, SystemOn and Axient Spectrum Manager, as well as AMX & Crestron integration and Dante audio.
Secure sound
Confidentiality is ensured via AES-256 encryption that generates a randomised key for each use.
Networked, intelligent charging
ULX-D transmitters are rechargeable for up to 11 hours of use, which can be monitored remotely from Shure software. So power is always on your side.
Digital audio over IP
Multiple spectrum options, including VHF, UHF, 900 ISM, 1.2 GHz (Japan only), and 1.5 GHz and 1.8 GHz (Europe only)
Multiple transmitter types including handheld, bodypack, boundary and gooseneck options
Choice of receiver type (single, dual or quad)
Monitoring and control functionality from Wireless Workbench® 6, SystemOn and ShurePlus™ Channels apps
Reviews
Support
Customer Support
Service & Repair
Detailed policy information regarding customer service numbers, service modifications, and replacement parts.
Service & Repair
Contact Us
Submit a ticket directly to Shure Customer Service staff, or reach out via phone or email.
Contact Us
Resources
Shure Tech Portal
Complete product documentation, technical support materials, software and firmware, and other tools and resources for all Shure products, in one place.
Sign In
Comparable Products
QLX-D® Digital Wireless Systems
Digital wireless system combines robust wireless performance with easy set-up and digital audio quality.
Wireless Microphone System
The Shure SLX-D Digital Wireless Microphone System delivers premium digital audio and network control that easily scales to match your production needs.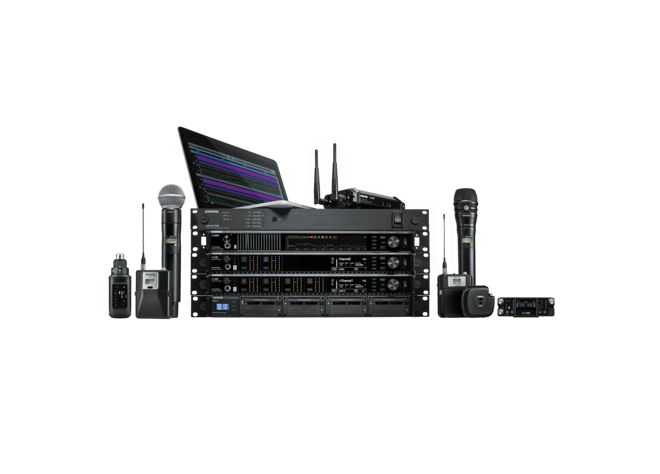 Axient® Digital Wireless Microphone System
Unprecedented signal stability and audio clarity, plus flexible hardware options, advanced connectivity, and comprehensive control.
Case Studies
MiCo, one of the largest convention centres of Italy gets crystal clear audio and perfect intelligibility with the Shure ULX-D®and QLX-D®Digital Wireless Systems.
Shure ULX-D digital wireless system ensures high-quality audio and flawless RF-transmission
Internationally renowned fine art auctioneers Sotheby's has installed 16 channels of Shure's flagship digital ULX-D wireless microphone system at its London HQ in New Bond Street. Hornchurch-based AV consultant KEL Sound & Vision carried out the system design and installation, and the equipment was sold through Essex-based AV retailer AudioLogic.