PSM 900
个人监听系统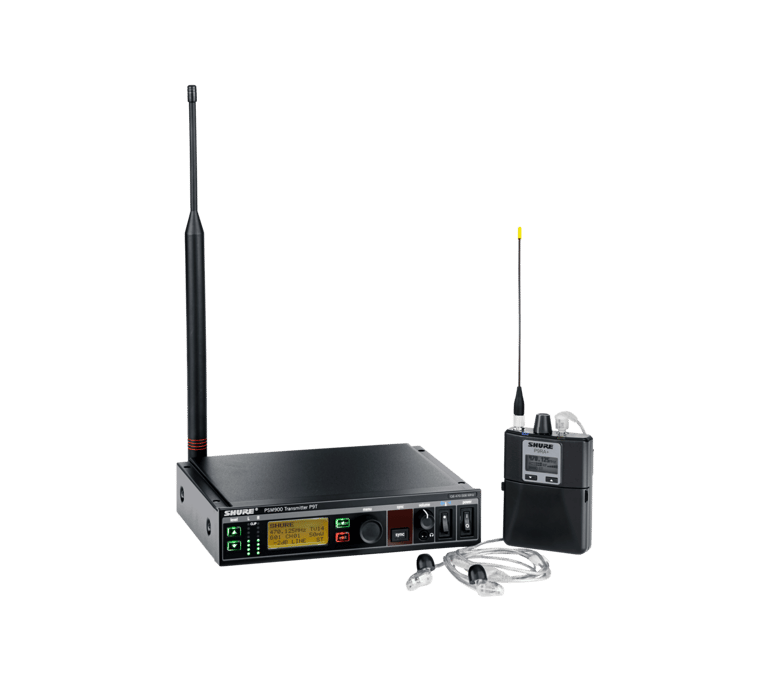 舒尔PSM 900无线个人监听系统采用音频参考压缩扩展专利技术和专利CueMode功能,发射机线性度性能优异,提供出色的音质和可靠的射频性能,可以满足各种专业音频应用的需求。PSM 900系统每个频带可兼容20个频率通道,调谐带宽为36至40MHz,完全有能力应对包括专业IEM和IFB应用在内的严苛环境。
With patented Audio Reference Companding, exceptional transmitter linearity, and patented CueMode functionality, the Shure PSM 900 Wireless Personal Monitor System meets the needs of professional audio applications of all kinds, providing excellent audio quality and reliable RF performance. Twenty compatible frequencies per band and a 36 MHz to 40 MHz tuning bandwidth (region dependent) give the PSM 900 system the horsepower to handle demanding environments, including professional IEM and IFB applications. Add Shure professional Sound Isolating™ Earphones and for total audio conviction, start to finish.
Up to 20 Compatible Channels
Operate 20 compatible channels on one frequency band simultaneously with advanced filtering and vastly reduced frequency intermodulation.
More Options for A Strong Signal
36 MHz tuning range. Through precision filtering on front-end RF, the P9RA+ enhances your reception and range, delivers more channels on-air, and cuts down on dropouts.
Half-Rack, Single Channel Transmitter
Intuitive front panel controls in a compact, half-rack chassis. The P9T transmitter allows you to handle the signal smarter. Operate with precision.
20 compatible frequencies per band and a 36 MHz to 40 MHz tuning bandwidth (region dependent)
P9T half-rack wireless transmitter with balanced connection and front or back antenna mounts
P9RA+ offers a hybrid analog/digital architecture for more headroom, improved stereo separation, and higher audio fidelity
Patented Audio Reference Companding offers natural and transparent sound
Precision front-end RF filtering significantly reduces RF interference for a cleaner, stronger RF signal, fewer dropouts, and less audible artifacts
Exceptional transmitter linearity vastly reduces frequency intermodulation and allows up to 20 compatible channels per frequency range
Auto RF gain control prevents signal distortion due to RF overload before it can affect performance
CueMode allows monitoring of different stage mixes and storing of up to 20 separate channels on one bodypack for quick and easy reference
Front Panel RF mute switch for enabling or disabling RF transmission
Use Scan and Sync to scan the RF environment with the bodypack and assign the identified group and channel to your system over wireless IR link
MixMode® Technology allows the bodypack user to balance the level of two separate channels while simultaneously listening to both signals in both ears
LCD menu with grouped menu items for easier user interface