RPM181/O
RPM181/O Cápsula omnidireccional para el micrófono Beta 181
Precio Venta Público Recomendado
Cápsula omnidireccional de recambio para el micrófono Beta 181. La cápsula omnidireccional es ideal para la grabación del sonido ambiente o para grupos de instrumentos.
Soporte
Customer Support
Service & Repair
Detailed policy information regarding customer service numbers, service modifications, and replacement parts.
Service & Repair
Contáctanos
Submit a ticket directly to Shure Customer Service staff, or reach out via phone or email.
Contáctanos
Resources
Shure Tech Portal
Documentación completa del producto, material de apoyo técnico, software y firmware, así como herramientas y recursos para los productos Shure, todo desde un mismo lugar.
Iniciar sesión
Productos compatibles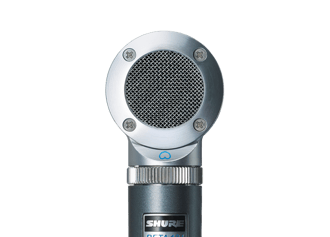 Beta 181 Micrófono de condensador de captación lateral con cápsulas intercambiables
Micrófono de condensador de captación lateral con previo XLR, pinza de micrófono, paravientos, estuche con cremallera y posibilidad de cambiar la cápsula de condensador.