The power to manage effective meetings
SW6000
SW6000 Software de gestión de conferencias
Software de gestión de conferencias SW6000 para configuración, control, gestión y personalización de conferencias y reuniones. Incluye control completo de votaciones, soporte completo de interpretación de idiomas y configuración de agenda con documentos vinculados y enlaces a la web.
MXC with SW6000 software scales to meet the needs of city councils that meet once a month, organizations that hold offsite meetings, and legislatures with intricate meeting protocols. SW6000 provides end to end capabilities that fit your requirements.
Everything at your fingertips
The chairman or administrator can control and monitor all aspects of the meeting from one interface.
Join the conversation
Intuitive, programming-free LED mute sync functionality with leading third party software codecs including Zoom and Microsoft Skype for Business.
Connected ecosystem
Offering a robust package to control meetings, operators can configure connections between rooms to external audio recording or streaming equipment and video displays.
Match YOUR meeting style
Personalized software to meet your unique requirements accommodating your organizations laws, protocols or traditions.
Meeting Administration: Create meetings with multi-level agendas, set meeting modes / options, and create or select from a range of reports on meeting details.
Speaker Management: Control conference microphones, speaking order, speech time, and name handling.
Participant Identification: Create and maintain detailed information on participants and their roles / permissions, login procedures (PIN code or NFC card, etc.), messaging functions, and multi-language support requirements.
Voting & Polling: Select from a full range of parliamentary voting options, including 2 / 3 / or 5 button, secret mode, attendance check, quorum, etc.
Information Display: Configure external video screens (inside or outside meeting room) that show agenda, speak / request list, vote results, messages, or other meeting information.
Controls and Interfaces: Set up interpretation parameters, connection to multiple rooms, import / export of agenda and participant information, as well as configuration of components
Compatible Products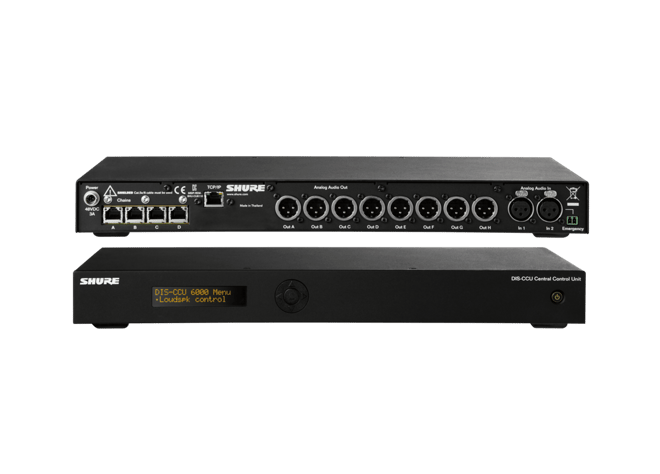 DIS-CCU Unidad de control central
Esta unidad de control central DIS-CCU es una unidad basada en un potente microprocesador y diseñada para los sistemas DDS 5900 y DCS 6000. + Modos operativos: automático, FIFO (primero en entrar, primero en activarse), VOX (activación por voz) y manual. + 3 modos de interrupción microfónica. + Hasta 8 micrófonos abiertos simultáneamente. + Apagado automático de las unidades de conferencia y audio codificado para evitar escuchas ilegales.
Soporte
Atención al Cliente
Servicio y Reparación
Conoce la política detallada sobre el servicio, modificaciones, piezas de repuesto y la información de contacto.
Servicio y Reparación
Contáctanos
Contacta directamente al personal de Atención al Cliente de Shure, o comunícate por teléfono o correo electrónico.
Contáctanos
Recursos
Shure Tech Portal
Documentación completa de producto, materiales técnicos de apoyo, software y firmware, así como otras herramientas y recursos técnicos, todo en un mismo lugar.
Registrarse
Documentación
Firmware Compatibility Chart
Catálogos
cloud_download

cloud_download
Release Notes
Version 9.3.1
Release notes cover the following models:
Important
This software version is used for new SW6000 installations or to update all previous SW6000 installed versions using DIS-CCU Central Unit (CU 6005, CU 6010, CU 6011, CU 6105, CU 6110 and CU 5905 are not supported)
This version is compatible with SW6000 Software License file v1.7 only
No new SW6000 license is needed if updating from SW6000 v6.0.xxx or later versions
A new SW6000 license is needed if updating from SW6000 v5.8.xxx or previous versions
Bug Fixes
CUA

If a participant is logged into a meeting using a secondary language (not the meeting default), the participant will see entries in the speak list using 'show name' as defined for the system language.
Selecting an outgoing language for any interpreter desk in the Interpretation screen brings 'Object reference' error.
Selecting an MIU used as interpreter and changing the outgoing language results in object reference error.
When a user is logged in to the CUA in a meeting with mode Automatic login on preferred seat, the user cannot successfully log out from the CUA.
Using Manual speech time, starting time with one open microphone will correctly display time next to microphone entry on Microphone control speakers list. But switching on a second microphone, time is not displayed next to this microphone.

CAA

Under specific conditions, it's possible that a meeting or voting report with list of chairmen may list a chairman that was not present during the meeting.
Importing the same users twice in the CAA User Table causes an object reference exception.
Importing multiple users in the CAA User table (not previously exported) causes the imported users to get import id 0.
Generating custom voting report #1444 causes a comObj exception.
Known Issues
MXC640 shows 0:00 when a chairperson with no speech time limitation is turned off
The time indication in the speech time sub panel in the CUA disappears when a chairperson with no time limitation is turned on
Notes
To operate MXC devices with SW6000 version 9.3, see the following list of minimum software and firmware versions:

MXC firmware release 9.2 or later
Casos de Éxito
Reformar la sala plenaria donde se realizan las sesiones regulares, así como las reuniones y audiencias públicas, cambiando todo el sistema de audio analógico por un sistema digital inteligente.
The famous City Hall of Gdansk needed a system to improve the quality of the city council's public sessions.
Straubing-Bogen District Council (known in German as the Landratsamt) needed a new conferencing system for its main debating chamber, one that matched the latest technical requirements and standards.