DIS-CCU
DIS-CCU Central Control Unit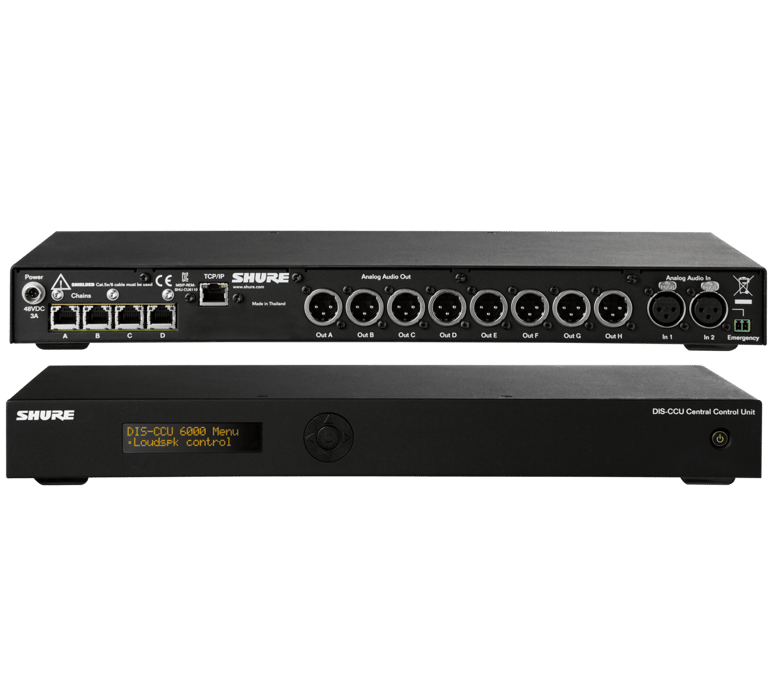 Central control unit for use with MXC-series, 5900-series, or 6000-series conference and discussion units.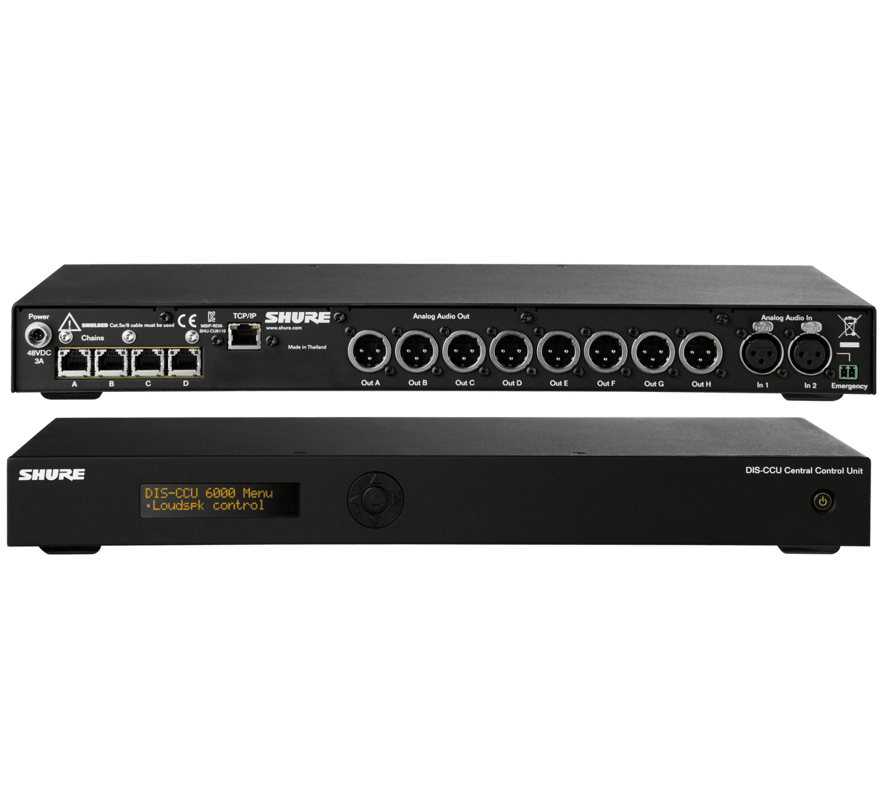 Product Details
Central control unit for use with DDS5900 (standard) or MXC (requires optional Feature License). In DDS5900 mode, powers up to 60 microphone units and supports up to 250 units. Also supports 2 language channels. Two analogue audio inputs for external sources such as wireless microphones, and 8 analogue audio outputs for connection to videoconferencing system, A/V recording equipment, supplemental sound reinforcement system, or wireless language distribution system.
With Feature License FL6000, the DIS-CCU can be used with MXC and 6000 series units serving up to 250 participants and 4 language channels. Additional Feature Licenses enable support for up to 3,800 participants, and up to 31 languages.
Fully digital distribution of the main "floor" audio plus 31 interpretation channels over a single shielded CAT5e network cable
Support for up to 250 participants; up to 3,800 participants with optional feature licenses
Enables up to 8 active microphones, controlled by participants or chairman/technician
Multi-language web browser for system configuration, microphone control, and name/seat assignment via tablet or computer
4 DCS-LAN chain connections; 2 analog audio inputs; 8 analog audio outputs
Compatible with EX 6010 Extension Unit, JB 6104 Junction Box, RP 6004 Repeater and PI-6000 Power Kit for additional power or cabling flexibility in larger installations
Support
Customer Support
Service & Repair
Detailed policy information regarding customer service numbers, service modifications, and replacement parts.
Service & Repair
Contact Us
Submit a ticket directly to Shure Customer Service staff, or reach out via phone or email.
Contact Us
Resources
Shure Tech Portal
Complete product documentation, technical support materials, software and firmware, and other tools and resources for all Shure products, in one place.
Sign In
Software & Firmware
Keep your conference system performing at its best with the latest easy-to-use and free-to-download firmware packages. These downloads include Firmware Update Utility which helps you update compatible Shure products (MXC, DDS5900, and DCS6000) while managing all of your device firmware. The MXC Firmware Update Utility (FUU) is bundled with the firmware download on the Shure website. Use this program to keep your system updated to the latest firmware version, or to upload image files to compatible conference units. For any questions see the MXC User Guide or contact support for assistance.
SW6000 Conference Management Software provides configuration, control, management, and customization of conferences and meetings. Includes extensive voting control, full language support, and agenda configuration with linked documents and web links.
Feature licenses expand the capabilities of the MXC Conference System. By installing the appropriate feature license on the DIS-CCU (central control unit), the user can increase the maximum number of conference units and the number of interpretation channels.
Compatible Products
Discontinued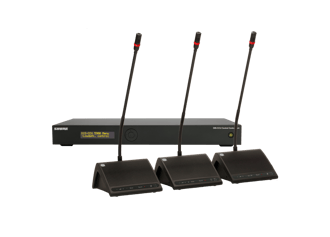 Digital Discussion System
Digital discussion system enables up to 250 meeting participants to hear each other clearly, across the room or across the country.
Discontinued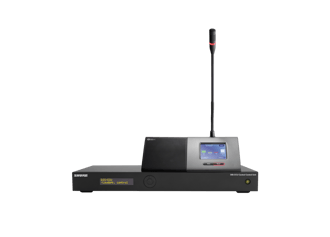 Digital Conference System
Digital conference system enables meetings of up to 3,800 users to be managed with complete control and reliability.
Case Studies
In September 2020, the Executive Council of the UN World Tourism Organization convened for an in-person summit in Tbilisi, with remote attendance via Zoom.
The SCN Rental Partner provided a Shure DDS5900 Digital Discussion System with 50 DC5980P Discussion Units. To address the multi-language needs, 10 IS6132P Interpretation Units were set up in five interpretation booths, and a Digital Infrared Audio Distribution System was deployed with 200 DR6032 Digital Receivers for parliamentarians and delegates.
Shure Conferencing Network (SCN) rental partner Mighty MICE was appointed to support this biennial event with simultaneous interpretation and discussion systems.