World-class conferences require world-class audio
Microflex Complete
Digital Conference System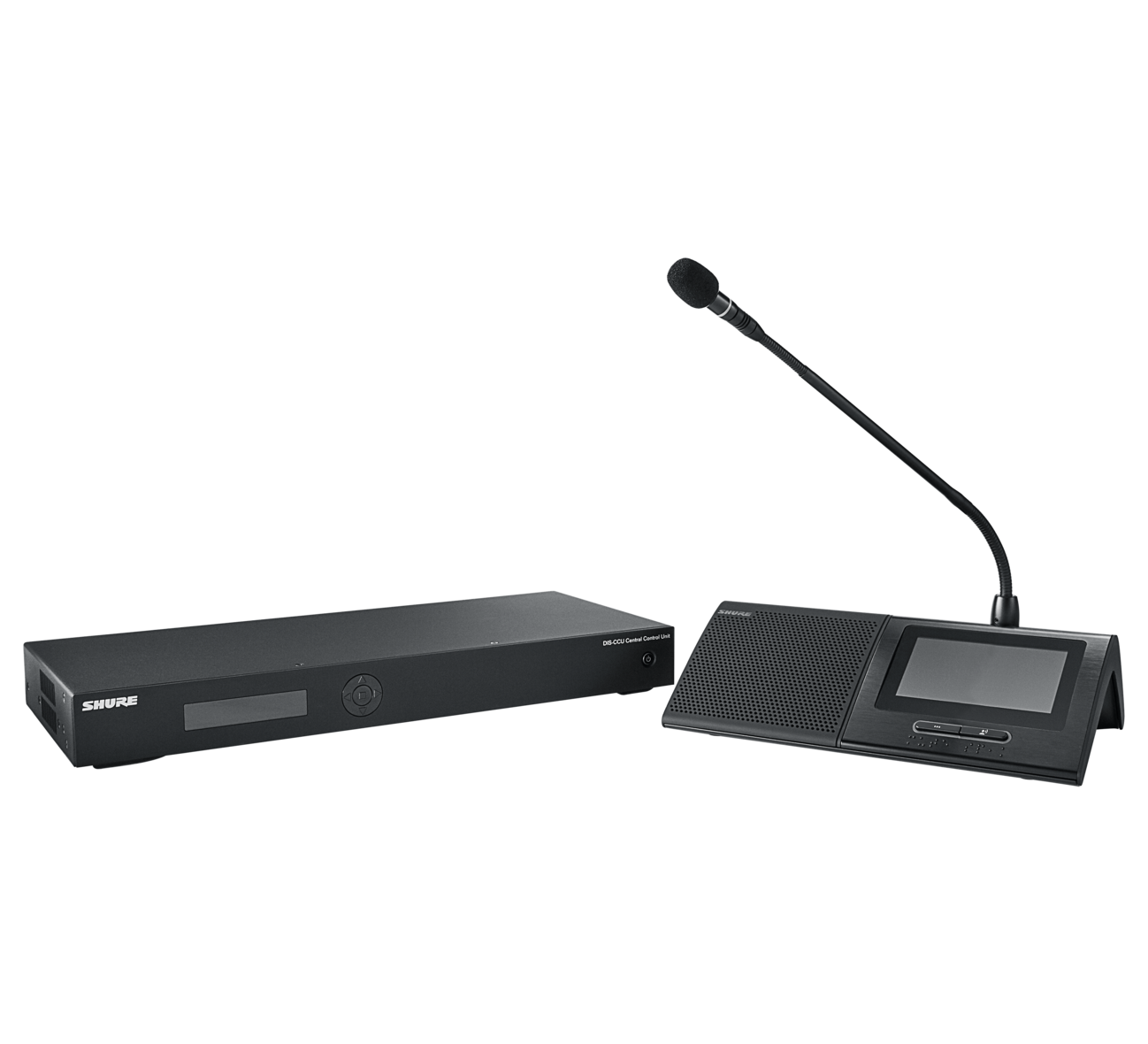 In legislatures, international conferences or executive boardrooms, taking on issues of all sizes begins by getting the key delegates to talk and be heard so they can make decisions that affect every citizen. But bringing a variety of voices together can create communication challenges. From a 20-person board meeting to an international conference of thousands, Microflex® Complete keeps the conversation productive.
NOTE: Based on an evaluation of evolving market needs, Shure is discontinuing the Microflex® Complete Wired Digital Conferencing System. We continue to offer a broad spectrum of audio solutions that address the growing demand for flexible conferencing applications, including the Microflex® Complete Wireless (MXCW) Digital Conferencing Systems. For more information on MXCW, click here.
Designed to keep meetings on course, Microflex Complete provides an efficient, effective experience for leaders and participants alike. Powerful features like voting, agenda, interpretation, and identity verification ensure every talking point generates results. With best-in-class audio, powerful software, and seamless integration, you get a system to match nearly every situation, style, or purpose.
Integrates anywhere
With a variety of portable, flush-mounted, and modular conference units, installation is easy, no matter the location.
Pure signal
Shure CommShield® is built into Microflex Complete to reject RF interference from ever-present smart phones, keeping the focus on the meeting.
Scalable solution
Get consistent sound quality and control whether it's in the boardroom or the ballroom, for dozens or thousands.
Dependable tech
No single point of failure. Redundant loop cable topology prevents one mishap from taking down your entire system.
Designed for formal meetings with up to 3,800 participants
Microphones can be controlled by users or by chairman
Compatible suite of top-of-the-line Shure hardware, software and accessories
Portable and flush-mount units for temporary use or permanent installation
Allows voting, agenda, identity verification, speech time control, and more
Resistant to GSM interference
Supports up to 31 interpretation channels for multi-lingual conferences
MXCSIGN electronic name sign for clear speaker identification
Voice activation mode enables convenient, hands-free operation in informal meetings
Videos
Microflex Complete Videos
Support
Customer Support
Service & Repair
Detailed policy information regarding customer service numbers, service modifications, and replacement parts.
Service & Repair
Contact Us
Submit a ticket directly to Shure Customer Service staff, or reach out via phone or email.
Contact Us
Resources
Shure Tech Portal
Complete product documentation, technical support materials, software and firmware, and other tools and resources for all Shure products, in one place.
Sign In
Related Products
Discontinued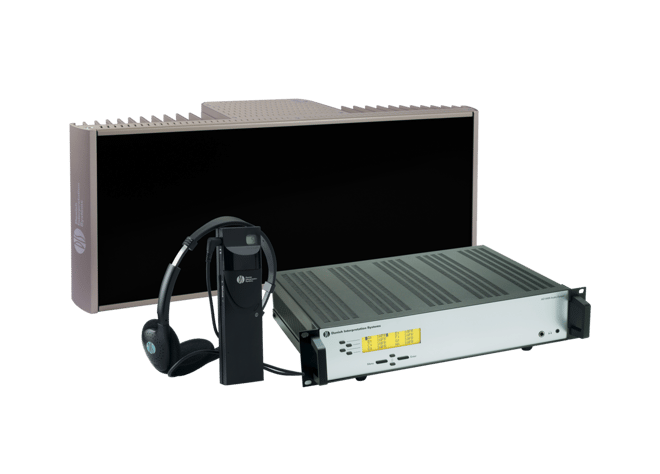 Digital IR Audio Distribution System
Digital IR audio distribution system designed for use in both permanent installations and temporary set-ups of up to 32 high-quality channels.
Comparable Products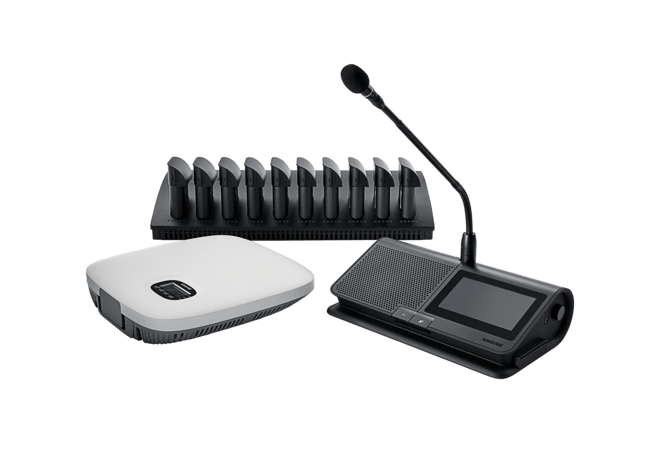 Digital Conference Systems
Microflex® Complete Wireless conference systems keep up with constantly changing logistics and demands without invasive installs.
Discontinued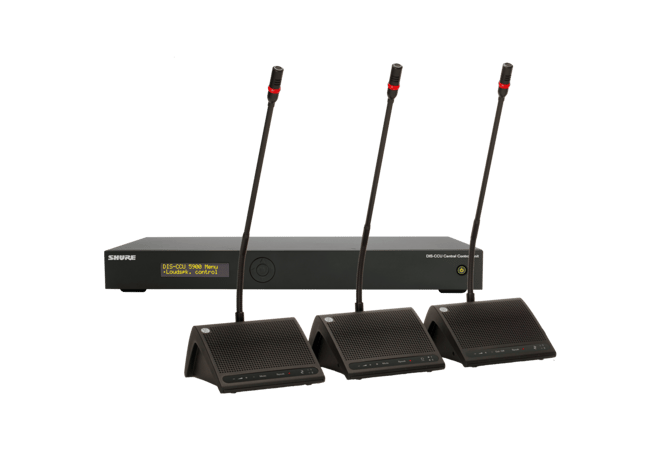 Digital Discussion System
Digital discussion system enables up to 250 meeting participants to hear each other clearly, across the room or across the country.
Case Studies
In September 2020, the Executive Council of the UN World Tourism Organization convened for an in-person summit in Tbilisi, with remote attendance via Zoom.
The SCN Rental Partner provided a Shure DDS5900 Digital Discussion System with 50 DC5980P Discussion Units. To address the multi-language needs, 10 IS6132P Interpretation Units were set up in five interpretation booths, and a Digital Infrared Audio Distribution System was deployed with 200 DR6032 Digital Receivers for parliamentarians and delegates.
Shure Conferencing Network (SCN) rental partner Mighty MICE was appointed to support this biennial event with simultaneous interpretation and discussion systems.